The Human Centipede: The Complete Sequence Blu-ray Review
Written by Robert Gold
Blu-ray released by Scream Factory
Written and directed by Tom Six
2010-2015, 286 minutes, Unrated
Blu-ray released on October 27th, 2015
Starring:
Dieter Laser as Dr. Heiter
Ashley C. Williams as Lindsay
Ashlynn Yennie as Jenny
Akihiro Kitamura as Katsuro
Laurence R. Harvey as Martin
Tom Six as Himself
Eric Roberts as Governor Hughes
Review:
In 2009, Dutch filmmaker Tom Six barged onto the scene with his medical atrocity/ fetish piece, The Human Centipede (First Sequence). Reactions were mixed to say the least, as critics slammed the film for being a disgusting joke of "entertainment" while curious audiences continued to seek it out on the festival circuit. The notoriety was enough to garner an internet following and earned the title a place on some "Best of the Year" lists. The premise is simple: a scientist abducts people and sews them together, mouth to anus, with the intention of creating a new creature that shares a single digestive tract. In various interviews, Tom Six has claimed the idea originated as a joke; the perfect punishment for a child molester; "sewing their lips to a fat truck driver's asshole". Over the next five years, the concept became a trilogy and now IFC Films in partnership with Scream Factory has released all three chapters in one collection, aptly titled The Human Centipede: The Complete Sequence. Rather than meticulously analyze these movies in search of a deeper meaning that simply is not there, I will instead offer a broad strokes overview of the franchise.
The Human Centipede (First Sequence) (2009)
When Lindsay and Jenny are stranded in the backwoods of Germany, they seek shelter at the house of Dr. Heiter, a disgraced scientist who instead of being their salvation, immediately drugs the girls. They wake to find themselves strapped to medical beds, sharing a room with a Japanese tourist that does not speak English. Heiter delivers a lengthy presentation revealing his plans of creating a nightmarish Siamese Triplet. What follows is a horrifying tale of degradation and cruelty.

The Human Centipede 2 (Full Sequence) (2011)

Martin is a disgusting little man, living with his mother in a small London apartment and working as a parking attendant. He is obsessed with The Human Centipede (First Sequence), and wants to make the film a reality. Martin kidnaps a group of ten people with the intention of recreating the movie's central experiment. He goes so far as to fake an audition for an upcoming studio picture in hopes of luring some of the original cast members, and actually scores one for his centipede. The wickedness he displays is unconscionable and keeps him from ever becoming a likeable protagonist.
The Human Centipede 3 (Final Sequence) (2015)
The American prison system is broken and the warden of the worst facility in Texas is facing dismissal if he does not show signs of improvement in prisoner reform. The chief accountant is a fan of both Human Centipede films and has an idea to instill discipline among the inmates by creating the first "Human Prisoner Centipede". Director Tom Six is invited to the facility for his thoughts on how to actually create such a creature as the one in his movies and the prison doctor is placed in charge of the operation. The warden hopes to impress the governor with his vision of a centipede made of 500 people! What follows is a series of increasingly over-the-top salutes to depravity that will certainly test viewers' patience.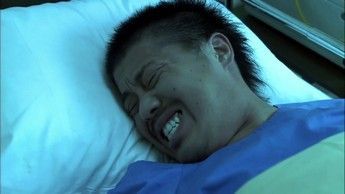 Objectively speaking, First Sequence is the most accomplished in the trilogy in that it is the most cinematic. There is not much plot to speak of and the characters are not particularly well-developed, but the stylistic approach to the content is notable. Cinematographer Goof de Koning (Gay in Amsterdam) elevates the material with a series of smooth, steady camera moves and a creative lighting design that complements the art direction of the central location. Writer/ director Tom Six (Honeyz) plays with audience expectations by loading the opening act with clichés that deliberately mislead viewers into a false sense of familiarity before revealing the dark nature of his tale. Themes of voyeurism and humiliation are explored as the villainous Dr. Heiter (Dieter Laser, The Ogre) conducts his bizarre human experiments. If I were feeling generous, I could suggest the filmmaker has taken a dark satirical look at consumerism and the ills of society while offering reflections on fascism and post-war guilt via a grotesque parody of the Nazi psyche. Closer to the truth, this is an artsy-fartsy-fetish-flick with poo.
Compared to the first film, Full Sequence is a tremendous letdown in every possible way. Tom Six returns with a meta-themed sequel that collapses under the pressure to one up the original. There is a higher body count and much more gore, but the craft is lost, as is any beauty or nuance. Subtlety in general appears to be the first casualty in this misadventure as the filmmakers shift focus from suspense to shock value. Watching despicable characters surrounded in filth screaming at each other for the majority of the movie is not something I can easily recommend. The offbeat Laurence R. Harvey (The Editor) does a commendable job as Martin, the silent psychopath, instantly unlikeable and fully repugnant in his deeds and actions. This nebbish little man is not particularly frightening and impossible to root for, but his victims are equally repugnant. Cinematographer David Meadows (Strippers VS Werewolves) has shot an ugly movie that despite being filmed in color, was released in gritty black and white. This aesthetic decision adds little to the end result considering the picture was not lit for it and purists will be pleased to learn this Blu-ray collection offers both versions of the film.
Final Sequence is a step up from its predecessor only in that Tom Six embraces the material's gonzo potential and throws everything he's got into this script. The good news is that he's clearly having a lot of fun shoehorning sadistic prison violence into the mix. The bad news is that he is out of ideas within the first few minutes and coasts along on the strength of shock value until sputtering to the finale. Six goes so far as to write himself into the story and proves himself a competent actor. The decision to showcase the black comedy nature of this world proves to be a wise one considering that by now the fans must see the absurdity in the premise. Dieter Laser and Laurence R. Harvey return to star as new characters in this installment alongside convention circuit casting coups of D-List celebrities Eric Roberts (Star 80), Robert Lasardo (Nip/Tuck), adult star Bree Olson (Fuck My White Ass 3) and Tiny "Deebo" Lister (Prison). It is truly surprising how far over-the-top performances are pushed, especially Laser, now in the role of Warden Bill Boss. Laser shouts every line of dialogue and not only chews the scenery, he spits it out, eats it again and then shits it into Lawrence Harvey's mouth. For all the inane stupidity on display, one missed opportunity that bugs me is the insistence on calling the super creation the "Human Prison Centipede" rather than the obvious "Human Millipede".
The Human Centipede trilogy is probably the only globetrotting love letter the alimentary canal is likely to receive, and I am okay with that. It is a strange experience watching these movies in a marathon session as they just get louder and crazier as they go. Somehow, looking back on the original as a quiet, ambient film doesn't seem as strange as I would have expected. There is not an easy way to recommend these flicks without feeling scummy, but I will say this – if you are looking for a softcore scatological fetish franchise, this may be the series for you.
Video and Audio:
All three films are presented in their original aspect ratio, the first two at 1.85:1 while the third is framed at 2.35:1. There is a distinct visual style that varies from one movie to the next with the original having a clean, colorful almost sterile feel. The middle chapter was shot in color and digitally altered to black and white, offering a gritty sense of Italian neorealism. The third picture resembles something closer in style to Natural Born Killers with its hot, desert environment color scheme. Each movie receives a solid transfer, limited only by source material manipulation, particularly in part 2 that is as ugly as the conditions the characters are forced to root around in. The other films in the series look perfectly fine, so I can only conclude the distressed image is deliberate.
The first two titles get an immersive DTS-HD MA 5.1 mix that is surprisingly subtle yet effective on each. The third picture is provided a robust DTS-HD MA 7.1 mix that is a tad excessive, but sounds really good during some of the more intense moments. All three are also given DTS-HD MA 2.0 tracks, but these can pretty much be ignored given the strength of their counterparts.
English and Spanish subtitles are included for anyone in need. The original film offers a third track that translates only the onscreen German and Japanese dialogue.
Special Features:
Disc One (The Human Centipede):
Writer/ director Tom Six delivers an interesting but inconsistent commentary track that shares both tales from the production and the origins of the project. Unfortunately, there is plenty of description of onscreen action and some moments of silent reflection as he watches his work.
The Ladies of The Human Centipede (48 minutes) is an informative set of interviews featuring stars Ashley C. Williams, Ashlynn Yennie, Maddi Black and Kandace Caine. No love for Bree Olson, unfortunately. It is fun to hear how the ladies became connected to the project and what they thought of the material, their co-stars and director. They share tales of receiving the vaguely-worded script and audition process as well as working on set.
A collection of raw on-set footage is loosely assembled into a Behind the Scenes featurette (9 minutes) that offers a glimpse at the daily filming process.
Interview with Tom Six (5 minutes) is a self-explanatory segment that repeats some of the information provided in the director's audio commentary.
Audition tapes are seldom viewed as entertainment, but if you wish to see how the finished performance differs from an early read, a two-minute clip featuring Williams and Yennie is provided.
Foley Sessions (5 minutes) offers a look at how some of the film's sound effects were created using raw meat products.
A deleted scene (2 minutes) shows Dieter Laser doing the post-surgery "happy dance".
A video slideshow showcases a gorgeous series of Alternate Poster Designs (1 minute).
The original theatrical trailer is also included.
Disc Two (The Human Centipede Part 2):
Fans will be happy to have the option of watching Human Centipede 2 in its original color format. Blood and guts are more visceral, but the degraded image quality remains. Filming in black and white requires a different lighting design than shooting in color, and to simply alter levels after the fact does not really work. Oddly, the color version runs three minutes shorter than the black and white, but I have not done a side by side comparison to say exactly what is missing.
Director Tom Six is joined by actor Laurence R. Harvey for an audio commentary that revels in what an awesome filmmaker Six truly is. A little goes a long way, but if you love this film as much as I don't, feel free to punish yourself accordingly.
Interview with Filmmaker Tom Six (13 minutes) is a self-explanatory gab-fest with the auteur, in which he discusses the secrets to his success.
Actress Ashlynn Yennie does not appear to regret her decision to return for this sequel in the Set Tour of the Warehouse (9 minutes) segment, in which she guides viewers through the film's central location.
Sound design fans will enjoy a peek at the creation of the Foley Sound Effects (3 minutes) in this piece that mirrors the segment found on disc one.
Casting agents are in for a treat as viewers get to see Laurence Harvey's Audition Tape (6 minutes), another title that sums up the content within.
Making the Poster (2 minutes) offers a behind-the-scenes look at the approach to photographing and assembling the design for the marketing campaign. This is paired with an Alternate Poster Gallery (2 minutes) that presents a video slideshow of various options for the promotional artwork.
A short deleted scene (1 minute) is a useless clip of Martin barking at a dog. I have no idea why this transcendent moment was cut from the feature or included here.
A teaser trailer, theatrical trailer and On Demand VOD promo are also included for your satisfaction.
Disc Three (The Human Centipede Part 3):
Tom Six records his final audio commentary of the franchise and is a bit more relaxed this time as he offers his thoughts on the film. There is a bit of repetition in his stories, but I don't think fans will mind.

A Making of Human Centipede 3 featurette (26 minutes) offers a lot of on-set footage mixed with segments devoted to specific characters. The segment is informative but does not break any new ground in the familiar behind-the-scenes promo piece.

An alternate ending (4 minutes) offers a much stronger resolution to the series and it is a shame it was not used. I am genuinely pleased to have this scene included here, as it is surprisingly satisfying when watching the films in a back-to-back marathon.
A collection of deleted scenes (2 minutes) however are not as satisfying as the previous clip.
A gallery of promotional stills (5 minutes) plays as a slideshow similar to the ones found on previous discs in the set.
A teaser trailer and the theatrical trailer complete the special features on this disc.
Grades:

Movie:


Video:
Audio:
Features:
Overall:
This page includes affiliate links where Horror DNA may receive a small commission at no extra cost to you.