The Last Starfighter Blu-ray Review
Written by Robert Gold
Blu-ray released by Arrow Video
Directed by Nick Castle
Written by Jonathan Betuel
1984, 101 minutes, Rated PG
Released on October 27th, 2020
Starring:
Lance Guest as Alex Rogan
Robert Preston as Centauri
Dan O'Herlihy as Grig
Catherine Mary Stewart as Maggie
Chris Hebert as Louis Rogan
Norman Snow as Xur
Vernon Washington as Otis
Review:
Stuck in an isolated trailer park community with his mother and little brother, Alex Rogan dreams of a better life, one with a sense of purpose. He plans to leave home one day and go to college, taking his girlfriend Maggie with him. Alex is a smart guy who is good with his hands and serves as a sort of maintenance man for the community. These responsibilities frequently keep him from his friends who always seem to be going out for a good time. Alex's sole source of entertainment is an arcade game called Starfighter, in which you fight off alien ships to protect the universe from the evil Xur and the Ko-Dan armada. When Alex breaks the game's record, he is met by its creator, a mysterious man named Centauri who promises him big things if he agrees to go for a ride. The trip is more than Alex is prepared for when the car turns into a spaceship and takes off for the stars.
We quickly learn Centauri is an alien from the planet Rylos, recruiting talented fighters from across the universe for the very real war against the Ko-Dan. They land at the Star League defense base on Rylos where we are introduced to a number of strange alien beings, namely an ace pilot named Grig, who is quick to make friends with the Earthling. Alex declines the offer to fight and returns home where an android doppelganger named Beta is keeping his place while he is away. Both Alex and Beta are having a hard time fitting in to their new environments. They narrowly avoid an alien assassin at the trailer park; one which Centauri promises is only the first of many to come. Alex reluctantly agrees to return to his mission, but learns that following an act of sabotage much of the base has been destroyed, killing all the other star fighters except himself and Grig. It is up to our young hero to make a stand against an intergalactic threat and save the universe from certain doom.
The Last Starfighter is a great example of escapist popcorn cinema – a coming-of-age story rife with adventure and plenty of charm. Our heroes are decent and wholesome individuals fighting for the greater good while the villains are traditionally despicable. It's a classic fish-out-of-water story loaded with themes of good vs. evil and (literally) reaching for the stars. Though not produced by Steven Spielberg, the picture feels like one of his tales, especially the opening act where we get a sense of life in the tight-knit community. From there we take an average Joe and, through a series of increasingly difficult challenges, see him rise to greatness.
Director Nick Castle (TAG: The Assassination Game) began his career working with John Carpenter, first playing Michael Myers in Halloween and then serving as co-writer on Escape from New York. Once he started making his own films, he focused his efforts on family-friendly efforts like Dennis the Menace and Major Payne. With The Last Starfighter, he starts on solid ground with a script by Jonathan Betuel (My Science Project), one filled with likable characters and the wonder of discovery. Alex is a genuinely good guy who puts the needs of others first and is helpful to those around him. He is reluctant at first, given the magnitude of his opportunity, but overcomes his fears to do the right thing. His android counterpart Beta is equally kind and it is fun watching him navigate Alex's relationship with Maggie.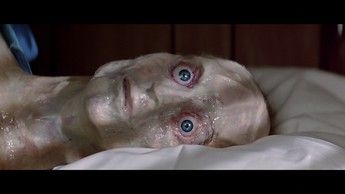 Lance Guest (Halloween II) excels as our protagonist – and his doppelganger – bringing sensitivity, intelligence and openness to the role. He shares great onscreen chemistry with Catherine Mary Stewart (Night of the Comet) as Maggie, who is smart and supportive and incredibly open to the fantastic. Guest holds his own opposite veteran Robert Preston (The Music Man), whose Centauri kicks things into high gear upon his arrival. He is pleasant and charming and enthusiastic in his encouragement of Alex as a Starfighter. The most interesting character is Grig, the reptilian pilot joining Alex on his mission. Dan O'Herlihy (Halloween III) is unrecognizable behind the make-up, but his distinct voice is warm and friendly. A number of familiar faces pop up in solid supporting roles, including Chris Hebert (Invaders from Mars) as Alex's brother Louis, Norman Snow (Manhunter) as the evil Xur and Vernon Washington (Friday the 13th Part V) as the benevolent Otis. As a bonus we get an early appearance by Wil Wheaton (Stand by Me) as one of the trailer park kids!
In 1982's Tron, audiences were introduced to a new kind of visual effect generated by a computer. The images were striking but ground-level in execution. Two years later, this film took the technology to the next level, using CGI instead of traditional miniatures to create photo-realistic spacecraft and some intergalactic locations. Crude by today's standards, the effects carry a strong sense of nostalgia for the 1980s, adding to the sense of fun. The production benefits from the participation of the late Ron Cobb (Leviathan), legendary production designer who created the look of the practical sets and creatures.
The Last Starfighter mixes classic elements of the legend of King Arthur and Excalibur with a moderate dose of Star Wars, making something fresh and exciting. It takes a while to get to outer space, but the time building up to it is well spent developing the characters. The film has a lot of heart and carries an endearing quality that continues to resonate more than thirty-five years later. If you somehow missed this one or simply haven't seen it in a while, it comes easily recommended to fans of all ages.
Video and Audio:
Originally released on Blu-ray by Universal in 2009, the film suffered a problematic transfer that was decidedly underwhelming. For this release, Arrow delivers a new 4K scan and restoration of the original camera negative and the results are spectacular. Presented in the 2.35:1 aspect ratio, the image is much sharper and rich with detail. Colors are robust, black levels are bottomless and skin tones appear natural throughout.
There are three audio options included; a DTS-HD MA 2.0, DTS-HD MA 4.1 and DTS-HD MA 5.1. The stereo track is well-balanced and impressive, but the expanded mixes are more rewarding. Rear channels may not get an exhaustive workout, but music cues and sound effects pack a punch. Dialogue levels are clear and understandable and optional English subtitles are offered for anyone in need.
Special Features:
There are three audio commentaries on this disc, starting with a newly recorded conversation between star Lance Guest and his teenage son, Jackson. The actor has fond memories of this film and is eager to share his stories, which are entertaining and informative. It is interesting hearing his son's reactions to the movie and their back and forth is a lot of fun.
The second commentary features Mike White of The Projection Booth podcast in top form, presenting a tireless stream of information on the film, its cast and crew, the special effects and story as well as its legacy. This is a solid appreciation of this film and well worth a listen.
The third track is an archival commentary with director Nick Castle and production designer Ron Cobb, offering a more nuts-and-bolts approach to the narrative. Castle discusses the script and directing challenges while Cobb details his numerous contributions. There are some gaps of silence throughout, but the information given is solid.
Actress Catherine Mary Stewart shares her thoughts via video conference in the segment Maggie's Memories: Revisiting The Last Starfighter (2020, 9 minutes). She talks about the audition process and the joy of working with Lance Guest. She continues with some of her favorite scenes and production stories and her impression of the finished movie. Her enthusiasm and love for this film is apparent and it is nice hearing her thoughts.
Into the Starscape: Composing The Last Starfighter (2020, 12 minutes), with composer Craig Safan (Warning Sign), reflects on his approach to the music, mixing an orchestral score with electronic elements for a modern feel. He goes on to discuss writing both bombastic themes as well as quiet character selections. He also talks about the challenge of working on the action scenes before the special effects were finished, using only dots on screen for reference cues.
Screenwriter Jonathan Betuel shares his memories of the project in Incredible Odds: Writing The Last Starfighter (2020, 9 minutes). He shares his inspiration for the story and working with Nick Castle to refine the material. He acknowledges the inevitable Star Wars comparison and the desire to keep his story as fresh as possible. He closes with his premise for a follow-up film that would continue the adventure for a new generation.
Interstellar Hit-Beast: Creating the Special Effects (2020, 10 minutes) catches up with special effects supervisor Kevin Pike, who details his numerous contributions to the film. He talks about working closely with the art department and set decorators designing the practical effects for the film. Some of his responsibilities included creating custom props and guns, monitor displays, the interior cockpit of the Starcar, and the Gunstar turret seat.
Sci-fi author Greg Bear shares his memories of the company responsible for the film's cutting edge CGI work in Excalibur Test: Inside Digital Productions (2020, 8 minutes). He talks about the artists' ambitions and advancements in designing computer graphics and points to some of the high tech equipment used in their efforts.
Greetings Starfighter! Inside the Arcade Game (2020, 7 minutes) takes a look at the video game as recreated by collector Estil Vance. He talks about his first impressions and love of this film and his excitement of the proposed Atari home game that was ultimately abandoned. In time, he progressed from a mere collector to a designer of functioning arcade games featured in 1980s films – including Tron, Nightmares and The Last Starfighter. The end product is pretty sweet and fully operational for play.
The archival featurette Heroes of the Screen (2009, 24 minutes) celebrates the film's 25th anniversary with cast and crew interviews, including Nick Castle, Jonathan Betuel, Craig Safan, producer Gary Adelson, storyboard artist Paul Power and several special effects artists. This is an informative segment that covers a lot of ground on the effort that went into creating the movie.
Crossing the Frontier: Making The Last Starfighter (1999, 32 minutes) is a vintage documentary hosted by Guest and featuring a collection of behind-the-scenes footage and interviews with Castle, Adelson, Betuel, art director James D. Bissell, production designer Ron Cobb and various CGI artists.
An extensive collection of image galleries provides a look at various elements of the film, including: "Cast" (27 images), "Starfighter Arcade Game" (43 images), "Starfighter Command" (17 images), "The Starcar" (83 images), "The Gunstar" (77 images). "Ko-Dan Armada" (90 images), "Alternate Ending" (45 images), "Anatomy of a CGI Sequence" (38 images), "Promotions and Merchandising" (30 images)
The theatrical teaser and trailer have been included.
Grades:

Movie:




Video:
Audio:
Features:
Overall:
This page includes affiliate links where Horror DNA may receive a small commission at no extra cost to you.