The Lords of Salem Movie Review

Written by Charlotte Stear


Written and directed by Rob Zombie
2012, 101 minutes, Not rated

Starring:
Sheri Moon Zombie as Heidi Hawthorne
Bruce Davison as Francis Matthias
Jeff Daniel Phillips as Herman Whitey Salvador
Ken Foree as Herman Jackson
Meg Foster as Margaret Morgan
Barbara Crampton as Virginia Cable
Judy Geeson as Lacy Doyle
Patricia Quinn as Megan
Dee Wallace as Sonny
Review:
The Lords of Salem is not the Rob Zombie film you were expecting. Actually, it may not be the film Rob Zombie was expecting when he initially started on the project, but it evolved into something unlike anything he has done before. You just need to look at the initial cast list to see how his path may have strayed. Many actors have been cut out completely (Udo Kier and Christopher knight for example) or are pretty much blink and you'll miss it parts (Sid Haig unfortunately comes into this category). Let's put all that aside though and look at what we're actually given here.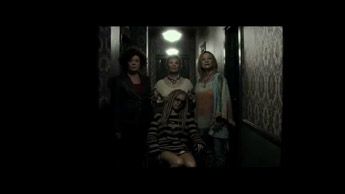 Heidi Hawthorne (Sheri Moon Zombie) is a local radio DJ in Salem along with two friends, Whitey (Jeff Daniel Phillips) and Herman Jackson (Ken Foree). Heidi is sent a mysterious wooden box with a note saying it is simply from "The Lords". The box holds a record with some eerie music that they start playing on the show, giving them the name  "The Lords of Salem". The music begins to have an effect on Heidi and soon her life begins to unravel as strange things start to happen to her.
There's no denying that Rob Zombie knows how to divide opinion, a lot of people have many different reasons why they may not be the biggest fans of his film work. My problem has always been that his love of horror influences him too much and a lot of his work comes off as unoriginal. House of 1000 Corpses, though fun in a garish, colourful way, couldn't really claim much in originality. The Lords of Salem, though completely different to anything he has done before, is the worst for spotting the influences. Watching it I was, let's say, heavily reminded of such classics as Rosemary's Baby, Eraserhead and The Shining. There was also a definite Dario Argento look to it as well. With all these influences floating around it's hard to see this as a Zombie movie.
But ignoring all that, The Lords of Salem is nothing like I was expecting. This all sounds very negative, but it isn't. The Lords of Salem has some of the most gorgeous cinematography I have seen in a damn long time, it's truly beautiful stuff. It's really more of an arthouse film, it hinges on atmosphere and there is uneasiness to the entire film. It's also bat shit crazy, Zombie doesn't want us to fully understand what's going on here and as Heidi spirals more out of control mentally, we too take a journey we're not entirely sure of.

It's become customary for Zombie to use his lovely wife in his films and that was definitely a massive downfall for his Halloween 2 (along with many other things but let's not get into that here), but in this movie she proves that she can hold a film on her own. She has help from a great support cast here, especially the dynamic between her and Jeff Daniel Phillips. I also really enjoyed the performances of the three sisters played by Judy Gleeson, Patricia Quinn and Dee Wallace who were wickedly eerie throughout the film. Bruce Davison was also a solid heroic lead (of sorts).
So the performances and visuals are great, however, the last 20 minutes feels like Zombie is trying to put in as much random stuff to see what he can get away with. It would have made one hell of a music video, but here in this context it just doesn't fit. It also drags out the last section of the film so that the pretty reasonable 101 minute runtime feels a lot longer. All that being said the music was amazing. John 5 provides the soundtrack and it really shows his incredible range as a musician.

It's certainly a tough one, it will (like all his previous films) divide people, but this time round it's going to be a different set of people who may feel let down, and a whole bunch of others who may be slightly surprised. If you love his films for their blood and gore then get ready for disappointment. If that always bothered you about his films, then give this one a go and see how you feel. Also, amazingly, I can count on one hand the amount of curse words used in this film. And for a Rob Zombie flick, that's saying something.

There's no denying this film will stick with you, whether you like it or not you will think about it long after it's finished. Within Rob Zombie I do believe is a brilliant, original horror movie just waiting to come out but sadly, The Lords of Salem isn't it. Time is ticking, will we ever see it?
Grades:

 



Movie:
This page includes affiliate links where Horror DNA may receive a small commission at no extra cost to you.