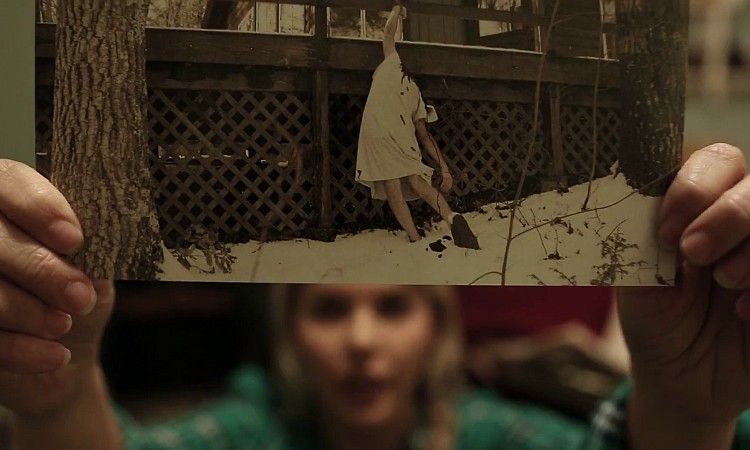 The Lost Footage of Leah Sullivan Movie Review
Written by Stuart D. Monroe
Released by Artist Rights Distribution
Directed by Burt Grinstead
Written by Burt Grinstead and Anna Stromberg (screenplay), Rob Runyeon (story)
2018, 83 minutes, Not Rated
Released on December 11th, 2019
Starring:
Jimmy Driscoll as Harold Noel
Burt Grinstead as Patrick Rooke
Maureen Keiller as Margaret Stromberg
David Nash as Creature
Matthew Pilieci as Ryan
Anna Stromberg as Leah Sullivan
Denise Walker as Alice Sullivan
Review:
Time and time again, I find myself returning to the highly divisive land of found-footage horror. I'm a junkie like that. I simply can't help it. The format speaks to me in a way that theatrical horror doesn't – the raw camera style, lack of music, unvarnished performances, and even the questionable logic all tap into a different part of the brain. At the end of the day, isn't that what it's all about? There are dozens of different kinds of horror, after all.
In the found footage genre, my personal boxes that I want checked are as follows: writing that has more than one layer (at least in theoretical possibility), sequel potential, patience in the build, and a creature/scare that works sustained AND in flashes. It should also have you watching the background like a ravenous hawk outside a burning pet store, scanning for the type of shit that slips by if you happen to blink.
By those standards, I'd like to thank The Lost Footage of Leah Sullivan.
Leah Sullivan (writer Anna Stromberg) is a journalism student who's filming her project on the famous massacre from her sleepy hometown of Lutton, Massachusetts. The Mulkahey Massacre occurred in 1986 when a family of four was found tied up and dismembered inside their home on the lake – Dad had his legs cut off, Mom had her arm cut off, the daughter was decapitated, and all that remained of the young son was a single arm. The sight of the boring little town's one famous nightmare has made the abandoned home the literal local haunted house, and Leah intends to open the doors and find out more. As she begins her project, she befriends a local cop named Patrick Rooke (director Burt Grinstead), who becomes smitten with her and agrees to help. Digging deeper into the history of the house, the two uncover a dark history rife with missing people and crazy theories ranging from mafia connections to precognitive kids who knew what would befall them in the house (see Box #1).
The Lost Footage of Leah Sullivan is a patient movie (see Box #3), first and foremost, and that counts for a lot in this genre. It opens with a title card that says, "I found a camera. I believe it belongs to a girl named Leah Sullivan. This is all the footage that was on the SD card unedited. I think she might be dead." We then spend about twenty minutes just getting to know her and what her project is about (keep your eyes on the background). The groundwork is laid without a hint of sensationalism, and Leah herself is young and lighthearted. There's a girlish and innocent quality about her character that practically screams future doom, but it's not one-dimensional in the style of that throwaway slasher whore archetype. She has drive and stars in her eyes. It's touching and makes what you know is coming that much worse.
Every time you see what's waiting in the wings, so to speak, it's jarring and effective (see Box #4). It's also open-ended and leaves room to grow further (see Box #2). When the finale rolls around in the last 25 or so minutes, the pace and intensity quicken in a way that is natural and organic. The house itself is a fantastic location, bland enough to be real and eerie enough to bring real tension and scare value. What's that old expression used to death in real estate? Location, location, location…
If The Lost Footage of Leah Sullivan can be accused of anything, it's having a little too much patience. There is a smidge of drag in the middle, but most of the character development happens there. Patient movies require you to have some, too. I could have used a bit more of the Creature, but the frequency of it during the final freak-out is non-stop.
The use of sound in the dark scenes is a standout feature. Your brain fills in the blanks in the dark. When you combine excellent sound design with that, your brain will create something much, much worse. It's a lovely touch. Sound design is often overlooked in many films (probably due to the use of musical score), but it's critical in found footage; a film can literally be made or broken by it.
The Lost Footage of Leah Sullivan is done almost as an homage to The Blair Witch Project in structure. It can easily stand alongside some of the best the last couple of years have had to offer to the genre, less in-your-face visceral than Hell House, LLC, but with a mysterious mythology like that of Butterfly Kisses. In short, there's more to be explored here. Given what they accomplished with a microbudget, I'd love to see the story expand with a little more to spend.
This page includes affiliate links where Horror DNA may receive a small commission at no extra cost to you.