The Midnight Man Blu-ray Review
Written by Robert Gold
Blu-ray released by Scream Factory
Written and directed by Travis Z
2016, 93 minutes, Not Rated
Blu-ray released on June 5th, 2018
Starring:
Lin Shaye as Anna Luster
Gabrielle Haugh as Alex Luster
Grayson Gabriel as Miles
Robert Englund as Dr. Harding
Emily Haine as Kelly
Kyle Strauts as The Midnight Man
Review:
The Midnight Game is not a very fun way to spend three hours of the night. Starting at midnight and ending at 3:33 AM, players must avoid someone called the Midnight Man, who preys on their darkest fears. The game contains a series of convoluted rules that seem more like a deterrent, as the setup invites the villain into your house only to have him hassle you for three hours. There is no prize for winning the game and the consequences are nothing short of death. Sound like fun? Alex and her friends think so despite her ailing grandma's disturbing reaction to seeing the game – she screams and faints. For whatever reason (boredom?) the kids decide to play and mayhem ensues.
The Midnight Man is a remake of a 2013 Irish horror film of the same name. This domestic version adds several more characters into the mix, but does nothing to expand the story. The original movie is effective in its simplicity and plays well to add shivers up your spine. Things don't go so well for the new version, as most of the characters are unlikeable and bitchy. Writer/ director Travis Z (the Cabin Fever remake) wastes a lot of time getting to the game and once there, doesn't do a very good job setting up the rules. The titular creature preys on character fears that are not introduced until he is exploiting them. We know very little about these people and consequently do not care what happens to them.
Lin Shaye (Dead End) slums her way through this tepid movie as Grandma Anna, a woman suffering dementia. Her performance is a bit scattershot as she alternates between sweet old lady and vicious bitch. I understand part of this is the disease, but most of it is simple plot device. The real star of the picture is Gabrielle Haugh (Jeepers Creepers III) as the beautiful Alex. She does her best to carry the film but quickly falls in over her head as the script plays fast and loose with its own rules. Grayson Gabriel (Stan Helsing) co-stars as best friend Miles, the enabler of the two. He shares a nice chemistry with Haugh and the two play well off each other, but he remains under-developed as a character. Horror icon Robert Englund (Behind the Mask: The Rise of Leslie Vernon) matches Shaye when it comes to slumming it as he steps into the expository role of Dr. Harding. What begins as a throwaway role turns a bit meatier in the last act, but is so incredibly forced that it doesn't do viewers any favors.
The Midnight Man is a mediocre movie that never quite gels with its parts. The villain remains a mystery not for any noble reason, but rather due to basic lazy writing. Alex's relationship with her grandma feels forced and the game itself is ponderous. I would have preferred the original film receive a wide release to reach audiences, as this is an unnecessary remake that adds nothing to the mix. Sure it's nice to see Englund and Shaye, but it's nicer when they are given better material. The film ends in such a way that suggests the Midnight Man may live on in future installments, but trust me when I say that once is enough.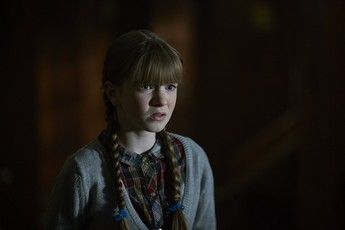 Video and Audio:
Presented in the 2.35:1 aspect ratio, the picture receives a strong transfer. Shot digitally in 2016, there is no reason for it to look anything less than gorgeous. Much of the picture takes place in the dark and black levels are up to the challenge.
A DTS-HD MA 5.1 track gets the job done with plenty of attention given to the rear channels as the titular character sneaks his way around the room. A DTS-HD MA 2.0 stereo mix is also available.
Optional English and Spanish subtitles are included for anyone in need.
Special Features:
Rob Kennedy's superior original Midnight Man (2013) is included here as a bonus feature.
Trailer
Grades:

Movie:


Video:
Audio:
Features:
Overall:
This page includes affiliate links where Horror DNA may receive a small commission at no extra cost to you.