The Phantom of the Opera Blu-ray Review
Written by Robert Gold
Blu-ray released by Scream Factory
Directed by Dwight H. Little
Written by Duke Sandefur
1989, Region A, 93 minutes, Rated R
Blu-ray released on February 17th, 2015
Starring:
Robert Englund as Eric Destler / The Phantom
Jill Schoelen as Christine Day
Alex Hyde-White as Richard Dutton
Bill Nighy as Martin Barton
Stephanie Lawrence as Carlotta
Terence Harvey as Inspector Hawkins
Nathan Lewis as Davies
Peter Clapham as Harrison
Molly Shannon as Meg (1989)
Review:
Christine Day, an ambitious young soprano living in contemporary New York City (1989), is preparing for an important audition. Having recently discovered the perfect piece of music, Don Juan Triumpahnt by Eric Destler, a forgotten British composer (and suspected murderer) of the previous century, she is confident of her chances at winning a part in the opera. Following an accident during her audition, Christine is magically transported back in time to Destler's London, where she finds herself an understudy to the great diva La Carlotta in an upcoming production of Faust. Although momentarily confused about the time shift, she quickly regains her bearings and continues on as though she has always lived in the late 1800s. It remains unclear if she is inhabiting the consciousness of an ancestor and how exactly she is able to interact with everyone on a familiar basis.
One thing is certain, Christine is a talented singer and she has garnered the attention of a figure she refers to as her "angel", an unseen vocal instructor intent on making her a star. It comes as no surprise that this tutor is actually Destler, a phantom that haunts the opera house. He lashes out against anyone who blocks Christine's path to fame, starting with La Carlotta, whom he frightens until the singer loses her voice. Others do not get off so easily, as corpses start turning up behind the scenes, each more grisly than the last. The police are investigating, but unable to capture this mysterious phantom who reportedly lives deep within the catacombs below the opera. When Christine learns the truth about her mentor, she is helpless to stop the mayhem he is causing, but also surprised to discover the nobility of his motivations: love and music; and there is something strangely romantic about all of this. Sure he's a mass murderer, but he is a charming one.
The Phantom of the Opera, the classic novel by Gaston Leroux, has enjoyed no less than six cinematic adaptations and a major Broadway musical by Andrew Lloyd Webber. Devoted fans of the story will have mixed reactions to some of the creative interpretations made by screenwriter Duke Sandefur (Ghost Town), while casual audiences will find more to complain about from a purely cinematic experience. Director Dwight Little (Marked for Death) creates a Gothic romance infused with atmospheric elements of classic Hammer films of the 1950s, and mixes it with the trappings of the 1980s slasher film. These styles do not always mesh well together and the finished product suffers because of it. Refined viewers were horrified by the extreme close-ups of Grand Guignol bloodshed, as this Phantom wears a mask made from the skin of his victims. Gorehounds in search of the next bloody flick starring that gnarly Freddy Krueger dude were subjected to a period drama filled with opera of all things!
The Phantom of the Opera (1989) is an uneven production that suffers from trying to play to too many markets. Some aspects work better than others, as is the case with most remakes, but not all of the problems stem from the actual production. First, let's look at the positives, which there are many. Robert Englund (The Adventures of Ford Fairlane) steps into the titular role that has been dominated in earlier films by the likes of Lon Chaney and Claude Raines, and makes it his own. He succeeds mostly because of his strength as an actor, and that includes knowing which scenes to play quietly and when to blow the doors off. Despite trying to shed his Freddy Krueger persona, there are a few similarities between that character and the Phantom. For starters, the make-up was designed by the same artist (Kevin Yeagher), there are vocal similarities in the performance and the temptation to add verbal quips during kill scenes is occasionally inescapable.
The lovely Jill Schoelen (Popcorn) does a fine job as Christine, the reluctant leading lady. Schoelen and Englund share a nice chemistry that manages to make both their characters at times sympathetic. The actress is at her best when her character is at her weakest, following bad reviews or realizing she is dealing with a psychotic monster. Alex Hyde-White (Deep Cover) and Bill Nighy (Shaun of the Dead) are theatre owners Richard and Martin respectively, the former also being Chirstine's love interest. Hyde-White is a serviceable hero who ably battles the titular villain, but Nighy shines in the role of the brooding and occasionally nasty Martin. He brings an iciness to the character that genre fans will recognize from his ever growing filmography. In an odd casting decision, Christine's friend Meg appears in both time periods, but is played by different actresses. British Meg is played by Emma Rawson, while contemporary New York Meg marks the debut of Molly Shannon (Life After Beth).
As stated earlier, not everything works in this Phantom; one key problem is the tepid score. Perhaps intimidated by the fear of litigious Broadway producers, composer Misha Segal delivers a forgettable soundtrack that leaves me pining for the incomparable talent of Paul Williams (The Phantom of the Paradise). Also working against this production is the marketing department that delivered a terrible campaign. Despite Englund's efforts to avoid the pigeonhole he dug for himself with the A Nightmare on Elm Street franchise, the poster for this movie exclaims "Robert Englund was "Freddy"...Now he's the Phantom of the Opera" and refers to the picture as "An all new Nightmare!" and, most egregiously, the main artwork reveals the titular character without his mask and spoils the surprise unveiling.
This version of The Phantom of the Opera remains faithful to many aspects of the original novel that have been neglected by previous film adaptations. This is the only version to date to remove the falling chandelier set piece, and the first since the original 1922 production to include the Red Death Masquerade sequence. The contemporary bookend framing device feels a bit out of place, and it is, but was actually intended to serve as a bridge to a second feature, The Phantom of New York, that was never filmed. As it stands, viewers aware of what they are getting into will likely enjoy this release more than the audiences that were blindsided in 1989. This is neither the best nor worst telling of the story and it is certainly not the last, but at least this one tries something different with the material and explores some of the darker possibilities.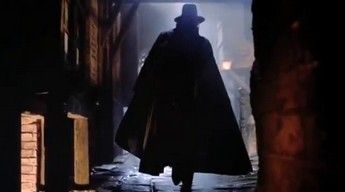 Video and Audio:
Presented in the original 1.85:1 aspect ratio, Phantom looks pretty awesome. There is a new level of picture clarity that really benefits the elaborate set design. Colors are rich and flesh tones appear natural, including the yucky ones worn by the titular creep. Much of the action takes place in the shadows and fortunately contrast levels are up to the task so nothing is lost.
The default DTS-HD MA 5.1 track impresses without overpowering and features some nice music cues and directional effects throughout. A DTS-HD MA 2.0 stereo mix is also provided, but the 5.1 option is really the way to go. Dialogue remains clear and free from distortion.

English subtitles are offered for anyone in need.
Special Features:
Starting things off is a commentary track with Director Dwight Little and star Robert Englund, two friends who are happy to revisit this project with more than just passing nostalgia. There are plenty of engaging tales from the production and while Little dominates the track, Englund holds his own with a strong presence.
Behind the Mask (38 minutes) follows the template of retrospective documentaries but excels in its number of on-camera participants. Red Shirt Pictures delivers with a wide variety of cast and crew interviews including Little, and cast members Englund, Schoelen and Alex Hyde-White. There is some overlap of information with the commentary, but it is nice to get the additional perspectives of more of the cast. Composer Misha Segal discusses the challenge of creating a score that does not resemble Webber's musical. Films with this many elaborate make-up effects require multiple artists and they all return here to describe their contributions. Phantom designer Kevin Yeagher talks about the difficulty of creating a double-layered appliance while assistants Everett Burrell and John Vulich talk about the day-to-day list of gory delights. John Carl Buechler reflects on his work for the decapitation scene with a bit of malicious glee. Some of the more graphic murder footage was censored by the MPAA ratings board, but fans hoping to catch a glimpse of the excised material will have to snag a copy of the uncut Japanese Laser Disc.
A colorful Photo Gallery (65 images) presents glamour shots of the Phantom and other cast members, in addition to a look at some of the marketing designs for the film.
The original theatrical trailer is paired with a TV spot and some radio ads.
Rounding things out are previews for additional titles available from Scream Factory.
Grades:

Movie:


Video:
Audio:
Features:
Overall:
This page includes affiliate links where Horror DNA may receive a small commission at no extra cost to you.