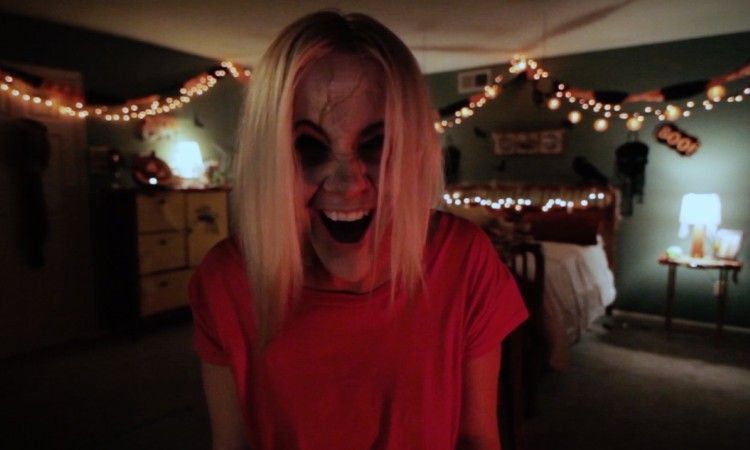 The Possession Diaries Movie Review
Written by Joanna K. Neilson
Released by Uncork'd Entertainment
Directed by Juan Frausto
Written by Juan Frausto and Rich Wealthy
2019, 93 minutes, Not Rated
Released on 4th June 2019
Starring:
Delilah Cotto as DeeDee
Noel Gugliemi as Detective #1
James Russo as Father Brien
Fernanda Romero as Detective #2
Johnny Ortiz as Dante
Review:
People rag on Paranormal Activity and its many sequels all the time. True, it ushered in a big clutch of rip-off found-footage horror films, often made for a pittance and of very varying quality. Also possession films are incredibly prolific these days and don't seem to be stopping anytime soon. The devil sure is busy.
So, what's wrong with The Possession Diaries? Take a deep breath. This might take a while, but let's get down to brass tacks here.
This is a terrible movie.
Not so-bad-its-good-terrible, not 'very low-budget so it uses the limitations of the genre to pare down the horror of the unseen into a very effective final jumpscare'. No. Nothing that smart. Nothing that watchable. This is, purely and simply, utter garbage. It's like someone heard about a possession movie making huge wads of cash and decided that they'd have a crack at it without the slightest understanding of horror. Or demonic possession. Or filmmaking. Or how real life human beings actually behave at any point in reality.
Oh, OK, I've concede maybe they've heard of computers and even chatrooms.
But definitely only in passing.
Maybe its biggest crime is not knowing that, if they've made this as a found footage film, maybe they should stick with the 'found-footage' part of it. Because the camera buzzes around the possessed girl's room like the demon brought his own shaky-cam, wrecking the minute amount of tension they'd begun to inflict.
This trainwreck begins with a video diary of a scared teenage (or twenty-something) girl trying to convince viewers on YouTube – or similar – that this is a genuine cry for help as the DEVIL HIMSELF has started trying to harass and possess her. We know this, because the DEVIL HIMSELF actually phones her up, announces himself, and threatens her. On camera. Whilst cackling. Yes, THE DEVIL HIMSELF actually phones her up like some giggling sex-pest. This poor girl – who may well be the last twenty-something living away from home who still has a landline and no smartphone, is being harassed by THE DEVIL. And for some weird reason, no one out there believes her.
Because she's not fooling us, for starters.
So, she sobs over and over to the camera, and at first there's an attempt to try and build tension around her looking into the camera, and then, well, the found-footage angle comes and goes. By the time a clawing hand reaches out of a (not) unexpected place that she slowly reaches into, you'll be begging THE DEVIL to finish the job. Very, very soon.
Oh, please, please finish it so I can watch The Exorcist instead.
Also, this dumbass character seems to have been bothered by the DEVIL for about three days maximum, right after messing with a Ouija Board (dur, of course) but she continually claims that she's tried everything she possibly can, and…
She insists she's spoken to a psychologist. OK, so surely getting on some medication would be a start. Instead she leaps straight to 'It is THE DEVIL' – and to be fair, he conveniently does ring up and announce himself. Wow, how terrifying. Insidious this isn't. As the haunted character continues to whine and make increasingly poor choices, I'm really sticking on the side of THE DEVIL here. Speed this mess up, will ya?
Increasingly, more questions are raised by this idiot's actions, like, why is her room still all decorated for Halloween when THE DEVIL is hanging out in her closet, and why does she refuse to speak to another, recommended priest – who's very likely to believe her – when the hugely irritating spiritualist lady suggests it?
And why are the most irritating characters then only killed off screen?
These are just nitpicks. There's nothing to recommend watching this so-called film beyond extreme masochism, or if every other film in the world was wiped by a cosmic event. The main actress herself is OK, but there's zero script for her to work with, and you may even think that me calling it 'the worst movie I've seen in all my years' is some hilarious recommendation. But I swear, it really, really isn't. Go and watch Rosemary's Baby and Insidious instead. Or all of the Paranormal Activity movies again – they're better than you think! But this dreck isn't worth anybody's time, and a half-witted twist ending completely fails to pull it around. Even weirder is a group of Hispanic police men and woman who suddenly show up, and you spend the whole four minutes they're on screen heartily wishing the film was about them instead.
In short, if you like horror, or films of any kind, then run from this movie like THE DEVIL was actually on your heels.
Total. Waste. Of. Time.
This page includes affiliate links where Horror DNA may receive a small commission at no extra cost to you.