The Rake DVD Review
Written by R.J. MacReady
DVD released by Sony Pictures Home Entertainment
Directed by Tony Wash
Written by Jeremy Silva and Tony Wash
2018, 78 Minutes, Not Rated
DVD released on June 5th, 2018
Starring:
Izabella Miko as Cassie
Shenae Grimes-Beech as Ashley
Rachel Melvin as Nicole
Joe Nunez as Jeremy
Stephen Brodie as Ben
Joey Bicicchi as Andrew
Review:
The Rake is an odd movie to review. I'd seen the trailer and thought it looked interesting, and didn't realize until it arrived that it was from an ultra low-budget director I'm familiar with, Tony Wash. He'd done a no-budget movie back in 2007 called It's My Party and I'll Die If I Want To that's moderately entertaining, and another short in 2011 called A Chance In Hell that looks great considering its tiny budget. But I hadn't heard anything about him, or any other movies from him since. According to IMDB, he's been fairly active, so how far has he come?
The movie opens at Christmas as a mother and her two kids are decorating a Christmas tree while their father is upstairs watching a creepy video featuring a crazy man. He's transcribing notes, but takes a brief breather when his son wanders upstairs and interrupts him. Then he puts his headphones back on and continues his work.
A few minutes later, the crazy man from the video appears in the house and slaughters the mother and father before finally killing himself in front of the two kids, Ben and Ashley. I was a little lost here as to exactly what was going on, and that feeling never fully left me during the movie.
Years later a couple moves into a new home to get a "new start", and again...I was a little lost because they're soon interrupted by a now-grown Ashley, who has been released from a mental institution. The other woman says, "She's my sister...", and I'm thinking...where were you in the scene with the family during Christmas?
Ashley starts acting a little weird, and seeing things, and there's a lot of talk about "It will infect us all", and her brother finally shows up to see what's going on.
There are arguments, more weird visions (or are they?), and of course people start getting killed.
First off, on the directing front, this is a very solid work. If you didn't know it is super-low budget, the look and the shots wouldn't clue you in. The audio, however, would. A lot of it sounds canned and just...off.
The story is probably the biggest problem. I finished the movie and still didn't have a very good idea of what happened. Are they all actually getting infected by something that makes them go crazy and see shit, and then kill people? Or is there some big creature going around killing them? I have no idea, though I'd lean on the crazy side of the things.
Another small quibble is the score. I'm not sure who Tim Montijo is, but he clearly LOVES the score to Aliens. That's nothing to be ashamed of, but you really can't go this close to that score and think nobody's going to notice, especially when there's a shot right out of Aliens – when Bishop's standing there and the tail suddenly impales him from behind, lifting him up. That exact shot is in this flick.
On the good side, there are some impressive practical effects in this. A cool creature, including a nice transformation effect toward the end, so fans of practical gore will rejoice.
The acting is solid all around, although Joe Nunez (who's like a discount Oliver Platt) sometimes chews a little too much scenery.
The film looks good, and with a short running time of 78 minutes, you're not going to be bored.
The Rake is a decent waste of time, and an impressive effort coming from a micro-budget filmmaker. While I wish the script made a little more sense – or at least spent more time on clarity of story – it's still worth checking out.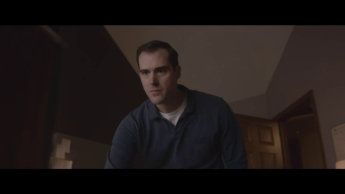 Video and Audio:
Presented in 2.40:1 anamorphic widescreen, the picture looks very good, especially given its low-budget nature. However, I noted quite a bit more grain when viewing it on my computer monitor to get frame grabs than on my television.
The sound is English 5.1 Dolby Digital or English Stereo. The audio isn't a high point as far as dialogue goes, but the gore effects and music sound good, mix-wise.
No subtitles are offered.
Special Features:
The only features on the disc are a trailer and scene selection. So, nothing.
Grades:

Movie:




Video:
Audio:
Features:
Overall:
This page includes affiliate links where Horror DNA may receive a small commission at no extra cost to you.