The Rite Blu-ray Review

Written by Steve "Alien Redrum" Pattee

Blu-ray released by Warner Brothers

Official Site
Directed by Mikael Håfström
Written by Michael Petroni
2011, Region A, 114 minutes, Rated PG-13
Blu-ray and DVD released on May 17th, 2011

Starring:
Anthony Hopkins as Father Lucas
Colin O'Donoghue as Michael
Alice Braga as Angeline
Ciarán Hinds as Father Xavier
Rutger Hauer as Istvan
Toby Jones as Father Matthew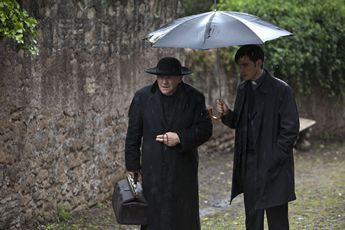 Review:
The men in Michael's family are limited to two career choices: Mortician or Priest. Not wanting to follow in his father's footsteps (a completely underutilized Rutger Hauer), Michael (Colin O'Donoghue) decides to join the seminary — even if he is a non-believer.

Close to graduation, he drafts an email to head priest Father Matthew (Toby Jones, The Mist) breaking the news that he just doesn't have the faith to be a man of God. Much to Michael's disappointment, Father Matthew informs him that the seminary reserves the right to charge him for his education. However, the senior official tells him to head to Rome for two months for some exorcism training. If Michael still doesn't have the faith after that, he can leave with a free education.

Naturally, Michael makes the decision to get some demon training at the Vatican. Eventually, though, his instructor gets tired of him asking annoying questions such as, "How do you determine if a person is schizophrenic and not possessed?" and  "Can't they just be pulling a fast one on you?" Since the church really has no time for such close minded people and their "questions", Michael is sent off to work with Father Lucas, the number one demon cleaner in Rome (and possibly the world). This is when the party starts.

The first two acts of The Rite are incredibly strong. Director Mikael Håfström (1408) does a fantastic job developing Micheal's motives in the first, quickly establishing his beliefs and reasons for joining the church even though he doesn't have all that much of an interest in the Lord. But once he's sent to the Vatican for the exorcist training, that's when the movie really kicks in. The way he constantly questions his instructor, Father Xavier (Ciarán Hinds), makes for a fascinating science versus religion film. It only gets better when Michael meets up with Father Lucas and actually starts participating in exorcisms. My favorite scene in the movie, hands down, is when Michael has a discussion with someone possessed by a demon. He clearly does not believe that something is inhabiting the girl's body, and his replies to the evil are so dripping with sarcasm, you just have to laugh. (A close second rocking scene is when Father Lucas smacks the shit out of a child. That scene alone is worthy of a full star in this review.)

If the movie had followed the science versus religion theme throughout the entire movie, The Rite would have quite possibly been the best film this year. But the third act of this movie becomes so clichéd, it effectively hurts everything that came before it. Situations arise that make Michael question his beliefs (of course), and (spoiler!) by the end of the film, he is a full believer in the Lord. Okay, sure, him talking to his father on the phone hours after he died may be enough for most people to change their line of thought, but up to the final third of the film, The Rite's biggest strength was Micheal's disbelief. His turning around happens so quickly, it becomes unbelievable. This is truly unfortunate, as The Rite really could have been a terrific film.

Being a relative newcomer Colin O'Donoghue's performance is extremely impressive. I imagine sharing equal screen time with someone with such skills as Sir Anthony Hopkins must be pressure-filled, but O'Donoghue not only holds his own with the far more experienced actor, the two make a really solid team. Hopkins is Hopkins, so naturally he brings it (hell, the man can show up and do nothing and still bring it), but it's obvious the two had some sort of synergy going because the best parts of the movie are when the two are together either debating theology, ridding the world of evil, or just hanging out.

It really is too bad The Rite taps out in the third round. It has some terrific ideas and brings up some interesting questions for both non-believers and believers alike, but by the end it just becomes another one of those 'what coulda been' films. In its credit, it does have a few moments that bring the willies, but not near enough to make it more than something that while well worth a viewing will become forgettable over time.
Video and Audio:
The Rite's 1080p is rock solid. Since it is a film that heavily relies on darkness and shadows for mood, it's important that this is carried over without distraction and the Blu does just that. The blacks are deep and dark, the colors are natural and definition is crisp and defined.

The DTS-HD MA 5.1 audio is impressive, with excellent use of the surround speakers and a good work out for the subwoofer. The soundtrack does a great job with the ambient sounds to add to some of the more tense-filled moments.
Special Features:
Chilling Alternate Ending
The Rite: Soldier of God
Additional Scenes
There are surprisingly few features on this Blu-ray and, unfortunately, it's not even a case of quality over quantity.

The featurette The Rite: Soldier of God has a lot of potential as it very lightly covers a real exorcism academy and interviews Gary Thomas, who is the exorcist inspired the film. As enjoyable as it is, though, it only runs about seven minutes. You turn this sucker into a 45 minute or hour long featurette, you have a winner, but seven minutes is barely enough to even whet your appetite.

The alternate ending is not nearly as chilling as promised and was cut for good reason and the deleted scenes are worth at least one watch.
Grades:

 



Movie:
Video:
Audio:
Features:
Overall:
*Note: The screenshots on this page are publicity stills and not a reflection of the Blu-ray image.*
Want to comment on this review? You can leave one below or head over to the Horror DNA Review Forum.
© 2011 Horror DNA.com. No use of this review is permitted without expressed permission from Horror DNA.com.