The Sect Blu-ray Review
Written by Ryan Noble
Blu-ray released by Shameless Screen Entertainment
Directed by Michele Soavi
Written by Dario Argento and Gianni Romoli
1991, 117 minutes, Rated 18 (UK)
Blu-ray released on 27th December 2016
Starring:
Kelly Curtis as Miriam Kreisl
Herbert Lom as Moebius Kelly
Mariangela Giordano as Kathryn
Michel Adatte as Frank
Carla Cassola as Dr. Pernath
Review:
I said I wanted to watch more Italian horror, namely those films that had been written or directed by the famous pairing of Dario Argento and Michele Soavi, after I watched and reviewed The Church recently. Then, a mysterious package arrived in the post. Soavi's The Sect, remastered by Shameless Screen Entertainment for Blu-ray. I like to think that it came directly from Soavi after he read and loved my review, but I have a sneaking suspicion that it may have come from Daniel, the UK site editor. Regardless, I watched the film through new eyes after my experience with The Church, and was surprised to find a film that seemed much more... coherent.
Beginning in the desert, The Sect opens with another brutal massacre similar to that of The Church, but rather than the interesting musical mix of Gothic and electro I'd expected to hear, likely from Argento's favoured band, Goblin, I was eased into the setting with America's "Horse with no Name". It felt so... normal. However, much less normal is the river the camera pans across, which seems to be running red with blood. It isn't long before Tomas Arana, leading a Satanic cult, shows up and bathes the sand in blood, too. Compared to his previous casting as a librarian, his transition into a gaunt, bedraggled cult member is especially powerful, though short-lived.
Once these murders set the film in motion, two of the film's most important characters are thrust together in a few moments that somehow manage to be intriguing, funny and endearing – the latter as a result of Miriam, played by Kelly Curtis, Jamie Lee Curtis' older sister, and the former created by Moebius, played by the late Herbert Lom. He is an old man with a mysterious package – that is, a box – and knowledge into her life that he just shouldn't have. They play off each other well throughout, and his gruff, matter-of-fact personality marries perfectly with her sweet, sensible, cluttered nature and lifestyle. Remember how you couldn't help but root for Jamie Lee Curtis as Laurie in the Halloween franchise? It's exactly like that. In fact, I actually realised that I felt exactly the same way about her and likened her in my mind to the same character before I even realised, quite sheepishly, that the actress was her sister.
As you may have realised if you read my review of The Church, I've already given more thought to the characters within the first 30 minutes of the film than I was able to in the previous piece, and this is due to one fact. The Sect has a linear, coherent narrative that I had not been expecting to find, yet was more than ready to welcome. I began the film with a completely open mind, ready to absorb the abstract, soak up the soundtrack, and gratify the gore. Of course, all of these aspects still have their place within the film, except the soundtrack, which feels a little tame, but Soavi delivers a horror that makes much more sense to my previously non-Italian mindset.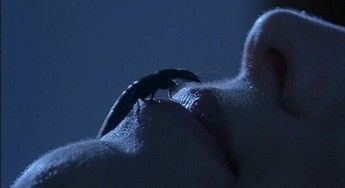 Honestly, this allowed me to enjoy the film more, able to enjoy the story unfolding in front of me while also hoping that Miriam, whom I was given time and reason to empathise with, would survive the awful things coming her way. Naturally, there are some seriously awful things that she experiences; losing friends, having her neck torn open by a large carrion bird, and being chased around her house by a maniac with a knife. What is it about the Curtis sisters that attracts the weirdos?
Not that Miriam herself isn't slightly weird, in a cute sort of way. She loves rabbits. She has art with rabbits, an entire table of ceramic rabbits, and even a pet rabbit who goes by the name, "Rabbit". As she explains to Moebius, this is so that they are completely equal. She can't call him by a name, just like the rabbit can't call her name at all. Makes sense, I guess. Though the addition of rabbits in the film could easily be explained as a cute hobby, I believe that this is to evoke the symbolism of Christianity, whereby rabbits symbolise a person's victory in overcoming lust.
A rabbit is also sometimes placed at the feet of the Virgin Mary in pieces of art, such as in "The Madonna of the Rabbit", and oil painting in the Louvre which dates back to 1530. This makes a lot of sense in relation to the overall plot of the film, especially towards the end, when Miriam is facing her own temptations and even a miraculous conception. In a much less meaningful turn of events, her rabbit also becomes demonic in its own right, and takes an interest in day-time television. It is a personal highlight.
As is, it would seem, The Sect. Of the two Soavi-directed Italian horrors I have seen, this film had a significantly superior narrative and characterisation, while still retaining its gore and abstracts, though apparently at the cost of a catchy soundtrack. You were missed, Goblin. I'm still open to the over-the-top films that Italian horror cinema is known for, but I'm also secretly pleased that this film surprised me with something more considered. I'd actually go as far as to say that The Sect feels like an Italian Halloween at times, no doubt helped along by the fact that the heroine is related to the sensible babysitter from Haddonfield that we fell in love with so long ago.
Video and Audio:
Shameless are certainly in the right business, as the remastering of video and audio is extremely high quality. Colours are bright and audio is clear, and the entire film still holds up nicely by modern-day standards. The subtitles don't match up all that well, which I'm assuming is because the dialogue is a translation that closely matches the lips of the cast, and that the subtitles are the truest translation of the original Italian script. This can be slightly distracting if you're listening and reading, but isn't likely to be an issue that many people would experience. Other than this very minor mismatch, Shameless has delivered another remaster that will sit proudly amongst my horrors.
Special Features:
Shameless know what they're doing in remastering Soavi's films for modern-day horror fans, and the Blu-ray remaster includes:
• 2K restoration
• Longest cut
• English cut
• Italian cut with English subtitles (for the first time ever)
• Trailer reels
• "A conversation with Michele Soavi", which features Soavi discussing how he got into directing, favourite horror films, special effects, cinematography, and even a humorous tale of regret, in which he explains how he turned down From Dusk Till Dawn.
Grades:

Movie:




Video:
Audio:
Features:
Overall:
This page includes affiliate links where Horror DNA may receive a small commission at no extra cost to you.