The Seventh Sign Blu-ray Review
Written by Robert Gold
Blu-ray released by Scream Factory
Directed by Carl Schultz
Written by George Kaplan and W.W. Wicket
1988, 97 minutes, Rated R
Blu-ray released on September 11th, 2018
Starring:
Demi Moore as Abby Quinn
Michael Biehn as Russell Quinn
Jürgen Prochnow as David
Peter Friedman as Father Lucci
Manny Jacobs as Avi
John Taylor as Jimmy
Akosua Busia as Penny Washburn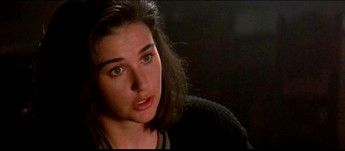 Review:
David is on a spiritual quest that leads him the world over bearing witness to the opening of the seven gates to the Apocalypse. He suffers this task willingly as a messenger of God, but despite seeing oceans die, villages burn and snow fall in the desert, nothing can prepare him for the shocking audacity of Abby Quinn. She is his landlady in the United States and she has no respect for privacy or the personal space of others. Abby snoops through David's belongings, forces him to join her and her husband for dinner and, even worse, she is always freaking out about being seven months pregnant. She is not the first woman to ever carry a child, nor is she the only one with a history of miscarriages, but to spend five minutes with her you'd think this fetus would be the death of her. She could be onto something here, as David may have some use for her in service to God's plan. Abby manages to figure out what is going on, but no one will believe her, so she takes it upon herself to interfere with the Almighty's business.
The Seventh Sign is an apocalyptic thriller that places the fate of the world on the shoulders of one innocent woman. Demi Moore (Striptease) stars as Abby, the super-pregnant yet amazingly tireless art conservator who spends her rainy days chasing her new tenant around the streets of the city just to say "hi". Abby is an incredibly pushy character who is constantly barging into places where she is not welcome, including synagogues and prison execution chambers. Moore throws herself into the role, proving herself as a dramatic actress, but the whole thing is a bit melodramatic. Luckily, she is surrounded by talented actors, including an incredibly patient Michael Biehn (Aliens) as her husband Russell, an attorney fighting to save the life of his convicted client. He spends his days getting beaten up on the job, only to come home to his neurotic wife and her ramblings of the Apocalypse. Jürgen Prochnow (In the Mouth of Madness) manages to fill his character David with a demeanor that is both calming and creepy at the same time. He is clearly enjoying the role and elevates every scene he is in simply with his presence.
Director Carl Schultz (Careful, He Might Hear You) does a serviceable job establishing an epic scope to the picture, but the real star is cinematographer Juan Ruiz Anchía (House of Games), whose beautiful lighting and creative camera work really bring the material to life. Screenwriters Clifford and Ellen Green (Baby: Secret of the Lost Legend) deliver a fast-moving script that manages to work, in spite of a lot of familiar religious tropes and genre clichés better presented in stronger pictures like Rosemary's Baby (1968) and The Omen (1976). It is hard to balance the scale of the pending Apocalypse with the plight of one woman, but the duo generally succeed, so it is a bit surprising to see them credited behind the aliases George Kaplan and W.W. Wicket. The Seventh Sign is a well-made picture that is actually more enjoyable than I remembered, but it does sort of fall apart if you pay too close attention to the central plot. It is definitely worth checking this movie out, but missing it won't be the end of the world.
Video and Audio:
Presented in the original 2.35:1 aspect ratio but sourced from an older master, the picture is crisp with plenty of small-object detail and rich colors. Black levels are sufficiently deep and there is nice contrast throughout.
The disc offers a single DTS-HD MA 2.0 mix that keeps things moderately active when it comes to speaker activity. Dialogue remains clear and free from distortion and optional English subtitles are provided for anyone in need.
Special Features:
Actor Michael Biehn reflects on the role of Russell Quinn in this all-new interview (11 minutes). He shares stories of working with Demi Moore, his lack of understanding of the central theme of the story and his character's motivation. He starts to talk about working with co-star John Taylor and the director but gets sidetracked on how to generate tears on camera.
Director Carl Schultz sits down for a 2018 interview (20 minutes) in which he discusses his career origins in Australia before taking jobs in Hollywood. Topics include casting, the importance of rehearsals, working with actors and his cinematographer. He discusses various other aspects of the production and gives his thoughts on the end product.
Screenwriters Clifford and Ellen Green are interviewed for the segment Revelation of the Writers (30 minutes) in which they reveal their writing process and religious inspirations and themes. They point out differences from script to screen and how creative differences with the producers led to them leaving the project. They discuss pseudonyms and casting misgivings as well as their overreaction to the finished film.
An interview with actor Peter Friedman in The Confession of Father Lucci: The Wandering Jew (20 minutes) reveals his approach to the role and what it was like working with the cast and crew. He shares his character's backstory and his thoughts on the performance and his reaction to seeing the movie upon release.
Actor John Taylor and screenwriters Clifford and Ellen Green reflect on the character of Jimmy, who represents the Word of God in The Last Martyr and the Law of God (11 minutes). Taylor shares stories from his time on set and the rehearsal process. He is an instantly likeable guy and his inclusion here is a welcome addition.
There's not a theatrical trailer, but we do get a pair of TV spots. The picture quality is lacking and the audio is a bit murky on both, but it is nice to see how the film was marketed.
Grades:

Movie:


Video:
Audio:
Features:
Overall:
This page includes affiliate links where Horror DNA may receive a small commission at no extra cost to you.