The Special Movie Review
Written by Stuart D. Monroe
Released by Red Hound Films
Directed by B. Harrison Smith
Written by James Newman and Mark Steensland
2020, 94 minutes, Not Rated
Released on October 13th, 2020
Starring:
Davy Raphaely as Jerry
Dave Sheridan as Mike
Sarah French as Lisa
Doug Henderson as Ivan
Susan Moses as Madam Zhora
Paul Cottman as Detective Barnes
Janae Palmer as Syn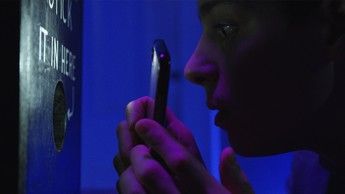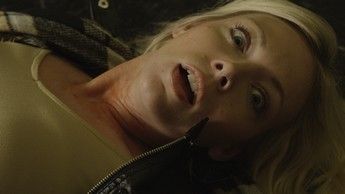 Review:
"Can one desire too much of a good thing?" - William Shakespeare, As You Like It
There are a wide variety of dumbass situations a guy will get himself into for a little sexual gratification. When you throw in the motivating factor of revenge for cheating, you know all bets are off. What happens, however, when you open a door to pleasure that you're not prepared to handle the power of? Do you put it where it doesn't belong anyways and see what all the fuss is about, or do you keep it in your pants? If you hesitated at all, The Special is exactly what you need in your life.
Jerry (Davy Raphaely; Camp Dread) is distraught after the discovery of his wife's infidelity. His best buddy, Mike (Dave Sheridan; Scary Movie), has the solution; a trip to a hidden whorehouse fronted by mysterious Russian psychic Madame Zhora (Susan Moses; Camp Dread). Mike wants him to try "The Special", but what awaits him is padlocked black wooden box with a hole in it and the words "Stick it in here" painted just above the hole. He laughs as he literally plows ahead…and then his mind is blown by an orgasm that makes him scream bloody murder and pass out. That's all it takes for Jerry to be fully obsessed with the box and whatever the hell is in the world's most amazing (and improbable) glory hole. He soon murders Madame Zhora and takes The Special for himself, sequestering it in a flophouse motel for a week. Thus, begins Jerry's journey into a nightmare of addiction that starts off almost laughable (HA HA…dick in a box!!) before becoming dire (what the hell is up with this rash?) and finally all-consuming as Jerry falls apart faster than you can say Brundlefly. Will he stop his unholy affair with The Special, or will he go all the way to the bottom of the rabbit hole and see what's at the bottom?
Would you go all the way to the bottom?
I must confess my love and familiarity for the source material. James Newman and Mark Steensland's 2018 story isn't essential to read beforehand; however, it enhanced my enjoyment precisely because it's so faithful to the material. Any time you go from the printed page to the screen, there will be some changes. That's a given of the business, but the changes here are very few because Newman and Steensland wrote the screenplay, too. This is their baby, and it shows in the care taken to keep it true.
As such, it's infinitely easier (regardless of whether you've read the story or not) to appreciate The Special because it works from a fun and outlandish aspect (as the good horror comedies do), but it's also a strong statement about addiction of all kinds that uses uncomfortable sexual situations of all varieties to build you to a finish that is not only frankly fucking repulsive but is also a SFX masterpiece from the folks over at Sota FX and Roy Knyrim.
When you dig a little deeper into The Special (and I don't know why it didn't hit me reading it), the darker aspects of the story are pure Hellraiser (the search for pleasure, bad things in boxes, don't put your dick there). When you throw in a splash of Tales from the Crypt Presents Demon Knight for the trappings and setup and some Creepshow-esque lighting, the result is a reverse Gom Jabbar that will change you a little bit by the time the 94 minutes are up. Director B. Harrison Smith shoots all the really "squishy" scenes with a level of discretion that somehow makes it so much more visceral.
The Special is a film that will garner a strong cult following by word of mouth (or the hyper-connected version of it we have today) like the treat that it is. It's the kind of movie that you want to have around so you drag somebody into it cold and watch their reaction.
It'll tell you a lot about them. I promise.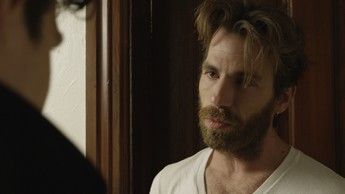 This page includes affiliate links where Horror DNA may receive a small commission at no extra cost to you.