The St. Valentine's Day Massacre Blu-ray Review
Written by Robert Gold
Blu-ray released by Twilight Time
Directed by Roger Corman
Written by Howard Browne
1967, Region A, 100 minutes, Not Rated
Blu-ray released on February 10th, 2015
Limited to 3,000 copies
Starring:Jason Robards as Al Capone
George Segal as Peter Gusenberg
Ralph Meeker as 'Bugs" Moran
Jean Hale as Myrtle
Clint Richie as Jack McGurn
Frank Silvera as Nick Sorello
Bruce Dern as Johnny May
David Canary as Frank Gusenberg
Paul Frees as Narrator
Review:
The infamous St. Valentine's Day Massacre was the culmination of a territorial feud between rival Chicago crime bosses Al "Scarface" Capone and George Clarence "Bugs" Moran. For years during the prohibition era, the men battled over control of the north side of the city, each planning elaborate attempts on the other's livelihood. Countless henchmen were murdered in a cycle of strikes and counter-strikes, drawing seemingly endless amounts of blood. When Dion O'Banion, a leader in the Irish crime organization, was murdered in a flower shop, Moran retaliated with an equally devastating blow to Capone by ordering the death of Italian Mafioso Pasqualino "Patsy" Lolordo. This act of revenge served as the final straw and within a matter of weeks, six men connected to Moran were lined up and shot to death in a warehouse on the morning of February 14, 1929.
Al Capone rose through the ranks to become one of the most infamous names in the history of organized crime. Hollywood loves a bad guy, and Capone has filled that position so many times over the years that he has become a caricature of himself. By 1967, many people merely associated the name with the popular Robert Stack television program, The Untouchables. With The St. Valentine's Day Massacre (1967), Director Roger Corman set out to make a highly factual docudrama that recreates the era and sets the stage for the rise of organized crime in America. The screenplay written by Howard Browne (Portrait of a Mobster) is most concerned with the accuracy of the events, and threatens to bury the fun under a pile of facts. Corman accepts the challenge of elevating the material from history lesson to entertaining cinematic experience and incorporates a "ripped from the headlines" narration, provided by the inimitable Paul Frees (The Rocky & Bullwinkle Show).
Jason Robards (Something Wicked This Way Comes) is all business with his interpretation of the legendary mobster, and offers a unique spin on Al Capone. Robards' performance aims to capture the essence of the man (think Anthony Hopkins in Nixon) rather than go for a physical transformation with padding. He removes Capone's sense of humor and seldom cracks a smile, unless basking in the news of a rival's demise. It is nice to see him carry such malice in this picture, as he is generally a beloved on-screen presence. Also playing against type is George Segal (Fun with Dick and Jane) as local enforcer Peter Gusenberg, a seriously sociopathic man who gleefully hurts most anyone in his path. In a particularly disturbing scene with his girlfriend Myrtle (Jean Hale, In Like Flynt), what starts innocently enough as a discussion about a new coat turns into an argument that rapidly spins violently out of control. At this point, the narration duties are shifted to Hale, who defends her man in a nice touch that reminds me of later works, including Goodfellas. Ralph Meeker (The Night Stalker) is Capone's nemesis "Bugs" Moran, and he matches Robards' intensity as the head of a crime family, but does so without all the bluster. Corman fans will be happy to spot regular cast members Dick Miller (A Bucket of Blood) and Bruce Dern (The 'Burbs) in small roles, and eagle-eyed viewers will score a blink-and-you'll-miss-it shot of Jack Nicholson (Easy Rider) as a hit man.
As strong as this cast is, the real star of The St. Valentine's Day Massacre is Roger Corman. Working on his first big studio film, the legendary director makes use of every narrative tool at his disposal. He keeps the camera moving through a series of elaborate set-ups from one scene to the next, frequently involving cranes and extensive dolly moves that really open up the size of the picture. His attention to detail in the lavish production design gives the film a look substantially larger than his budget would suggest. The frequent action sequences keep the energy high and are highlighted by an elaborate drive-by shooting in downtown Chicago and the epic finale showcasing the titular event. Although criticized for the level of violence and language in the feature, Corman's work was one of the last to be shot in what was up to that point, a traditional manner, as the content was eclipsed just two months later with the release of Arthur Penn's revolutionary Bonnie and Clyde (1967).
The St. Valentine's Day Massacre is a rare example in a lengthy filmography where someone actually gave Roger Corman a pile of money to make a feature. It is interesting to note that once in this position, he made an engaging period piece filled with facts, rather than simply return to the well of creature-features that made his legacy. It comes as no surprise that the fiercely independent Corman would not have the smoothest relationship with the studio system. The multiple levels of financial oversight that come with making a picture in Hollywood can stifle creativity. In 1970, Corman set out to create his own company, New World Pictures, and the following year he stepped out of the director's chair in favor of a career producing films for talented but untested artists. His name is attached to more than 400 features and he continues to act as a producer today, with no less than four films in production as of this writing.
Video and Audio:
The St. Valentine's Day Massacre is presented in the original 2.35:1 aspect ratio and looks terrific. There is a surprising level of detail in the image, complemented by strong colors and sharp contrast.
A DTS-HD MA 1.0 mono track faithfully presents the original audio recording and while obviously front-heavy, is quite satisfying for a picture of this vintage.
English subtitles are provided for anyone in need.
Special Features:
Up first is a brief (3 minute) interview with Roger Corman in which the living legend remembers his first studio picture made for $1 million; their smallest, his largest. He shares many bits of information, including his original pitch for casting Orson Welles in the Capone role opposite Robards as Moran. The only complaint here is the short running time of this visit with such a charming man.
A few MovieTone news pieces (5 minutes) offer historical perspective of the trial and sentence for Al Capone.
The film's musical score is presented in an isolated DTS-HD MA 2.0 track for your listening pleasure. The stereo mix enhances the levels of those found within the film and is a nice addition.
The original theatrical trailer offers a look at the rough and gritty marketing campaign for the feature.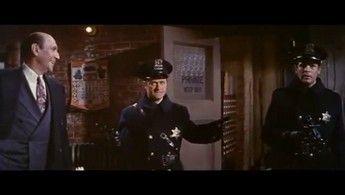 Grades:

Movie:


Video:
Audio:
Features:
Overall:
This page includes affiliate links where Horror DNA may receive a small commission at no extra cost to you.