The Stand: The Definitive 2 Series Collection Blu-ray Review
Written by Robert Gold
Blu-ray released by Paramount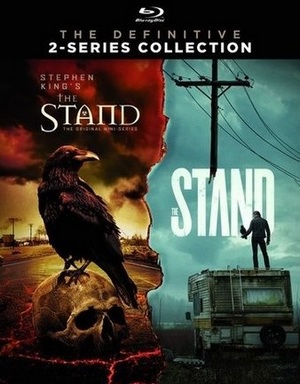 Stephen King's The Stand (1994)
Directed by Mick Garris
Written by Stephen King
1994, 359 minutes, Not Rated
Released on October 5th, 2021
Starring:
Gary Sinise as Stu Redman
Molly Ringwald as Fran Goldsmith
Jamey Sheridan as Randall Flagg
Laura San Giacomo as Nadine Cross
Ruby Dee as Mother Abigail
Rob Lowe as Nick Andrews
Ray Walston as Glen Bateman
Review:
When a new string of super-flu colloquially known as Captain Trips is accidentally released from a California lab, the virus quickly spreads into a pandemic wiping out ninety-nine percent of the global population. A handful of survivors spread across the United States begin having strange shared dreams; some featuring the peaceful 106-year-old Mother Abigail urging them to come see her in Nebraska, while others dream of the dreaded Dark Man, aka Randall Flagg, who brings darkness and death to his kingdom in Las Vegas.
Heeding the call of Mother Abigail, we follow the adventures of genuinely good people like Stu Redman from East Texas, and Fran Goldsmith, who recently buried her father in Maine. Larry Underwood is a famous musician who pairs with the mysterious Nadine Cross in New York, while the kindhearted Nick Andrews, a deaf mute from down South, teams up with the mentally challenged Tom Cullen on their quest to Nebraska.
Flagg has his followers too, starting with Lloyd Henried, whom he frees from a locked cell in an empty prison in Arizona. Harold Lauder, fueled by unrequited love and jealousy, is drawn to the dark side; and the deeply disturbed pyromaniac Trashcan Man has a penchant for explosives. These are just a few of the many characters we follow on this journey as the two sides gather and prepare for an epic showdown of Good vs. Evil.
For years, Stephen King's epic fourth novel The Stand (1978) was deemed unfilmable due to its length and potential cost. The project came closest to fruition in the 1980s with George A. Romero (The Dark Half) at the helm, but sadly it was not meant to be. A decade passed and in 1994, director Mick Garris (Sleepwalkers) came aboard for a six-hour TV miniseries version, penned and produced by King himself. Having the author directly involved is of tremendous benefit in that we are following dozens of characters across multiple states for an extended period of time and information that will later prove critical is provided through casual conversation during their journey as alliances are formed and betrayals discovered.
Gary Sinise (The Green Mile) leads an impressive cast as Stu Redman, a level-headed everyman doing his best to keep the world safe and sane. Stu is a born leader, modest and unafraid to ask for help or advice and is respectful to those around him. Molly Ringwald (Sixteen Candles) is Fran Goldsmith, the sweet young woman who is pregnant and trying to keep it together long enough to have her baby. Mother Abigail is brought to life by the always-welcome Ruby Dee (Cat People), who fills the role with a folksy promise of good will to all. Jamey Sheridan (The Ice Storm) brings a friendly face and upbeat demeanor to the demonic Randall Flagg. He is charming and charismatic and makes a convincing argument for joining his side of the coming battle. Rob Lowe (Salem's Lot, 2004) is perfectly cast as Nick Andrews, the innocent deaf-mute who always does the right thing when helping others.
The ensemble cast is large, but there are several standouts, including Laura San Giacomo (Sex, Lies & Videotape), who fills Nadine Cross with the perfect blend of sexy and crazy. She is being pulled to the darkness but is desperate to stay in the light, a struggle that will consume her. Ray Walston (Popcorn) is terrific as the no-bullshit Glen Bateman, one of Mother Abigail's chosen for the final stand. Miguel Ferrer (Robocop) brings a special kind of sleaze to Lloyd Henried, Flagg's right hand man, and Matt Frewer (Quicksilver Highway) leaves a lasting impression as Trashcan Man. It is fun watching Harold Lauder spin out of control as Corin Nemec (I Know My First Name is Steven) fills him with eccentricities. Adam Storke (Death Becomes Her) does a serviceable job as Larry Underwood, and Bill Fagerbakke (Jennifer's Body) is instantly likeable as the mentally challenged Tom Cullen.
Mick Garris fills smaller roles with memorable faces, including the likes of Ed Harris (Creepshow), Kathy Bates (Misery), Joe Bob Briggs (The Last Drive-In), Stephen King, and even Garris himself. There are cameos from fellow directors Sam Raimi (Army of Darkness), John Landis (An American Werewolf in London), and Tom Holland (Child's Play). Kareem Abdul-Jabbar (Airplane!) pops up as the Monster Shouter, while Shawnee Smith (The Blob) appears as a troublemaker named Julie Lawry, and the great Ossie Davis (Bubba Ho-Tep) plays Judge Farris.
Spread across four 90-minute episodes, Stephen King's The Stand tells its sprawling, complex story at a deliberate pace, allowing plenty of breathing room for maximum effect. This was the most expensive television miniseries to date and Garris throws it all onscreen. The practical special effects by Steve Johnson (Night of the Demons) are impressive, especially Ruby Dee's age make-up. Digital effects are lacking, but the film makes great use of its locations, cast and soundtrack. The themes of the end of days and the rebuilding of society can be overwhelming, but the heart is in the challenging journey the characters take getting there. There are plenty of horrific elements intertwined, but this is a great example of King's study of the human element.
Video and Audio:
Likely to save money, the decision was made to cram all six hours of this program onto a single BD-50 disc. Presented in the 1.33:1 aspect ratio, the picture quality is stronger than I expected, with a surprising level of clarity and detail. Colors are warm and occasionally pop and black levels are fairly solid throughout.
A Dolby Digital 2.0 lossy stereo track is all this release can muster, but it gets the job done for the most part. There is nothing robust about this track but dialogue levels are always clean and understandable. Music cues are a bit on the weak side, but are clear and well-balanced.
Optional English subtitles are included for anyone in need.
Special Features:
The main attraction here is a six-hour marathon audio commentary provided primarily by Mick Garris and Stephen King. The conversation is laid back while also highly informative and entertaining. We learn a lot about King's approach to the novel and Garris facing the challenges of filming it. Filling in some of the commentary time are editor Pat McMahon and actors Jamey Sheridan, Rob Lowe, Ruby Dee and Miguel Ferrar. There are lots of good stories on hand and, time permitting, well worth a listen.
The Making of The Stand (1994, 5 minutes) is a shamefully short promo piece featuring behind-the-scenes footage intercut with cast and crew interviews, including Stephen King, Mick Garris, producer Richard Rubinstein, make-up artist Steve Johnson , Gary Sinese, Rob Lowe, Laura San Giacomo, Molly Ringwald and Ruby Dee.
The Stand (2020)
Directed by Josh Boone, Bridget Savage Cole, Danielle Krudy, Chris Fisher, Vincenzo Natali, and Tucker Gates
Written by Josh Boone, Benjamin Cavell, Stephen King, Jill Killington, Owen King, Knate Lee, Eric Dickinson, and Taylor Elmore
2020, 510 minutes, Not Rated
Starring:
Whoopi Goldberg as Mother Abigail
Alexander Skarsgård as Randall Flagg
James Marsden as Stu Redman
Odessa Young as Fran Goldsmith
Amber Heard as Nadine Cross
Owen Teague as Harold Lauder
Greg Kinnear as Glen Bateman
Jovan Adepo as Larry Underwood
Review:
With companies like Netflix and Amazon Prime dominating the streaming market, movie studios and smaller companies started their own channels and began programming alternative and frequently exclusive content. The CBS All Access app (now Paramount+) offered a deep catalog of network shows as well as new content like an updated version of The Twilight Zone, but needed something bigger to make a splash. Remakes and re-imaginings are always popular and since the parent company still held the rights, a new version of The Stand was pushed into production under the guidance of creators Josh Boone (The New Mutants) and Benjamin Cavell (Justified). This version would be told across nine episodes (totaling 8.5 hours) and present the same story but with a more contemporary vibe geared toward a younger demographic.
Early word was encouraging, as the first casting announcements included Whoopi Goldberg (The Color Purple) as Mother Abigail and Alexander Skarsgård (True Blood) as Randall Flagg. Other recognizable names joined the cast, including James Marsden (the X-Men franchise; Straw Dogs) as Stu Redman, Amber Heard (Zombieland) as Nadine Cross and Greg Kinnear (Auto Focus) as Glen Bateman. Rubber-faced Owen Teague (IT) owns every minute of his screen time as creepy Harold Lauder, and Brad William Henke (Orange is the New Black; The Zodiac) is highly entertaining as Tom Cullen. Genre favorite Fiona Dourif (Curse of Chucky) steals many a scene as the Rat Woman, and the lovely Heather Graham (Boogie Nights) gives a haunting performance as the doomed Rita Blakemoor. There are some hiccups in the cast; Henry Zaga (13 Reasons Why) brings little to no charisma or charm to Nick Andros, Jovan Adepo (Overlord) is serviceable as Larry Underwood and the less said about Trashcan Man (Ezra Miller, Justice League) the better. Performances vary from thoughtfully nuanced to high camp making for a disjointed viewing experience.
Stephen King took a step back from this one, leaving it to others to write and produce, but it was greatly hyped he would pen the final episode as a new coda for the story. His son Owen served as a producer and also wrote an episode. Unfortunately, the other scripts are wildly uneven both in terms of story and character development. As if King's one-thousand-plus-page novel wasn't detailed enough, we are given new backstories and incidental moments that are at odds with key points of the book. Newly created characters show up and talk a lot before inevitably being killed off within the same episode, and Flagg's creation of an orderly, disciplined society is undermined by an "anything goes" party environment in New Vegas.
Another odd decision is to take Mother Abigail out of the cornfields of Nebraska and relocate her to Boulder, Colorado – which serves as a story shortcut – but people keep dreaming of her surrounded by corn?! One addition that works is the introduction of a doctor helping Stu during his initial quarantine where they have thoughtful discussions easing us into the story. As for King's episode, well… it successfully gives Fran Goldsmith (Odessa Young, Assassination Nation) some closure, as she is largely absent from the entire third act, but this is overshadowed by the most blatant and egregious use of the "Magical Negro" character he is so fond of creating (think The Shining or The Green Mile).
The Stand is an epic story about the road to redemption, but this new version goes out of its way to erase the actual journey. Rather than taking the time to get to know the characters as they travel cross country, we jump right to Boulder after they have already arrived. The series relies too heavily on the narrative device of cutting from one scene to a "six months earlier" sequence. When done properly, this is quite an effective storytelling device, but here it is overused and particularly disorienting in the first few episodes where we make the jump back and forth before we catch a character's name. From an editing standpoint, any attempt at generating suspense in the flashbacks is undermined, since whatever life-threatening drama someone encounters we know they will survive unscathed because we have already seen them in the future.
While it is promising to see a new vision of a classic King story, The Stand is a mixed bag filled with missed opportunities. All of the scares and set-ups are heavily telegraphed and people frequently do stupid things because the script needs them to. It isn't all bad, in that there are some truly entertaining moments; they just get bogged down by the limitations of both the script and the budget. This feels like a big-event series, but on closer inspection you can see where money was tight, particularly in the sets. For a program determined to cut back on all the walking, this spends a lot of time running in place. Is it worth investing your time? Probably – at least once to say you saw it – assuming you can stream it for free.
Video and Audio:
Shot digitally and presented in the 2.35:1 aspect ratio, picture quality is rock solid. There is an insane level of detail on display, particularly in hair and fibers. Black levels are rich and without crush and the color palette really pops.
The DTS-HD MA 5.1 track is a real winner with plenty of activity in all channels. Music cues and sound effects are robust, but never intrusive upon dialogue levels. Optional English subtitles are included for anyone in need.
Special Features:
Apocalyptic Epic: Adapting The Stand (2020, 20 minutes) takes a fairly standard behind-the-scenes look at the production complete with cast and crew interviews. A wide variety of topics are discussed, particularly how awesome this story is. One highlight is a look at the special make-up effects shop.
A gag reel (4 minutes) presents a collection of flubbed lines and gaffes and other merriment on set.
Grades:

Movie:
The Stand (1994):
The Stand (2020):






Video:
The Stand (1994):
The Stand (2020):


Audio:
The Stand (1994):
The Stand (2020):


Features:
The Stand (1994):
The Stand (2020):


Overall:
The Stand (1994):
The Stand (2020):


This page includes affiliate links where Horror DNA may receive a small commission at no extra cost to you.