The Task DVD Review

Written by Charlotte Stear

DVD released by After Dark Originals
Directed by Alex Orwell
Written by Kenny Yakkel
2010, Region 2 (PAL), 90 minutes, Rated 18 (UK)
DVD released on 11th July 2011

Starring:
Alexandra Staden as Connie
Victor McGuire as Big Daddy
Adam Rayner as Taylor
Antonia Campbell-Hughes as Angel
Ashley Mulheron as Shoe
Amara Karan as Toni
Tom Payne as Stanton
Marc Pickering as Randall
Review:


After Dark Originals has a growing list of very cool horror films under the belt and the recent success of features like Seconds Apart and Fertile Ground has meant it is a label to keep an eye on. The latest offering, The Task, hopes to add to that success.  

The film focuses on six contestants who are snatched from their everyday activities and are effectively kidnapped to star in a new reality TV show. They are told they will have to spend the night in an abandoned prison to win a cash prize. However, it won't be that easy as they will perform tasks to show their endurance and courage. But added to this is the story of a sadistic warden who tortured and murdered his inmates and haunts the prison. The contestants are soon put to their tasks but things go horribly wrong and as each realises things are not  right, the makers of the show watch helplessly on the outside as a mysterious figure they cannot explain appears on camera.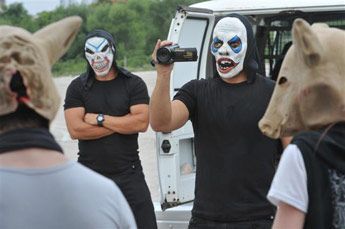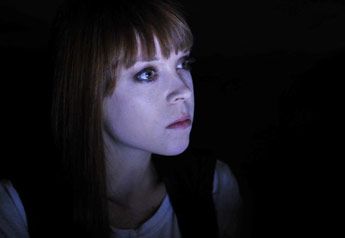 I don't know how many of you are familiar with My Little Eye, but while watching this all I could think about was how similar both films are. The concept for one is identical; a group of unknown people want fame and agree to join a show they know nothing about. But the thing that triggered my attention to these similarities was how the makers of the fictional show in The Task constantly refer to "the company", a higher power that controls them, which is the exact term the contestants in My Little Eye refer to their show creators. Of course there's nothing wrong with following a successful format (I for one think My Little Eye is a fantastic horror film) but you have to make it your own. Once I start seeing similarities, I'm only going to start comparing it, and that's never good. So where My Little Eye succeeded, The Task seems to do the opposite, and ultimately becomes the poor man's version. Similarities do not end there, I also saw a lot of elements that are really reminiscent of House on the Haunted Hill, the camera shots showing a mysterious figure walking the prison and causing carnage really reminded me of the psychotic Doctor running round the house in that film. So in terms of originality, the film isn't winning points here.

One by one each contestant is called out to perform a task that incorporates one of their biggest fears, which they were asked about in their interviews prior to the show. Due to this, I will now never uncover my deepest darkest fears to anyone in case one day it gets used in a reality TV show to torture me. From now on my greatest fears are candy floss and rainbows. Yeah, try to make something horrific out of that future-evil-TV-game-show-guy! The film probably wants to make some poignant remark on the celebrity culture of today, how people will do anything, not just for money, but for fame too. Sadly the film isn't deep enough to make such a statement, so it's really just a bunch of people doing weird things.
If you're a gore fan then you will be sorely disappointed as there is little to no gore at all, but I did think the performance were all really strong. There were a few familiar British faces in there. Victor Maguire, who was Gary in Lock Stock and Two Smoking Barrels, does a very nice American accent and I also really enjoyed Marc Pickering's performance as Randall who is "totally off the hook gay". He has a lot of funny dialogue with the team working behind the scenes on the show. I especially enjoyed the sequence where they believed higher powers were adding twists without them knowing so tried to play along, exclaiming ridiculously "Who the HELL is he??" at the mysterious figure on the screen. It's the kind of stuff that will get you through a relatively poor horror film: Over the top silliness.

Ultimately this film suffers from trying to be too clever with a few twists to the plot when we are least expecting them. I just didn't find them authentic enough and it just gets really silly, really quickly. It starts off promising, the kidnap was really intriguing and the setting of an abandoned prison is perfect for a horror film, but the unoriginal themes and silly plot twists kept this from fulfilling its potential. Sadly, all The Task does is remind me of previous movies that did it better. And then I go and watch them instead.
Video, Audio and Special Features:
Not graded as this was a screener.
Grades:

 

Movie:
Video:
n/a
Audio:
n/a
Features:
n/a
Overall:
This page includes affiliate links where Horror DNA may receive a small commission at no extra cost to you.