The Unraveling Movie Review
Written by Joel Harley
Released by Matchbox Films
Directed by Thomas Jakobsen
Written by Thomas Jakobsen and Justin S. Monroe
2015, 85 minutes, Rated 15 (UK)
DVD Released on 9th October 2017
Starring:
Zack Gold as Michael
Jason Tobias as Alan
Bennett Viso as Louie
Bob Turton as Shane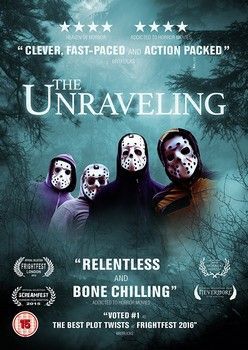 Review:
After flaking out on his own stag party, Michael is kidnapped by his friends and driven out to that legendary batchelor party paradise… um, camping in the woods. Complicating matters is Michael's increasingly debilitating heroin addiction (although with a job, fiancée, good friends and a kid on the way, he's doing better than most) and the sinister figures lurking in the woods, stalking the gang and killing them off one by one.
Arriving in uncomfortably close vicinity to this year's The Ritual, this shrubland cross between The Blair Witch Project and [insert any other low-budget horror film set in the woods here] spends precious little of its time attempting to differentiate itself from the rest of the pack. There are some good ideas underpinning the story, but they're largely wasted on scares and action that audiences have seen many times before, making pretty much every minute spent in the woods a gruelling slog. Make that a cross between The Blair Witch Project and Blair Witch, then, minus the found footage and the atmosphere.
Thankfully, there are several stretches when nobody is in the woods at all, which make The Unraveling occasionally worth bearing with. It's at its most interesting during the setup, flashbacks and other non-woody sequences, when the mystery is intriguing, Michael is taking drugs and we don't have to pretend not to know where all this is headed (which, unfortunately, it most definitely is).
Make no mistake though, director and co-writer Thomas Jakobsen has put together a smart, professional-looking, adult thriller in The Unraveling. The cinematography is sharp and moody, the action clear and well-staged, giving the film an edge over the many others like it. Michael is an interesting, sympathetic character, and Zack Gold is solid in the role. In spite of its predictability and frequent unoriginality, the film manages to avoid many of the pitfalls of low-budget horror/thriller filmmaking, which makes its flimsiness all the more frustrating.
Were we not already crowded out with movies about people and batchelor parties getting killed in the woods, The Unraveling would be an easy recommendation. Sadly that's not the case, and as a result, this one struggles to get itself past the starting block. There it remains, tangled in a mess of cliché and wasted potential.
This page includes affiliate links where Horror DNA may receive a small commission at no extra cost to you.