The VelociPastor Movie Review
Written by Stuart D. Monroe
Released by Wild Eye Releasing
Written and directed by Brendan Steere
2018, 75 minutes, Not Rated
Released on August 9th, 2019
Starring:
Greg Cohan as Father Doug Jones a.k.a. The VelociPastor
Alyssa Kempinski as Carol
Daniel Steere as Father Stewart
Fernando Pacheco De Castro as Frankie Mermaid
Aurelio Voltaire as Altair
Jesse Turits as Sam the White Ninja
Review:
It should go without saying that a movie titled The VelociPastor isn't going to be for everybody. Some folks are simply born without a funny bone in their body. They lack the ability to appreciate the subtle nuances of the most lovingly stinky of cheese. It's a shame, really. When you come across something that is the very epitome of that old standby, "so bad it's good", you hope the entire world has the good sense to lighten the fuck up and spend an hour and change on something that defies mere description.
At least, I hope so.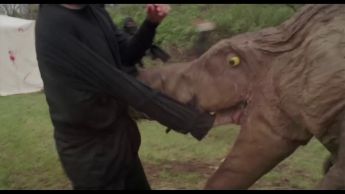 The VelociPastor is the story of Father Doug Jones (Michael C. Hall lookalike Greg Cohan), a dedicated man of the cloth who loves his parishioners and lives for the Lord. Terrible tragedy befalls him when his parents are murdered right in front of his church. On the advice of his mentor, Father Stewart (Daniel Steere), he travels to China (which looks suspiciously like any American forest) and stumbles upon a dying Chinese villager who gives him a "dragon tooth", which scratches his hand. He now has the ability to turn into a velociraptor! He discovers this handy ability when he rescues a hooker named Carol (Alyssa Kempinski; The Deuce) from almost certain rape in the park. After an initial period of horror at his condition, the two team up to fight the forces of evil…and fall madly in love in the process. Along the way, dead parents will be avenged, evil priests will attempt exorcism, a shocking Vietnam backstory will be revealed, and ninjas will be fought. So many ninjas.
I'm a little short on objectivity when it comes to a movie like The VelociPastor because I absolutely live for this kind of film; I am the target audience. It's a parody of a parody that makes zero attempt to take itself seriously in any way except the actors' performances, lending just the right amount of bullshit drama and machismo to the proceedings. At a scant 75 minutes, it's long enough to scratch that dirty itch and short enough to avoid wearing out its welcome. There's a balance in that mix that belies a deftness of craft from writer/director Brendan Steere (Animosity). Greg Cohan's effort is worth the price of admission alone; deadpan has never been so legit.
To truly break down the plot would be an exercise in futility, as it flows from A to C to X and back to C again. You will bear witness to pimp named Frankie Mermaid, so named because he's "swimming in bitches". There are plot points and locations laid out on the screen in huge letters just so you get it. You'll revel in classic lines such as "Where did all these ninjas come from?" and "There's surprisingly little demand for hooker-doctor-lawyers today!" An abundance of zooming close-ups will let you know when the dramatic effect is at full volume. Villains laugh long and loud until you wonder if they'll ever stop. Everyone is a highly skilled martial artist when the need arises. The gore is so splashy it's silly. And that velociraptor costume – let's just say that it doesn't look quite as intimidating as the poster art.
Don't worry. They didn't forget to put a bonding/killing/getting to know each other montage. Who doesn't love a good montage? That's a rhetorical question.
I'll repeat: it's a movie called The VelociPastor about a priest who fights evil by turning into a damn dinosaur. Sure, it's as "bad" as it sounds. No, it's not for everyone (though it damn well should be). What it is, however, is a damn joy to watch; dedicatedly unpretentious and unapologetic. It's a masterclass in how to make a party movie, the kind of movie where you wait until everyone is criminally trashed before you hit 'em with it like a brick of pure awesome to the skull. I never thought a film could stand side by side with The Lost Skeleton of Cadavra, but here we are.
It's that good. It's that bad. It's The VelociPastor, and it's everything you'd expect and then some. Embrace that shit!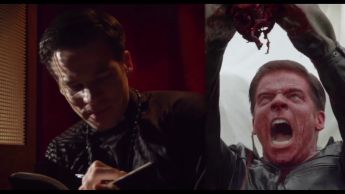 This page includes affiliate links where Horror DNA may receive a small commission at no extra cost to you.