The Voices Blu-ray Review
Written by Joel Harley

Blu-ray released by Arrow Films
Directed by Marjane Satrapi
Written by Michael R. Perry
2014, 103 minutes, Rated 15 (UK)
Blu-ray released on 13th July 2015
Starring:
Ryan Reynolds as Jerry
Gemma Arterton as Fiona
Anna Kendrick as Lisa
Jacki Weaver as Dr. Warren
Ella Smith as Alison
Review:
Full disclosure: Ryan Reynolds is maybe my second or third least favourite actor of all time (give or take a Dominic Cooper or Jai Courtney), so I may not be the best possible choice of critic in reviewing an actual Ryan Reynolds movie. In The Voices, however, he plays a serial killer whose pets (well, just the cat) talk him into murdering people, so if ever there was a chance of me not hating a Ryan Reynolds movie, here it is.
Here Reynolds plays mild-mannered Jerry, a low-level office worker with an unlikely workplace crush on Fiona, played by an utterly adorable Gemma Arterton. Where Jerry seems sweet and lovely, there's the little matter of his frequently conversing with his pets (a Scottish cat and a bumbling dog) and being coerced into murdering people by the former. Which makes sense, because cats are assholes. Unfortunately for fellow Ryan Reynolds not-fans, both are voiced by Reynolds, leaving us with a movie in which Ryan Reynolds plays five characters (there's a deer and something called Bunny Monkey too): my own personal nightmare.
Except, no, Reynolds is at his most tolerable, playing a very atypical Ryan Reynolds character – with nuance, and everything. The mild-mannered aspect of Jerry means that the actor gives his usual smartmouth act a rest for once, delivering his best performance since Buried or the part of X-Men: Origins where they sewed his mouth shut. Even better, he's surrounded by such fantastic support as Gemma Arterton and Anna Kendrick, acting in a film as sweet and entertaining as The Voices. I know, I never expected to see me use the words 'sweet and entertaining' to describe a Ryan Reynolds movie either.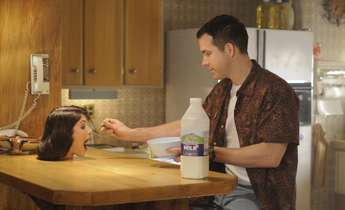 Still, the low-budget folksy feel helps immensely, as do the lush visuals (the colour work is particularly great), occasional musical sequences, fun script and good acting – yes, even from Reynolds (mmm, that's me eating my words). Its story brings to mind such forgotten gems as 2003's Love Object or a more colourful Maniac, only with a softer sense of humour and a malevolent cat (aren't they always). There's also a disembodied Gemma Arterton calling Ryan Reynolds a 'useless wanker', which is pretty entertaining. Funny, cute and surprisingly affecting (damn you, Bunny Monkey) is well worth a shot. It's darker than one might expect too – or as dark as a Ryan Reynolds movie will ever get, anyway. I hate Ryan Reynolds and really enjoyed this, so heaven knows what his fans will make of it. Fan or not, The Voices should be given a chance – it's one of the better black comedies I've seen this year (tied with the equally surprising Cottage Country) and hands down the best Ryan Reynolds movie I have ever seen. Suddenly I'm not dreading his Deadpool quite so much.
I'm calling it now, though: Bunny Monkey is the best performance Ryan Reynolds has ever given. Suck it, Van Wilder.
Video and Audio:
The Blu-ray version of the film looks crisp and fantastic, the bright colours really snapping out from the screen (particularly on Jerry's bright pink overalls). It sounds a treat too, with some great musical sequences keeping the mood bright and breezy. 'Sing a happy song' is a thing of beauty.
Special Features:
An extensive set of extras gets you interviews with the main cast – including Reynolds being a thoroughly nice and thoughtful guy, making me feel like even more of a jerk for hating him – extended scenes (you're not missing much) and a humourous hidden camera prank involving heads in a refrigerator. Behind the scenes videos and recordings of Reynolds doing his pet voices are also included. The facial expressions pulled here are some of the best acting Ryan Reynolds has ever done. His Bosco the dog is particularly great. It's just a shame he couldn't have channelled some of that good acting for his Hal Jordan.
Grades:

Movie:






Video:
Audio:
Features:
Overall:
This page includes affiliate links where Horror DNA may receive a small commission at no extra cost to you.