They Live Blu-ray Review

Written by Robert Gold

Blu-ray released by Shout! Factory
Written and directed by John Carpenter
1988, Region A, 93 minutes, Rated R
Blu-ray released on November 6th, 2012

Starring:
Roddy Piper as Nada
Keith David as Frank
Meg Foster as Holly
George "Buck" Flower as Drifter
Review:
John Nada (Roddy Piper) is a member of the working poor. He is broke, homeless and in need of employment. He gets a construction job where he meets Frank Armitage (Keith David), who takes him to a shanty town filled with people down on their luck. It is here that Nada learns not everyone in California is a yuppie douchebag; that caring people still exist and are willing to help each other in need. The town is soon destroyed by the police and Nada is back on the streets looking for peace of mind. He comes across a pair of sunglasses that allow people to see the truth about a secret invasion of ghouls that walk unseen among us. He attempts to tackle this problem alone, but soon finds himself a wanted man.

Following an extended fight scene, Nada convinces Frank to join him in his quest for justice. Together they must find a way to escape this situation and strike back against the monsters that only they can see. Joining forces with the underground resistance, they learn that the invaders are conquering the human race by appealing to our greed. Subliminal advertising is the weapon of choice and sadly, most everyone sells out without too much hesitation. Nada is determined to deliver a wakeup call to the sleeping masses and start a war between the "haves" and the "have-nots".

They Live is a fast paced ride of a film that is at times ham-fisted as it beats you over the head with its message, but audiences can be a little thick sometimes. There is enough 80s action cinema inspired cheese-filled dialogue and a show stopping alley fight to keep the sheep in their seats, but those willing to take a closer look at what's going on will discover a sense of urgency to the themes presented. There really is a problem out there that has grown for more than two decades, but the instigators are neither aliens nor ghouls and correcting it will take a different kind of revolution than this allegory presents.
Director John Carpenter's view of a dystopian future has sadly come to fruition as consumerism is the crutch that killed the American spirit. It is difficult to watch the police clear out the shanty town without being reminded of the "Occupy" movement, the 99% that rebel against society's super-wealthy. What originally appeared as an indictment of Reagan-era sensibilities is perhaps more relevant today as the middle class continues to serve as the rich man's punching bag. They Live came as a response to the endless glorification of material goods and the director's unwillingness to accept the idea of unquestioned authority. This film has been cited as influencing countless movies that followed including The Matrix and more recently, Branded.

At this point in his career, Carpenter was riding a wave of success from a decade of solid filmmaking. Not every movie was a home run, but his filmography from 1978 – 1988 is an accomplishment that contemporary filmmakers would kill for. He parlayed this success into an opportunity to tell a story with a message and managed to employ actual homeless people rather than hire actors to play background extras. His most ambitious casting decision came with Roddy Piper (Alien Opponent) in the lead role. The professional wrestler's physical appearance was perfect for the character of a man beaten up by life. Keith David (The Thing) delivers another solid performance as Frank Armitage (an alias Carpenter shares for screenwriting credit), the reluctant ally to our seemingly crazy anti-hero. The two work well off each other and keep things moving with a friendly back and forth, even during that awesome alley fight.

They Live is an allegory for the individual willing to stand up for what's right, by any means necessary.

Twenty-five years on and Carpenter's message is still ringing loud and clear. Let's just hope people will take the initiative to put on the sunglasses and open their eyes.
Video and Audio:

Presented in the original 2.35:1 aspect ratio, the film looks better than the previous DVD releases, as the picture has undergone a slight tweaking, eliminating dirt and scratches. There are still some soft spots, but nothing terrible. Flesh tones remain accurate and black levels are solid without any bleeding.

Shout! Factory offers a solid DTS HD 5.1 Master Audio lossless audio mix and a DTS HD 2.0 MA track that preserves the original stereo presentation. Gunshots, helicopters and assorted urban sounds give the surround speakers an occasional workout and dialogue remains clear and free of distortion. The unexpected title card here goes to the low end bass that kicks the shit out of your sub-woofer. Music from the opening sequence is unsettlingly full and viewers may need to dial back the LFE.
Special Features:
Shout! Factory delivers another solid package delivered with plenty of supplements both old and new.

First up is an audio commentary featuring John Carpenter and Roddy Piper caught in a relaxed and conversational exchange that is reminiscent of the chemistry found on the Kurt Russell tracks for earlier Carpenter films. Originally recorded for the British import DVD, Shout! Factory has secured the rights for its inclusion here and fans won't want to miss it. Hopefully the company can continue this trend and release Blu-ray editions of Prince of Darkness and Starman, including those elusive commentaries too.

A collection of new interviews with cast and crew arrive with Roddy Piper being the only glaring absence.

Independent Thoughts: An Interview with Writer/ Director John Carpenter (10 minutes) is a self-explanatory piece in which Carpenter discusses the film's origins, casting process, makeup and effects and the creation of "the big fight".

Woman of Mystery: An Interview with Actress Meg Foster (5 minutes) features the actress discussing her memories of working on the film and her thoughts on members of the cast and crew.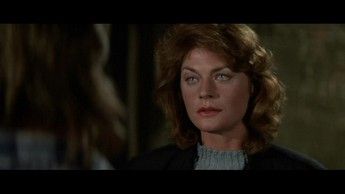 Watch, Look, Listen: The Sights and Sounds of They Live (11 minutes) is a trio of interviews that focuses on the efforts of Gary B. Kribbe (cinematographer), Jeff Imada (stunt coordinator) and Alan Howarth (co-composer).

Man VS. Aliens: An Interview with Actor Keith David (11 minutes) is a very entertaining conversation with an awesome actor who reflects on both The Thing and They Live as well as the work that went into "the big fight".

Vintage material is included here as well, starting with the original EPK, simply titled The Making of They Live (8 minutes) that includes on-set footage and interviews from 1988.

The scenes shot for the fake commercials that play throughout the movie are assembled without audio and presented as Never-Before-Seen Footage (3 minutes)

Rounding out the special features are a Still Gallery and a collection of TV spots. The original theatrical trailer is offered along with trailers for Halloween II and Halloween III: Season of the Witch.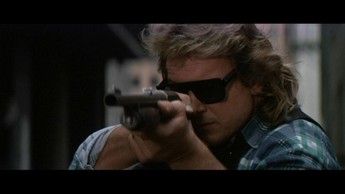 Grades:

 

Movie:
Video:
Audio:
Features:
Overall:
*Note: The screenshots on this page are not a reflection of the Blu-ray image. They were captured using the standard DVD.*
This page includes affiliate links where Horror DNA may receive a small commission at no extra cost to you.