Thir13en Ghosts Collector's Edition Blu-ray Review
Written by Robert Gold
Blu-ray released by Scream Factory
Directed by Steve Beck
Written by Neil Marshal Stevens and Richard D'Ovidio (story by Robb White)
2001, 91 minutes, Rated R
Released on July 28th, 2020
Starring:
Tony Shalhoub as Arthur Kriticos
Embeth Davidtz as Kalina Oretzia
Matthew Lillard as Dennis Rafkin
Shannon Elizabeth as Kathy Kriticos
F. Murray Abraham as Cyrus Kriticos
Alec Roberts as Bobby Kriticos
Rah Digga as Maggie Bess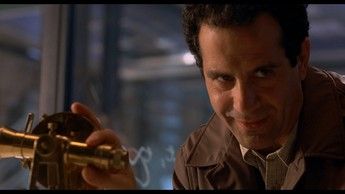 Review:
In the year following his wife's tragic death, Arthur Kriticos has done his best to provide for his family, even as finances grow tight. He has two children, a teenager named Kathy and a younger son, Bobby. When a lawyer named Moss knocks on their door, everyone is surprised to learn that an estranged Uncle Cyrus has recently passed away and left them the key to his giant house. Together with the nanny, they pack up and check out their new home, which is something of an architectural wonder made entirely of glass. They are met by Dennis Rafkin, a man posing as a worker from the power company, but is actually a psychic who assisted Uncle Cyrus hunting ghosts.
While Moss presents papers for Arthur to sign, everyone else splits up to explore the property. The walls and doors of the house are all glass, etched with Latin writing. The basement holds many secrets, starting with a large machine that when activated puts the house in lockdown, trapping everyone inside. Dennis explores the lower level and discovers a dozen glass cells, each occupied by a ghost that can be seen when wearing special glasses. As the machine powers up, the cells begin to open, releasing the evil spirits to threaten and pursue Arthur and his loved ones. What follows is a nightmare ride with life and death stakes and vengeful invisible specters.
In the 1950s and '60s, director and master showman William Castle (The Tingler) made a point of making each of his releases an event. He employed gimmicks including swooping plastic skeletons and theater seats rigged with minor electric shocks to give viewers the extra thrills they craved. For his picture 13 Ghosts (1960), Castle introduced "Illusion-O", an early form of 3-D using red and blue images seen through special glasses worn by the audience to represent the ghosts.
Forty years later, the folks behind Dark Castle Entertainment (Joel Silver, Robert Zemekis and Gilbert Adler) set out to create a series of modestly budgeted remakes of Castle's more popular films, starting with House on Haunted Hill (1999). Their efforts proved fruitful and next in line came Thir13en Ghosts (2001). Both films take their premise from Robb White's original stories and bring them into the 21st century. This new version, written by Neil Marshal Stevens (Trophy Heads) and Richard D'Ovidio (Exit Wounds), was not shot in 3D, but the characters still require wearing special glasses to see the ghosts. The script moves at a brisk pace, eager to get through the setup as quickly as possible and let the spirits out to wreak havoc.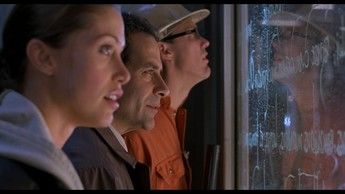 Directed by longtime visual f/x artist Steve Beck (Ghost Ship), the film is striking and richly atmospheric. Working closely with cinematographer Gale Tattersall (Virtuosity) and production designer Sean Hargreaves (Neverwas), the sets are jaw-dropping, gorgeous and serve as the main attraction. Not to be outdone are the ghosts themselves, lovingly created by K.N.B. Effects, each given a uniquely disturbing appearance that leaves a lasting impression. Not all of the spirits receive equal screen time, as there are a few favorites, but even in brief flashes the background figures are rather unsettling.
Tony Shalhoub (Galaxy Quest) headlines as Arthur Kriticos, the grieving widower looking out for his kids' best interest. Shalhoub grounds the character with a much-needed gravitas that is soon challenged by the supernatural. Matthew Lillard (Scream) steals the show as Dennis, the sensitive psychic who knows the danger that awaits and does everything he can to help Arthur protect his family. Lillard's performance is animated and lends a sense of urgency to the story. The lovely Shannon Elizabeth (Night of the Demons, 2009) plays daughter Kathy, the girl with an odd fixation on bathrooms. Embeth Davidtz (Army of Darkness) co-stars as Kalina Oretzia, the well-equipped ghost hunter with a few secrets of her own who shows up conveniently when the family is in need of rescuing. Adding marquee value and little else is F. Murray Abraham (Mimic) as Uncle Cyrus, and he shines in the role of eccentric bastard. The weak link in the cast is rapper Rah Digga (Carmen: A Hip Hopera), making her acting debut as Maggie the nanny. She serves as the voice of the audience, injecting comic relief with a sassy attitude that is out of step with the rest of the picture.
Thir13en Ghosts isn't particularly scary and relies too heavily on loud noises to startle viewers, but is an entertaining ride that would make William Castle smile. The ghosts are effectively unsettling and Beck does a fine job managing the mayhem. Genre fans looking for something glossy and engaging will likely be satisfied and Matthew Lillard fans will get a kick out of his manic performance. Sure, the script has its share of problems and the ending feels rushed, but it makes for a fun night when viewed with friends.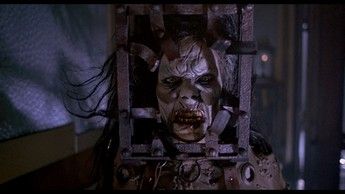 Video and Audio:
Presented in the 1.85:1 aspect ratio, this appears to be the same passable transfer used for the 2010 Blu-ray release. Detail is frequently soft, colors are a bit muted and the overall picture would benefit from a new scan.
An aggressive DTS-HD MA 5.1 mix gets the job done with pleasing results. As stated above, this is a loud movie filled with things that go bump in the night. Music and sound effects occupy the rear speakers regularly and dialogue is always clear and understandable.
Optional English subtitles are included for anyone in need.
Special Features:
There are two audio commentaries, starting with a newly-recorded conversation with director Steve Beck, moderated by Justin Beahm. This is a lively discussion that covers a lot of ground and is filled with interesting trivia and insight into the production. Beck praises the work of set designer Sean Hargreaves and his elaborate creations. He goes on to single out the work of the make-up artists and cinematographer. There are kind words for the cast, including some amusing tales of working with F. Murray Abraham. The highlight of the track comes when Beahm prompts the director to share some stories from his time working as an effects supervisor at ILM.
The second commentary was recorded for the 2002 DVD release, featuring Beck, joined by Hargreaves and make-up artist Howard Berger. This track is also a winner, one full of detail-oriented information and interesting production stories. The participants are each given time to explain their process and approach to the material and reveal their intent behind their creations.
Actress Shannon Elizabeth sits down for the segment Haunted in Canada (2020, 10 minutes) in which she reveals her love of horror movies and shares some of the fun times she had making this one. She has nothing but respect for Tony Shalhoub and his generosity as an actor. She remembers her first meeting with producer Joel Silver, her reaction to the glass sets and other fun anecdotes from the shoot.
The Voice of Reason (2020, 15 minutes) is a surprisingly in-depth chat with actor Matthew Harrison, who plays a rival ghost hunter quickly dispatched in the opening sequence. He shares his thoughts on the character and his memories of the director and cast and other trivia.
Towering actor John DeSantis sits for the entertaining segment The Juggernaut Speaks (2020, 13 minutes) in which he reflects on his time on set – largely spent in the make-up chair. There is some interesting behind-the-scenes footage of the f/x artists getting him prepped for camera. He goes on to talk about the various stunts in the junkyard scene and backstory for his character.
Another ghost performer is tapped for production stories in The Hammer Speaks (2020, 6 minutes) in which actor Herbert Duncanson reflects on his experience working on the film. He started as a stand in, but was quickly promoted to featured ghost when an actor disappeared.
Up next, in what should arguably be a much longer piece, producer Gilbert Adler details the work that went into the production in Sophomore Spookshow (2020, 9 minutes). He opens with insight into the origins of Dark Castle Entertainment and their goal of honoring William Castle. He goes on to share his thoughts on the script and how he views conflict with the director as beneficial. Other topics include the impressive set design and working with that much glass as well as his thought on the film's release and legacy.
In the vintage featurette Thir13en Ghosts Revealed (2001, 19 minutes), members of the cast and crew, including Steve Beck, Sean Hargreaves, Howard Berger, actor Tony Shalhoub and Joel Silver, all do their part to hype the film's best attributes including the production design, make-up and visual effects.
Ghost Files: A Haunted Houseful of Poltergeist Profiles (2001, 14 minutes) is an interesting featurette focusing on the back stories of the titular spirits. We get a good look at each ghost and learn their names and history.
An extended Electronic Press Kit (2001, 43 minutes) is a collection of talking points and soundbites from various members of the key cast and crew. More appealing is the second half of the segment, which features a generous presentation of behind-the-scenes footage shot during production.
The original theatrical trailer is included along with seven TV spots.
Grades:

Movie:


Video:
Audio:
Features:
Overall:
This page includes affiliate links where Horror DNA may receive a small commission at no extra cost to you.