Top Knot Detective Movie Review
Written by Ryan Noble
Released by Special Broadcasting Services (SBS)
Written and directed by Aaron McCann and Dominic Pearce
2017, 87 minutes, Not Yet Rated
Frightfest English premiere on 28th August 2017
Starring:
Toshi Okuzaki as Takashi Takamoto
Masa Yamaguchi as Haruto Kioke
Mayu Iwasaki as Mia Matsumoto
Kuni Hashimoto as Leihi Nishizaki
Izumi Woods as Izumi Himura
Nobuaki Shimamoto as Detective Oshiro
Review:
I've just spent 87 minutes being tricked into believing something that wasn't real. I even had to pause the lies and run some errands just before it was over and ending up telling my friends about it – now I'm too embarrassed to admit that it was all fake. This is all Top Knot Detective's fault, and I wouldn't change a second of it.
Top Knot Detective is a mockumentary that follows the rise and fall of a fictional 90's Japanese cult-hit TV show known as Ronin Suiri Tentai (which translates to "Deductive Reasoning Ronin"). Yet there's so much more to it than just the show itself – even though its over-the-top samurai action, hilarious timing, and mystery solving looks like the best thing to never be on TV.
The mockumentary mainly focuses on the rise and fall of the creator behind Ronin Suiri Tentai, a troubled man by the name of Takashi Takamoto, who is somehow talented and talentless, charming and clueless, and destined to taint the lives of everyone he comes into contact with. There's Mia Matsumoto, a Japanese pop idol turned actress, whose life and career takes a new path after being brought onto the show, and Haruto Kioke, son of the CEO funding the entire series and once a close friend of Takashi, who grows to resent Takashi's lack of dedication and lust for fame and fortune.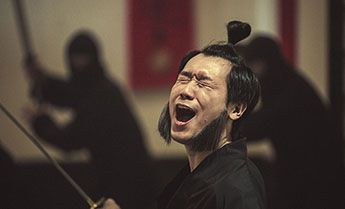 All parts are played so believably, and the great acting, paired with footage that appears to be pulled together from old TV shows, interviews, talk shows, conventions and more had me truly fooled. Even as the events spiralled out of control to a point that I should have guessed it couldn't be real, I still did. The craziness is just built up so gradually that I suspended my disbelief entirely for the duration. Once again, I'm embarrassed, but it's true... Evil geniuses.
Top Knot Detective is insane, hilarious, unbelievable, and yet all too easy to believe. I truly, somewhat naively, believed that I was watching a documentary rather than a mockumentary up until the point I saw the credits roll and actors' names scrolling past. Even realising that it had all been fake, the mockumentary entertained me from start to finish with a Japanese rollercoaster of humour, disbelief, pity, shock, and a little more humour. My only regret is that Ronin Suiri Tentai doesn't actually exist, because that would have been my night sorted...
This page includes affiliate links where Horror DNA may receive a small commission at no extra cost to you.