Triad Election (aka Election 2) DVD Review
Written by Steve Pattee
DVD released by Tartan Video
I'm just a businessman. – Jimmy
Directed by Johnnie To
Written by Yau Nai Hoi and Yip Tin Sing
2006, Region 1 (NTSC), 93 minutes, Not rated
DVD released September 25th, 2007
Starring:
Louis Koo as Jimmy Lee
Simon Yam as Lam Lok
Nick Cheung as Jet
Lam Ka Tung as Kun
Lam Suet as Big Head
Cheung Siu Fai as Mr. So
Wong Tin Lam as 'Uncle' Teng Wai
Mark Cheng as Bo
Tam Ping Man as Uncle Cocky
Pauline Pan as Janice
Andy On as Lik
Movie:
Every two years, the Triads elect a new boss. It's a time honored tradition, and helps keep peace within the gang.
Jimmy, one of the gang's biggest money makers, would be a frontrunner for the top spot, but he surprises some — and angers others — when he announces he won't be running for the position. He has other plans.
Jimmy isn't in it for the power — just the money. And he wants to go legit. The only reason he had joined the Triads in the first place was for the protection, and now it's time for him to move on.
But when he gets busted in China, in a sting that was, ironically, not even setup for him, Jimmy's future radically changes.
A high ranking detective informs Jimmy that he will not be doing business in China due to the arrest, even if the business is legit. If, however, Jimmy won the upcoming election, things may be different.
Jimmy's re-entry into the race really angers Lok, the current boss. It shouldn't anger him at all, if he had any honor. But it does because Lok is setting up to run for a second term; something that is not part of the tradition — you only get one term. And Jimmy's decision to join the race could screw Lok's chances of winning.
This isn't something these two are going to work out over tea and crumpets. Blood has to be shed.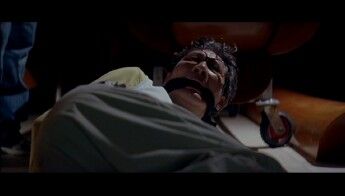 Review:
If there were an Asian equivalent to "The Sopranos," this would be it.
Triad Election is not about the violence, but the slow burn leading to it. There is no hurry to get to the end, as Triad takes its time telling the story. And what a great story it is.
Because of its pacing, you get to know Jimmy, as well as some of the other players involved. Of course you are going to feel Jimmy's plight, as that is whom the movie is centered around. But the other characters are incredibly compelling, as well. Even those with few lines have enough personality for you to root for their success, or cheer for their demise or — in the case of Jimmy's hired thug — admire their sheer awesomeness. This dude is a straight up badass to the very end.
And as great a job Triad does with its story, it's complemented by the exquisite violence it brings to the table. There is one scene that is so shockingly brutal, I damn near had to turn away. It certainly helps that up to that fantastic, unsettling scene, Triad was a pretty mellow movie. To top it off, within the same scene, Jimmy completely breaks character. Gone is Jimmy the mild mannered businessman and introduced is Jimmy the emotionless sociopath. It is in this sequence that you truly see what he is capable of. To see Jimmy act how he does, while doing what he's doing and compare it to the his character up to that point, it's terrifying. It is the film's defining moment.
That's a credit not only to director Johnny To, who has directed over 30 movies, including the much fun Fulltime Killer, but to Louis Koo, as well. Koo's performance as the up-and-comer Jimmy is as subtle as it is powerful. He's one of those cats that doesn't need a lot of dialogue, because the energy he radiates is enough to maintain your attention.
Triad Election is one helluva gangster flick. Its slow pacing allows the characters to develop and the violence to simmer. And when the rage happens, it's so brutal, you don't know who to root for.
My kind of movie.
Video and Audio:
There's nothing spectacular about Triad's 16x9 1.85:1 presentation, but it's free of noticeable negatives. A bit soft in spots, but I was so caught up in the movie, I hardly noticed.
It's the same story with the Cantonese DTS track. Triad has a surprisingly quiet soundtrack, but there are a few solid scenes — one in a club, and one in a dog kennel — where everything kicks nicely. It gets it done when it needs to, and that's what matters most.
Dolby Digital 5.1 and 2.0 and English and Spanish subtitles are also available.
Special Features:
The Making of Triad Election
Interview with Lam Suet
Interview with Lam Ka Tung
Original Theatrical Trailer
Skip the seven minute making-of piece. It's a promotional piece, and there's nothing to really be gained from it.
The interview with actor Lam Suet runs just under 20 minutes, but I skipped it. It wasn't boring, but from the get go the interviewer is asking him questions about Election, Triad's prequel, and I wasn't about to have anything spoiled for me, having not seen Election yet.
Like Lam Suet's, the fifteen minute interview with actor Lam Ka Tung talked a little too much about Election for my taste, so I didn't watch it, less something be ruined for me when I go to watch Election.
There are trailers for Triad Election, Bloody Ties, Divergence, Heroic Duo, Another Public Enemy and H.
Grades:

Movie:






Video:
Audio:
Features:
Overall:
This page includes affiliate links where Horror DNA may receive a small commission at no extra cost to you.