Why Don't You Just Die! Movie Review
Written by Stuart D. Monroe
Released by Arrow Films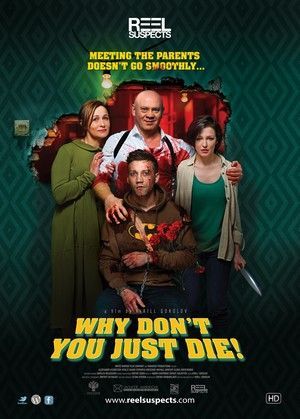 Written and directed by Kirill Sokolov
2018, 99 minutes, Not Rated
Released on April 20th, 2020
Starring:
Aleksandr Kuznetsov as Matvei
Vitaliy Khaev as Andrei
Evgeniya Kregzhde as Olya
Michael Gor as Yevgenich
Elena Shevchenko as Natasha
Review:
I freely admit that I'm no expert on Russian genre fare. I gush over the dripping style of the Italians, and I drink in the restraint shown in classic British horror. On the whole, though, I can't claim to be a man who's well versed and culturally enriched enough to have a great working knowledge of what Russia has given us. Quite frankly, Day Watch and Night Watch are the only two I can think of off the top of my head, and they are both pretty good flicks from what I can remember.
What I'm trying to say is that I don't know if Why Don't You Just Die! is indicative of the Russian style in 2020, but if that's the case, I'll be spending more time familiarizing myself with the works coming out of the former Soviet Union. I haven't had this much fun in a while.
Matvei (Aleksandr Kuznetsov) has a job to do. His girlfriend, Olya (Evgeniya Kregzhde), has asked him to kill her father for raping her when she was only 12 years old. Armed with only a hammer and an iron will, Matvei goes to his apartment to do just that. There's one problem – Olya's father, Andrei (Vitaliy Khaev), is a physically imposing and ridiculously intimidating police officer who doesn't miss a trick. The ruse is up early, and before you know it, Matvei and Andrei are throwing down like it's an amped up episode of WWE Monday Night Raw. What unfolds is a tale of corruption, double-crosses, and uber-violence that will spray the walls with arterial force.
It's hard to even single out a particular influence on writer/director Kirill Sokolov's style because Why Don't You Just Die! shows love to the in-your-face violence of Quentin Tarantino, the grime and paranoia of the Saw franchise at its best, the sense of humor of Very Bad Things, and an over-the-top physicality that's on par with The Three Stooges. Hell, there's even a lovely nod to the bone breaks of Mortal Kombat X in there! When you pair it with utterly authentic set design (virtually the whole film takes place in a grubby little apartment) and an amazing score that swings from classical to whimsical without warning, the result is something that's a bastardized mix of arthouse and grindhouse.
Why Don't You Just Die! isn't a horror film, exactly, but the ludicrous amounts of gore rival any film I can think of. There are plenty of pistol shots, shotgun blasts, power drill work, stabbings, hangings, blunt force trauma, and raw ass-kicking throughout with barely time to take a breath in between. That's not to say there isn't a coherent story; the unfolding drama is engaging and well-realized, playing through neatly separated character introductions via title cards and time jumps like a Tarantino classic. The overall pace resulting from that is intense.
Intensity notwithstanding, you'll laugh your ass off more than once, too. As the name implies, the characters simply won't die. It borders on silliness at times like a Russian version of a Monty Python sketch. The music often amplifies the humor and is nearly a character unto itself in the style of A Clockwork Orange. I never want to watch the bathtub drain scene ever again. I almost fucking barfed.
Lest you think that it's all about the violence for the sake of it, I'll set your mind at ease. Sure, you can take it at the schlock value, and it's pretty amazing. However, this is something being said just between the lines. Why Don't You Just Die! is a highly effective satire, a criticism of the prevalence of authoritarian corruption in Russia. No one's hands are clean, but Matvei has different motivations than the others do. By the end of the film you'll understand why he just won't die, and it's absolutely sublime.
The small cast are perfect for their parts. Andrei breathes menace. Olya is alluring and clearly not all there. Evgenich is sympathetic and a little lost. Natasha is the consummate dormouse. And Matvei? He's on a different level – complex, sweet, and gritty as hell. You'll love the way each plays off the others.
Why Don't You Just Die! is one of those movies where the sense of humor is so dark and the violence is so close to being overdone that if you take it at face value, you'll miss something much deeper. Conversely, if you want to take it at face value, you'll still have a damn good time. The amount of flying bodies, spraying arteries, cracking bones, twists, turns, and human ugliness is absurd. The absurdity has a point, though.
Welcome to your new favorite Russian film. You'll laugh, you'll cringe, you'll wipe yourself off because you'll be convinced you've got blood on you.
This page includes affiliate links where Horror DNA may receive a small commission at no extra cost to you.