Wide Open DVD Review

Written by Steve "Alien Redrum" Pattee

DVD released by Impulse Pictures
Written and directed by Gustav Wiklund
1974, Region 1 (NTSC), 102 minutes, Not Rated
DVD released on August 9th, 2011

Starring:
Kent-Arne Dahgren as Paul
Solveig Andersson as Marianne
Christina Lindberg as Eva
Gunilla Larsson as Beryl
Tor Isedal as Mr. X's assistant
Åke Fridell as Ollie
Jan-Olof Rydovist as Mr. X
Review:
How the hell do you describe a movie that has a plot in which the only purpose is to get to the next nude scene? To take it a step further, what if the women in the movie are more-or-less naked throughout its duration, so plot is unnecessary anyway? And we aren't talking about a porno, either. You gotta love sexploitation films.

That's what Wide Open is, plain and simple. Sexploitation. The plot is a convoluted at best. The movie starts with Paul (Kent-Arne Dahgren) picking up his drunken father at a horse track. He brings his dad home, where the dirty old man proceeds to sling Paul's naked girlfriend, Marianne (Solveig Andersson), over his shoulder and prance around the house. Later that night, Paul and his lady attend a party where they are showing a movie starring Marianne's sister, Beryl (Gunilla Larsson). During the course of the shindig, Marianne walks in on Paul sexing it up with another woman. She's not too bothered as she simply shuts the door, hangs out a bit longer, then grabs her drunk sister before the drunk girl can get into any trouble. The next morning Paul sneaks into bed between Marianne and Beryl as if nothing had happened. Like any good insecure woman, Marianne acts only mildly bothered and before they can really get into it, her parents come over to celebrate her birthday, where Paul's father makes a brief (and final film) appearance. Afterward, Marianne rolls out to some sort of business trip.

Okay, still with me? Because all of this happens in about the first 15 minutes and after Marianne leaves it gets really weird. There's a kidnapping that almost leads to S&M, sex in a barn (with shots of horses watching), naked modeling, naked vacuuming, a coat stuffed with packets of heroin, sex in a bedroom, naked striptease, sex with the girlfriend upon her return, and more, all culminating in Paul at some vacation cabin with three women vying for his attention and a gangster trying to kill him. And it all makes a crazy sort of sense in a surreal kind of way.
Wide Open is not a good movie, and at the same time it's genius for captivating me. To be fair, it wasn't the plot that held me (although you do need to pay at least a little attention to keep the hell up). Nor was it knowing that some lass was going to be naked within five minutes of any given point in the film. No, it was one person that kept my attention throughout the entire film: Christina Lindberg.

It's still unclear on who Lindberg's character Eva is in this film. She seems to randomly run into Beryl rather early on and the two go to a photo shoot for a skin mag. While Eva is obviously a pro at this sort of thing, Beryl, shy at first, rolls right into it. From that point on Eva shows up randomly throughout the film, each time naked (or soon to be). I could never quite figure out what her purpose was other than to make me happy. '70s afro-bush aside, Lindberg has to be one of the hottest women. Ever.

Probably best known to genre fans as the main character in Thriller: A Cruel Picture (aka They Call Her One Eye), Swedish beauty Christina Lindberg did numerous Skinemax-esque films in the '70s such as Anita: Swedish Nymphet and Maid in Sweden. She also had a rather short, but very cool, part in the fantastic Sex & Fury. To say I crush on her is an understatement, and she is every single reason to watch Wide Open. It's unfortunate that she doesn't get more screen time, but according to the interviews found in the special features they only had her for two days. Say this, though, the filmmakers certainly made the absolute most of that time.

Wide Open is a tough movie to recommend. The main character is an asshole, the women are treated like objects by all of the male characters and the plot is all over the place. Anyone who isn't a fan of sexploitation or Christina Lindberg (read: beautiful women) would no doubt be put off by this film. And I'll be up front when I say that two out of the three stars I'm giving this movie is because of Lindberg alone. She's that hot. But if you like a little weird with your breast intake, Wide Open is worth your time.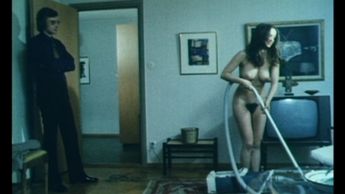 Video and Audio:
Presented in anamorphic 1.66:1, Wide Open may have been cleaned up some, but not much. Scratches and print damage permeate throughout. Colors are bland and muted and it looks as it might have looked when first shown on 42nd Street back in the '70s.

An English dubbed Dolby Digital 2.0 Mono track is offered up for audio and it is what you'd expect. The voices get a bit tinny at times, but there are no major problems with it, all things considered. The English dub seems odd as Synapse Films (the parent company of Impulse Pictures) is generally extremely good about delivering the original language track, so I'm wondering if the original language track is even available (or useable if it is).
Special Features:
Video Interviews with Actress Christina Lindberg and Director Gustav Wickland
Christina Lindberg Motion Picture Gallery
Reversal Nude Cover Artwork
Theatrical Trailers

The interviews with Christina Lindberg and Gustav Wickland are well worth a watch if you enjoyed the film at all. Wickland provides a lot of insight to the movie, such as why he decided to make it, his reasoning for contacting Lindberg, and why he chose some of the actors he did. Lindberg, on the other hand, discusses her own experience with the film, her opinion of how the women were projected ("Ask Gustav...on his view on women."), why she accepted the part, and more. Usually I pine for a longer time on interviews such as this, but coming in at just under 20 minutes left me well satisfied.

Rounding it out is a picture gallery of Christina Lindberg goodness for just over two minutes, a very nice reversible DVD cover and trailers (Flossie, Anita, Exposed and Justine & Juliette).

While it seems a bit light on features, the fact that the interviews with Lindberg and Wickland are relatively recent is impressive.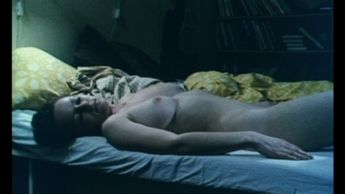 Grades:

 

Movie:
Video:
Audio:
Features:
Overall:
This page includes affiliate links where Horror DNA may receive a small commission at no extra cost to you.