Page 5 of 5
Wishmaster Collection - Wishmaster 4: The Prophecy Fulfilled Blu-ray Review
Written by Steve Pattee
Blu-ray released by Lionsgate Home Entertainment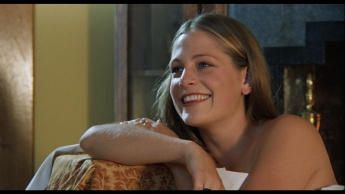 Directed by Chris Angel
Written by John Benjamin Martin
2002, 92 minutes, Rated R
Blu-ray released on March 28th, 2017
Starring:
Tara Spencer-Nairn as Lisa Burnley
Michael Trucco as Steven Verdel
Jason Thompson as Sam
John Novak as Djinn
Victor Webster as Hunter
Review:
The fourth and final film (as of this writing) in the Wishmaster series slightly recovers from the major misstep of the abomination that is part three, but not by much. They didn't bring back Andrew Divoff to reprise his title role (instead John Novak returns from part 3), but there is an interesting change from the prior three films; the Wishmaster is less demanding.
I guess the Djinn learned that screaming at his gatekeepers to wish a third and final wasn't working all that well and decided to go for a decidedly softer approach. "WHAT IS YOUR THIRD WISH?!?!?" has become, "So, that's a nice dress. Hey, unrelated, but it sucks your boyfriend can't walk; don't you wish he could?" I'm really not sure why he hasn't been doing this all along.
Wishmaster 4: The Prophecy Fulfilled has our heroine, Lisa (Tara Spencer-Nairn), in a lackluster relationship with artist Sam (Jason Thompson). The two used to be madly in love, but sometime after they moved into their house, Sam was in an accident that crippled him from the waist down, and since then, he's been a self-hating turd. However, the couple's lawyer, Steven (Michael Trucco), is going to get Lisa out of Sam's arms and into his own if he has his druthers. He steps up his game tenfold once the Djinn inserts himself into Steven's body. Hijinks ensue.
I have to hand it to writer John Benjamin Martin for attempting to make things if only slightly different this time around. Maybe he knew this was a last shot at a continuing series or he just was having fun with the whole thing, but it's almost Gremlins 2-esque in its, "Oh, the hell with it" attitude.
In addition to the nicer-is-better attitude the Djinn now sports there is a love triangle between Lisa, Sam, and Steven that I never would have seen coming; and at some point in the film, a seemingly random guy is called in to kill the Djinn with a sword. So yeah, there's a (not very well choreographed) sword fight too. It's kind of a mess, but it's watchable (in the Friday Fun it's-so-bad-it's-fun sort of way).
And that's where I'm going to leave it. It would be easy to hate and nitpick this movie to death, but there's no gain and I got all of my rage out with part three. Currently, each film reviewed here is only available through the Wishmaster Collection, so you're kind of stuck with parts 3 and 4. But if you go into them (at least this one, knowing that it's going to be a hot mess, you won't hate it that much).
Video and Audio:
Like its predecessors, Wishmaster 4: The Prophecy Fulfilled has a damn nice picture. The 1.85:1 presentation has natural color and some really great detail shines through at times. (Unfortunately, this great picture does exploit the weakness of some of the effects.
The DTS Master Audio 5.1 soundtrack is also strong, with a nice occasional use of the surrounds.
Special Features:
• Audio Commentary with Director Chris Angel and cast members Michael Trucco and Jason Thompson
• Audio Commentary with Director Chris Angel and Actor John Novak
• Wishmasterpiece Theater Featurette.
• Trailer
Regardless of how I feel about his films, director (not that) Chris Angel delivers a good commentary, and I enjoyed both offered here. Like the commentary on part 3, he offers some entertaining insight on the making of the film.
Also offered is a featurette (7:13) and a trailer.
Grades:

Movie:


Video:
Audio:
Features:
Overall:
This page includes affiliate links where Horror DNA may receive a small commission at no extra cost to you.