Wrong Turn 4: Bloody Beginnings DVD Review

Written by Joel Harley

DVD released by 20th Century Fox Entertainment
Directed by Declan O'Brien
Written by Declan O'Brien and Alan B. McElroy (characters)
2011, Region 2 (PAL), 93 minutes, Rated 18
DVD released on 27 August 2012

Starring:
Sean Skene as Three Finger/Vincent
Blane Cypurda as Three Finger - 8
Dan Skene as One Eye
Jennifer Pudavick as Kenia
Tenika Davis as Sara
Kaitlyn Leeb as Bridget
Review:
If you had told me, nearly ten years ago, that I would still be watching Wrong Turn movies almost a decade later, I would never have believed you. Rob Schmidt's teenage Hills Have Eyes rip-off is one of my all-time favourites, but even I could never have predicted it reaching four sequels (the fifth is due sometime around Halloween). Taken another wrong turn? Sounds like someone's relying on Maps for iPhone too much.

Given that the hillbilly family has had its ranks steadily decimated over the years, these further sequels have been left with little option to go back in time, to the franchise's Bloody Beginnings. We first meet young Three Finger and his family imprisoned in an isolated woodlands sanatorium, where they quickly proceed to break loose and murder all of the doctors and fellow inmates there. It's a far swankier pad than the scabby little cabin in the woods they'll come to inherit for the first Wrong Turn movie.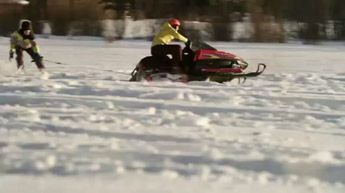 The rest of the prequel takes place in 2002, which makes me feel very old indeed. An annoying group of friends decide to go snowmobiling during their winter break, and inevitably take a most unfortunate wrong turn (geddit?). Trapped in a violent snowstorm, they have little option but to seek shelter in this abandoned sanatorium that they happen upon. The film is exactly like the other Wrong Turn movies, except set in a really big house instead of the woods. The presence of such actors as Desmond Harrington, Henry Rollins and Tamer Hassan is really missed here, leaving us with a vile and obnoxious gang of stereotypes who take far too long to die.
We know that two of them are lesbians, for example, because literally every time they appear on-screen for the first half an hour, they're either snogging or shagging. Vincent (Skene, who also plays Three Finger) is the worst of the bunch – the group 'prankster' who spies on his lesbian friends having sex in a manner that they apparently find adorable. Oh, Vincent, you're such a scamp. The others include the final girl, the nervy one, the laid back one, the cannon fodder one and the blonde one. These friends must have bonded over their complete idiocy, since they're an entirely incompetent bunch. Thankfully, the film's cruel death sequences completely make up for any shortcomings in the characterisation department. The Wrong Turn series has always been remarkably mean-spirited in offing its victims, and this fourth instalment is more so than ever. Beyond the genuinely impressive opening sequence, there's all sorts of barbed wire inspired sadism, a foul fondue and the biggest drill bit I've ever seen.
It being a prequel lends the film the same sense of inevitability present in The Texas Chainsaw Massacre: The Beginning and other slasher prequels. The setting makes a nice change from the Virginia Woods the series has so far spent so much time in, even if it does feel a lot like Dead Snow crossed with One Flew Over the Cuckoo's Nest (not as good as it sounds). It does beg the question why nobody bothered to investigate the sudden radio silence at this very expensive-looking sanatorium.  

Recovering from the rubbish threequel, Wrong Turn 4 is a return to form for the franchise. Granted, said franchise's highest point was hardly the second coming of Deliverance, but it's still a pleasant, refreshingly grisly surprise. As my love for the series remains strong, Wrong Turn shows no sign of slowing down.
Video and Audio:
While its low budget is still evident, it looks far less cheap than the second and third movie. The gore scenes are particularly well done. While the film itself doesn't sound anything special, the song played over the end credits is hilarious and quite brilliant. "I made a mistake! I think I took a wrong turn!"
Special Features:
Director's commentary and die-ary (geddit), deleted scenes, a feature tellingly titled 'Making Another Wrong Turn' and another called 'Lifestyles of the Sick and Famous'. Best of all, the official (and very spoilery) music video for Blackout City Kids' theme song. All together now: "I made a mistake..."
Grades:

 



Movie:
Video:
Audio:
Features:
Overall:
This page includes affiliate links where Horror DNA may receive a small commission at no extra cost to you.