Zombie Killers: Elephant's Graveyard Blu-ray Review
Written by Robert Gold
Blu-ray released by Anchor Bay Entertainment
Written and directed by Harrison Smith
2014, Region A, 104 minutes, Not Rated
Blu-ray released on February 3rd, 2015
Starring:
Billy Zane as Seiler
Dee Wallace as Sharon
Felissa Rose as Lia
Mischa Barton as Toni
Michael Kean as Ian
Gabrielle Stone as Nikki
Ashley Sumner as Kennedy
Brian Gallagher as Rory
Brian Anthony Wilson as Doc
Review:
Zombie movies are a dime a dozen and have become fairly interchangeable since the tropes George A. Romero established almost fifty years ago with Night of the Living Dead continue to be plundered as though they were gospel. The formula usually goes a little something like this: A rag tag group of survivors are the minority in a world where the zombie population is quickly becoming the majority. They locate a safe haven – farmhouse, bunker, prison, mineshaft or shopping mall – with the promise of temporary shelter until a time when our scrappy heroes can escape to the promised land. Sometimes the creatures run, mostly they shamble; one popular franchise even had them talk and cry out for "Braaaiiiins!". The zombies are indeed threatening, but more often than not it is the petty in-fighting within the group that causes the downfall of humanity.
The blueprint is beyond familiar, but that first hour where we get to know this incarnation of heroes is crucial. Dedicated audiences should know by now to expect an inevitable horde of zombies in the final reel that will make it worth their while to have invested their time spent on exposition and character development. Zombie Killers: Elephant's Graveyard follows the "How to Make a Zombie Movie" playbook to the letter, but when it dares to be creative and original, it manages to succeed in ways that so many others fail. Unfortunately, the temptation to fall back on the safety of what has come before is too enticing and we are back to the bickering and fretting that sink countless low-budget ventures. Director Harrison Smith (Camp Dread) has a good eye for social drama and his script is fairly solid, but feels a bit truncated. There's a lot going on here, but not much actually happening.
The titular "Zombie Killers" are a security force for the town of Elwood, but times are tough and instead of filling the ranks with soldiers or law enforcement, the members are more likely young adults trained via paintball games. The community's strict rules concerning the testing of food and water and the immediate expulsion of anyone showing signs of infection are the strongest threads, while a growing religious faction holds a menacing potential to fearmonger and ostracize. Another solid concept offers evidence of undead wildlife, but this threat is not pursued to the fullest. Not all of the plot-lines receive the payoff they deserve and some are left deliberately dangling in hopes of an unconfirmed sequel. There are nice ideas here and some clever twists, but ultimately the film would benefit from the less-is-more approach of fully realizing the potential of certain concepts before racing off to something new.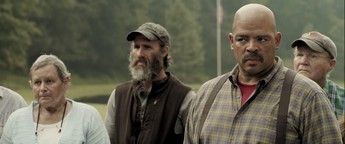 The familiar names in the cast are given an opportunity to do some solid acting with well-developed characters that rise above the supporting players' two-dimensional space fillers. Top billed Billy Zane (Dead Calm) plays Seiler, the leader of the Zombie Killers, with enough sincerity and wit that he emerges unscathed from some of the sillier moments of the film. The always-welcome Felissa Rose (Sleepaway Camp) makes the most of her role as Lia, a religious zealot with an edge. Her intro is an unfortunate rip from Poltergeist II, but Rose holds her own and disappears into her character. Genre favorite Dee Wallace (The Howling) is Sharon, a woman dying of cancer, forced to sit on the sidelines as her town dies faster than her own body. There's not a lot for her to do here other than reflect on the good old days, but it is a credit to her acting talent that she keeps the role interesting.
Newcomer Michael Kean plays Ian, son of the dying Sharon. He impressively holds his own as an actor in his many scenes with Wallace but runs into a bit of trouble when playing opposite Zane and the Zombie Killers. Ian's girlfriend Nikki is played by Gabrielle Stone (Speak No Evil), who continues to grow as an actress as she builds an impressive resume in low-budget genre pics. There is a nice scene between Sharon and Nikki that allows real-life mother and daughter to appear on screen together. Mischa Barton (Walled In) and Brian Gallagher (No One Gets Out Alive) are Toni and Rory respectively, a married couple expecting a child despite their May-December age gap. Both actors give particularly strong performances and have great chemistry, especially in their scenes with Felissa Rose.
The real star of this movie is the cinematography of Charlie Anderson (My Amityville Horror). His sweeping camera moves and aerial photography make the most of the numerous locations and really boost the overall production value of the relatively small story. Smith would be wise to keep him at his side for future ventures. Zombie Killers has a lot going for it, but is tripped up by a screenplay that buries good ideas behind tired clichés. It feels like the town and the people protecting it are in two different movies, as Smith creates a recognizable world and populates it with believable characters, but doesn't know what to do with them and ends up wasting their time and ours.
Video and Audio:
Presented in the original 2.35:1 aspect ratio, the transfer is as strong as viewers should expect from a contemporary low-budget feature. Shot on the RED HD camera, the digital imagery is quite sharp and features plenty of rich colors and fine detail. Some scenes are a bit muted, but this appears to be a stylistic choice.
The default DTS-HD MA 5.1 track is serviceable, yet front-heavy. Dialogue remains clear and free from distortion and music cues are occasionally robust, but the sound design is fairly anemic. The surround channels are filled with missed opportunities instead of gunshots or the sounds of nature.
English and Spanish subtitles are offered for anyone in need.
Special Features:
Bloodbath & Beyond (4 minutes) is an extended promo for the behind-the-scenes content that was shot during production by YouTube channel hosts Jay Bond, Travis Bashir and John Lyle. This is not so much a featurette on Zombie Killers as it is an advertisement to go check out their spot on the web. I don't know who these guys are, but I would be more inclined to look them up if this disc actually included their finished work and simply offered a link in the closing credits to additional content. As it stands, the piece is a real turnoff.
Up next is a traditional behind-the-scenes featurette (5 minute) that intercuts talking-head interview snippets and on-set footage with scenes from the finished movie. Nothing too groundbreaking here, as the limited running time cuts the piece short before it even gets started. I would have liked to have seen a more fleshed-out look at the making of this production.
The Look of Zombie Killers: Elephant's Graveyard (5 minutes) focuses on members of the crew, but again, is obscenely brief. Harrison Smith says a lot of nice things about the people that made his film come together and then we get to hear from several key production members, but don't worry, they are cut off before they can delve too deeply into discussing their jobs. Cinematographer Charlie Anderson deserves a full segment on the look of the picture and preferably his own commentary track filled with information, but his comments are sandwiched in with three other crew members and all five participants are given a minute (or less) of screen time, leaving the piece more frustrating than satisfying.
Grades:

Movie:






Video:
Audio:
Features:
Overall:
This page includes affiliate links where Horror DNA may receive a small commission at no extra cost to you.