Click image to enlarge.
ALAN ROBERT'S BEAUTY OF HORROR EXPANDS WITH NEW TITLES
Alan Robert's Beauty of Horror adult coloring books from IDW Publishing are some next level stuff. They've reached critical mass too. I saw them at Target last week. Robert is expanding the series with a Halloween special, The Beauty of Horror: Tricks and Treats along with the fourth installment, Creature Feature. That's not all! On October 22nd, he's launching a Kickstarter campaign for The Beauty of Horror Tarot Card Set for fans to color.
"The mega-success of The Beauty of Horror has surpassed all of my expectations at this point, and Ghouliana's universe is about to expand in a very big way with all these new products!" says Robert. "I've gotta admit, it's been kind of difficult keeping my mouth shut about all these super-creepy Tarot cards I've been drawing over the last few months; I think it's some of my best work and I can't wait for fans to finally see them! Beauty of Horror Volume 4: Creature Feature is on my drawing board now, and it's a blast reenacting my favorite horror movie scenes with these characters. So much fun!"
Click image to enlarge.
IDW Games is developing the Tarot Card set based on the coloring book line. It will feature 78 never-before-seen designs in premium oversized cards in a deluxe "Color-Your-Tarot" set. Each collection will come in a special gift box. A full-color standard-size Taroto card set featuring color by Jay Fotos will also be available.
Robert also revealed a live-action trailer for The Beauty of Horror: Tricks and Treats, inspired by "The Night Terror Before Christmas" a Trent Shy Claymation made to promote The Beauty of Horror: Ghosts of Christmas. This trailer was filmed in Princeton, New Jersey at an infamously haunted mansion and features Ghouliana in all her glory. It's super creepy all around.
Lastly, The Beauty of Horror: Volume 4 – Creature Feature, is on the way. It features zombies, werewolves, vampires, and other undead monsters as they recreate some of the scariest screams to ever hit the silver screen. The book includes 80 pages of intricate, hand-drawn designs. Iconic horror props are hidden throughout the book.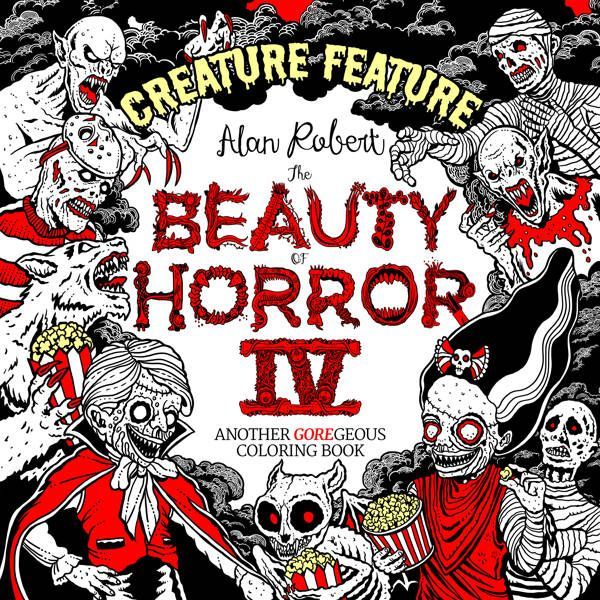 Click image to enlarge.
Want to share some news? Click here to hit us with it!