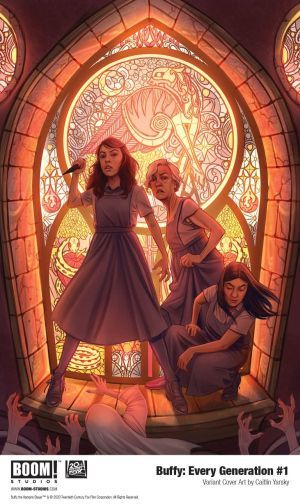 AN IMPORTANT NEW CHARACTER DEBUTS IN BUFFY: EVERY GENERATION
While in the midst of the epic Hellmouth crossover, BOOM! Studios, in collaboration with 20th Century Fox, has announced Buffy: Every Generation #1, an oversized one-shot featuring three stories written and illustrated Nilah Magruder, Morgan Beem, Lauren Garcia, Caitlin Yarsky, Lauren Knight, and Alex Guimarães. Due out in April 2020, the publisher claims this will change everything you thought you knew about the Slayer and also introduce the most important new character ever to the series.
Discover the secret origins of some of the most important Slayers in history and the first appearance of a new character with a familiar face who will change the way you look at Buffy Summers and everything about her world forever! This is the Buffy comic that everyone will be talking about and the most important new character in over twenty years!
"Just when you think you know everything about the Chosen One, a brand new character shows up to turn the whole universe on its head ," said Jeanine Schaefer, Executive Editor, BOOM! Studios. "Buffy's been through the Hellmouth, fought alongside Angel, been replaced by Kendra, and now has to deal with the backlash in Ring of Fire but all of that is nothing compared to what comes next for the Slayer and everyone else in the Buffyverse. Hold onto your seats because this special will… BLOW. YOUR. MIND!"
Buffy: Every Generation #1 is set for release on April 8th, 2020. It features a main cover by Caitlin Yarsky.
Want to share some news? Click here to hit us with it!