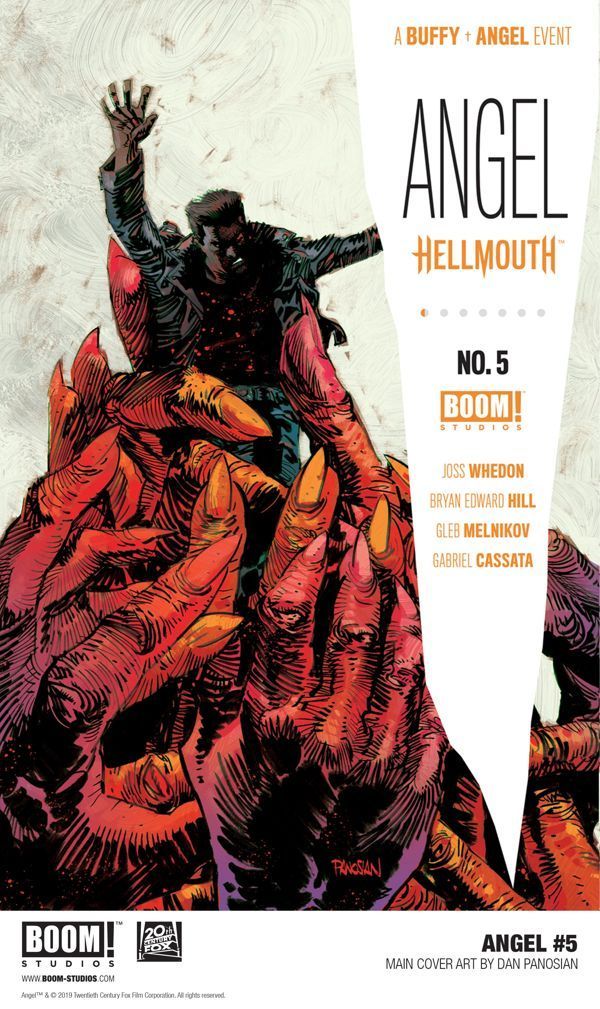 Click image to enlarge.
ANGEL #5 PREVIEW
BOOM! Studios continues to tease Hellmouth, the comic book crossover between Buffy the Vampire Slayer and Angel. The official prelude begins in Angel #5, out later this month from writer Bryan Edward Hill and artist Gleb Melnikov. Now that Angel knows his true mission is to gather a team of highly specialized individuals to help him save the world when all Hell breaks loose, what's his next move?
Meet Charles Gunn, vampire hunter, social media celeb, and the fresh new face of LA's supernatural crime fighting underground. But it's not all just likes and subscribes because Gunn is on a mission to dust every vampire he can find, right up until he comes face-to-face with the vampire cursed with a soul! Will they be able to bridge their differences and partner up long enough to save the world?
"Hellmouth is here and the only one who can stop it is Angel . . . and the team he's somehow managed to pick up along the way. But everyone who's ever joined him in the fight against evil ends up paying a heavy cost," said Jeanine Schaefer, Executive Editor, BOOM! Studios. "So it all comes down to one very important question—who can Angel trust with the fate of the world?"
Angel #5 features a main cover by Dan Panosian and variant covers by Scott Buoncristiano and Troy Nixey. It's set for release on September 25th, 2019.
Want to share some news? Click here to hit us with it!