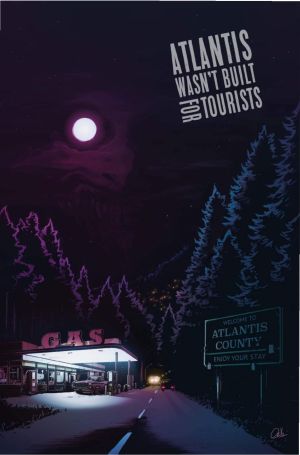 ATLANTIS WASN'T BUILT FOR TOURISTS LANDS AT SCOUT COMICS
Scout Comics scoops up another great title with Atlantis Wasn't Built For Tourists. This was one of my favorite horror comics of 2019 so I'm glad to see it get a chance to reach a wider audience after its successful Kickstarter campaign. It's written by Eric Palicki, illustrated by Wendell Cavalcanti, colored by Mark Dale, and lettered by Shawn Lee. It features a cover by Caspar Wijngaard.
Drifter Lucas Lewis arrives in Atlantis County, Oregon expecting little more than a hot meal and a soft bed for the night. Instead, he finds a town in thrall to a corrupt sheriff who's used the very real threat of vampires lurking in the nearby wilderness to consolidate his power and control the population. Determined to rid Atlantis of both its power-mad sheriff and the monsters in the forest, but nothing is ever at it seems and neither is Lucas. Join Lucas in his quest to return law and order and return Atlantis to the hands of its townsfolk.
"In bringing Atlantis Wasn't Built for Tourists to Scout Comics, I feel as if I'm joining a family of creators making some of the most exciting, enthralling, and status quo-challenging books on the shelves today." says writer Eric Palicki.
Atlantis Wasn't Built For Tourists kicks off in August 2020.
Want to share some news? Click here to hit us with it!