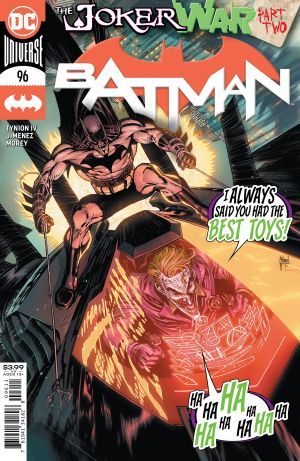 BATMAN #96 PREVIEW
Joker War is just getting started and I cannot wait to dig into this huge storyline. DC Comics has shared an early preview of August's Batman #96, showing just how crazy this event is going to get. If this is just a taste of what we can expect, we are in for a treat.
Reeling from the effects of the worst Joker toxin attack ever, Batman is on the run through Gotham City, pursued by the dark shadows and voices that haunt is past and present! As The Joker's plan materializes, the only person who can save him from the brink of true madness is… Harley Quinn? Plus, who is the mysterious figure known as Clownhunter?
Batman #96 is written by James Tynion IV and illustrated by Jorge Jimenez. It features a main cover by Guillem March, a card stock variant by Francesco Mattina, and a 1:25 Clownhunter card stock variant by Jimenez. It's set for release on August 4th, 2020.
Want to share some news? Click here to hit us with it!