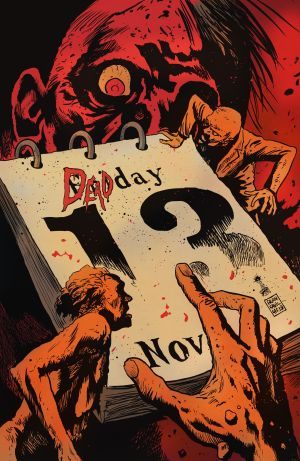 CELEBRATE A NEW HOLIDAY WITH DEAD DAY
If you watched Disney Pixar's Coco and wanted more bloodshed, AfterShock Comics has you covered with Dead Day, a new series debuting in April. Written by Ryan Parrott, illustrated by Evgeniy Bornyakov, colored by Juancho Velez, and lettered by Charles Pritchett, the comic presents a chilling world where the dead come back for one day every few years. How does this change our world?

Meet the Haskins, a seemingly normal suburban family, as they prepare for the annual macabre holiday known as "Dead Day" – when the deceased rise from the grave from sunset to sunrise. Some come back to reunite with family and friends, others for one last night of debauchery, still others with only one thing on their decomposing mind: revenge.
"I think the inspiration came from the fact that getting older means you start to lose the people you love. I never got a chance to say goodbye to my grandparents before they passed and, I remember for months after their deaths, I would have these insanely vivid dreams were I simply got to talk with them for a few minutes, and then I'd wake up and they were gone." says writer Ryan Parrott. "So I thought, what if that actually happened... but worldwide? Television shows like The Purge and The Leftovers have done a wonderful job highlighting how entire societies can change politically or emotionally based on a single moment, and I think I liked the idea of exploring that idea in relationship to death."
Dead Day #1 features a main cover by Andy Clarke with Jose Villarrubia and an incentive cover by Francesco Francavilla. It's set for release on April 15th, 2020.
Want to share some news? Click here to hit us with it!