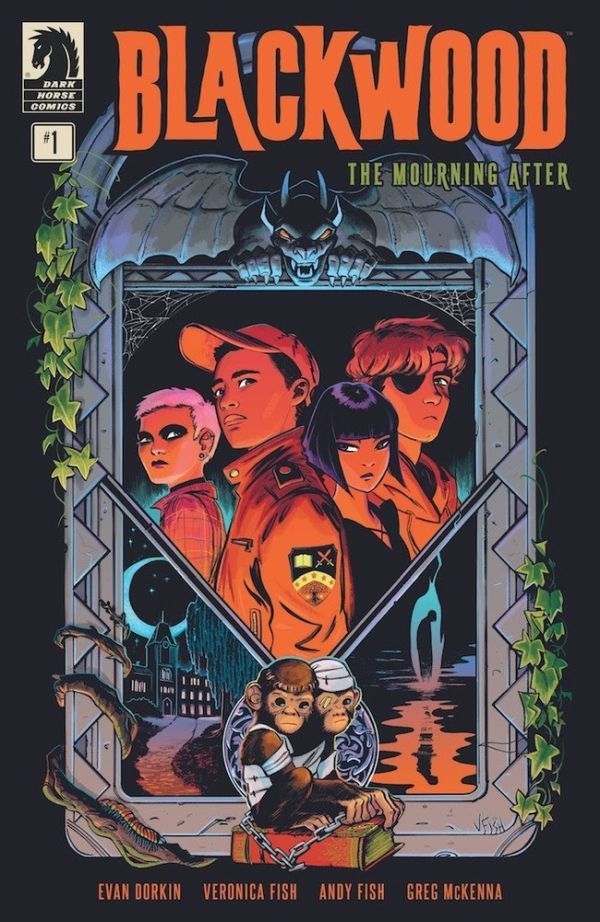 Click image to enlarge.
DARK HORSE RETURNS TO BLACKWOOD COLLEGE
Dark Horse Comics has announced the follow-up series to the stellar comic, Blackwood. Evan Dorkin, Veronica Fish, and Andy Fish are back for Blackwood: The Mourning After, a four-issue mini-series, beginning in February 2020.
The continuation of the hit occult fantasy series returns to where we first left off. Blackwood College is in mourning after the death of Dean Ogden and Dennis. The students have a lot to learn about these mysterious deaths and the repercussions left behind, but while they investigate a traitor hides in their midst looking to bury the rest of the school too.
"I'm very happy to be able to return to the halls of Blackwood. I enjoy writing these characters and putting them through hell, and I love seeing how Veronica and Andy bring it all to life. Especially the dead things." – Evan Dorkin
"Evan is so great about taking a drawing I did or an idea we have and running with it, incorporating it where it works into the story—it's a very rewarding collaboration. I'm so personally invested in these characters, the school as an entity itself and all the weird stuff surrounding it - there is so much story! It's so fun spending time in this world, hopefully that comes through." —Veronica Fish
"Evan Dorkin has an amazing ability to create real characters and real worlds—I've been a fan of his since Milk and Cheese; Dairy Products Gone Bad-- and working with him (and Veronica) has been an absolute blast. From what I've seen of the second series it surpasses the first on so many levels and that's saying something because I thought the original series scripts were brilliant. Glad to be back for more!"—Andy Fish
Blackwood: The Mourning After #1 is set for release on February 12th, 2020.
Want to share some news? Click here to hit us with it!