DC DOUBLES DOWN ON SCARES WITH TWO HALLOWEEN SPECIALS
A few years ago, DC started a tradition of publishing a pretty solid horror anthology around Halloween. It has gone by a few different names, but it is full of great stories from an all-star cast of creators. This year, the publisher is doubling it with two specials: Legend of the Swamp Thing Halloween Spectacular #1 and DC: The Doomed and the Damned #1. I am pumped.
The Legend of the Swamp Thing Halloween Spectacular follows the Guardian of the Green through six stories, revealing past lives and unforgettable horrors that befall all who cross his path. We'll go back to ancient Rome and to the present day.
This comes to us from writers Tom King, James Tynion IV, Vita Ayala, Phillip Kennedy Johnson, and Ram V and artists Domo Stanton, Mike Perkins, Emma Rios, and Christian Ward. This will be priced at $5.99 and is set for release on October 6th, 2020.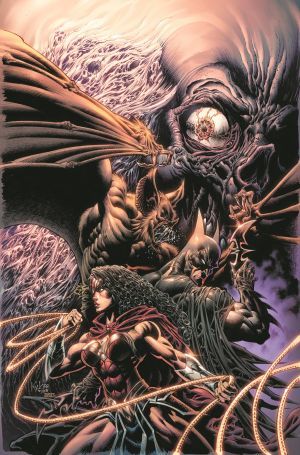 The following week sees the release of DC: The Doomed and the Damned #1, taking us through the DC Universe for some tales of the macabre, the murderous, and the morbid. Batman encounters a true urban legend after speaking its name three times in a mirror. Madame Xanadu gets help from Man-Bat to take down a shadowy specter. An intergalactic demon turns people into frog beasts forcing Green Lantern and Etrigan to team up. There are a total of ten stories in this collection.
DC: The Doomed and the Damned #1 features writing from Carmen Maria Machado, Marv Wolfman, Ken Porter, John Arcudi, Saladin Ahmed, Alyssa Wong, Travis Moore, and more and artwork from Riley Rossmo, Mike Perkins, Leonardo Manco, Travis Moore, Tom Mandrake and more. It clocks in at 80 pages and will retail for $9.99.
These anthologies are always pretty great, showing the darker side of the DC Universe. More importantly, it moves past the characters that tend to stick to the shadows to show how horror can work with even the brightest super heroes.
Want to share some news? Click here to hit us with it!