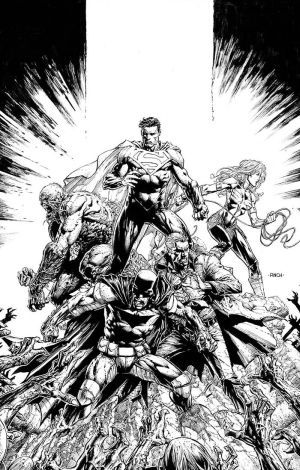 DCEASED: DEAD PLANET #1 SELLS OUT
DCeased returned with Dead Planet, a sequel series set in a version of the DC Universe where the Anti-Life Equation has ravaged humanity and its heroes. DC Comics has announced the debut issue has sold out. There's a second printing on the way with a new black-and-white version of David Finch's cover art.
After a corrupted Anti-Life Equation turned billions into monsters - including Earth's Greatest Heroes - our planet was as good as dead. Years later, a distress call brings Damian Wayne, Jon Kent, and Cassie Sandsmark - the Batman, Superman, and Wonder Woman of Earth 2 - back to a dead planet... but what will this new Justice League find waiting for them? If life still exists on Earth, who - or what - is lying in wait for these heroes?
DCeased: Dead Planet #1 is written by Tom Taylor, illustrated by Trevor Hairsine, Stefano Gaudiano, and Gigi Baldissini, colored by Rain Beredo, and lettered by Saida Temfonte. The second printing is set for release on August 4th, 2020.
Want to share some news? Click here to hit us with it!