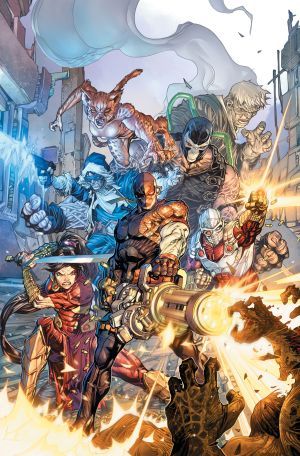 DCEASED: UNKILLABLES #1 PREVIEW
Next months sees the return of one of my favorite series of the last year, DCeased with a new three-issue mini-series, DCeased: Unkillables. Written by Tom Taylor and illustrated by Karl Mostert and Trevor Scott, we'll see what the villains did after the heroes failed and the world ended. Check out an early preview of the first issue from DC Comics below.
Spinning out of the dramatic events of 2019's techno-organic-fueled bestselling thriller, writer Tom Taylor returns to this dark world, along with new artist Karl Mostert, with a street-level tale of death, heroism and redemption: DCeased: Unkillables! Led by Red Hood and Deathstroke, over the course of this three-issue miniseries clocking in at 48 pages each, DC's hardest villains and antiheroes will fight with no mercy to save the only commodity left on a dying planet of the undead—life!
DCeased: Unkillables #1 features a main cover by Howard Porter and variant covers by Francesco Mattina and Yasmin Putri. It's set for release on February 19th, 2020 and the final order cutoff date for comic shops is January 27th, 2020.
Want to share some news? Click here to hit us with it!