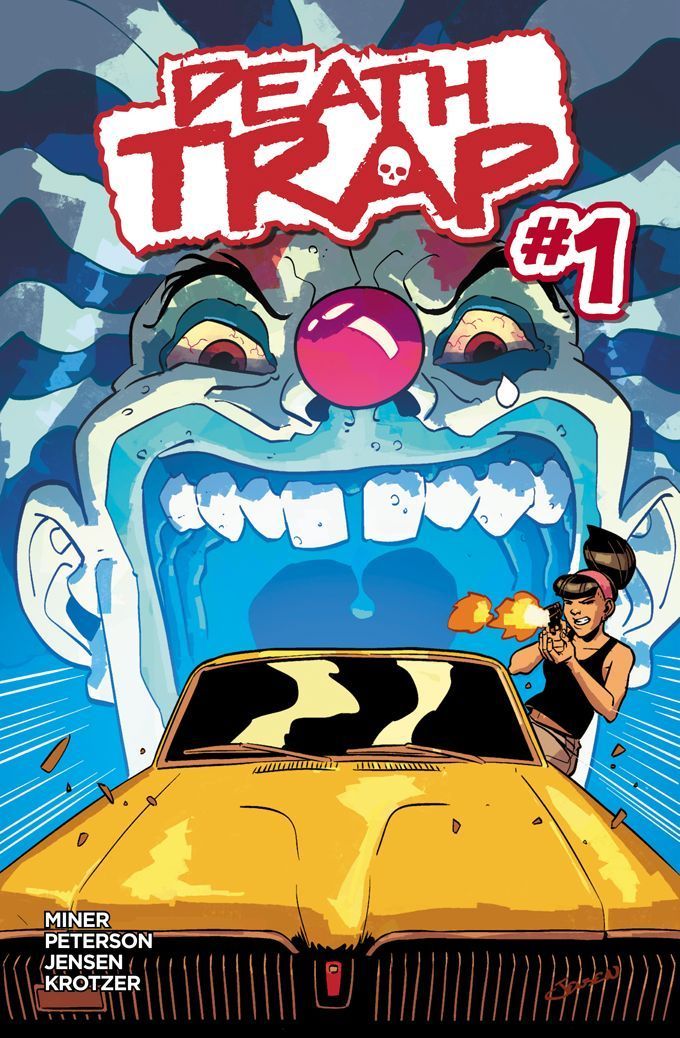 Click image to enlarge.
DEATH TRAP KICKS INTO HIGH GEAR
Death Trap hasn't even debuted yet, but it has quickly shot to the top of my most anticipated comics list. Where else can you find A haunted muscle car, a circus crime family, a dancing bear, bearded women, methed out carnies, crab twins, and a young woman teamed up with the ghost of her dead father on a mission of vengeance? The short answer is Kickstarter. Death Trap is written by Matt Miner, illustrated by Christopher Peterson, colored by Josh Jensen, and lettered by Matt Krotzer.
Ollie and her dad's ghost are out for revenge as they rumble and skid through four issues of action and absurdity in her father's old 1968 Mercury Cougar. With their suspicions all but confirmed his murder was ordered by Beau Davenport, the owner of a rival traveling carnival, Ollie gathers help from the only family she has left: The Strongin Circus crime family she grew up in. Violence, high-octane action, and a healthy dose of bananas-level wackiness await you in the pages of the most exciting new comic this side of the old 42nd street exploitation movie theaters.
Death Trap is planned as a four-issue mini-series. The creators are seeking $18,000 to pay the team and fund the printing of the book and distribution of rewards. There are some pretty cool rewards available too. Outside of the obvious digital and physical copies of the book itself with Kickstarter exclusive covers, you can get drawn into the comic as a character or as a bobblehead figure on the dashboard of one of Davenport's men. There are also script reviews, cover art, logo creation, and more, perfect for any creators.
"My favorite escapes from the horrors of real life are comics and B-movies with emotional depth. I figured, why not combine the two and make a really fun series with friends?" says writer Matt Miner, while artist Chris Peterson adds "I'm super stoked to come back to comics after a long hiatus with such a crazy project to start it all off. It's a whole lot of what I enjoy and hope everyone else does too!"
The Death Trap Kickstarter runs through October 2nd, 2019. As a reminder, Kickstarter is an all-or-nothing endeavor so if the campaign doesn't reach its goal, no funds are collected. You're also not charged until the campaign ends. There are plans to distribute Death Trap to comic shops worldwide so long as the creative costs can be funded through this Kickstarter campaign, so back away to help get this awesome book made.
Click image to enlarge.
Want to share some news? Click here to hit us with it!