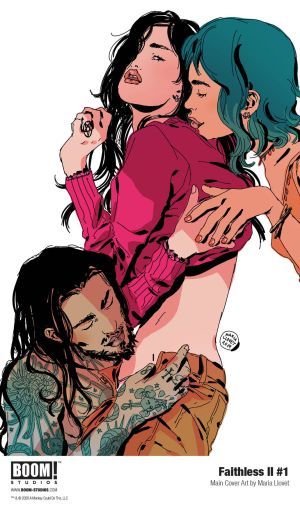 FAITHLESS RETURNS FOR MORE EROTIC HORROR IN APRIL
Faithless delivered a unique brand of erotic horror last year as a young woman dabbled with the dark arts only for the Devil himself to come calling. BOOM! Studios has announced a follow up to the series, aptly titled Faithless II from writer Brian Azzarello and artist Maria Llovet, debuting in April 2020. It picks up with Faith and her lovers Louise (The Devil) and Poppy (his daughter) bringing magic and chaos to the streets of Italy.
Turin, known as the epicenter of black magic, is also a place of high fashion, art, and literature. Now, Faith is in the center of it all and with that, her own power grows. But any power comes with a price. Faith has only just begun to pay for hers.
Faithless II #1 features a main cover by Llovet and the first in a series of erotic connecting variant covers by Tula Lotay. These variants will be polybagged and not publicly previewed due to the sexually explicit content. Each one will be limited in its print run and will not be reprinted or collected in any subsequent formats.
Click image to enlarge
"I'm excited to dive back into Faithless with Maria. When we last saw Faith, it appeared she'd gotten all that she'd wished for, but at what cost? Well, since the devil is involved it shouldn't be too hard to guess the price," said Azzarello. "We're going to take Faith from the heady downtown art scene and move her to Turin, a city steeped in both black and white magic."
"It was truly fantastic working with this team on Faith's initial journey," said Llovet. "I'm so glad to be back to these characters and thrilled to plunge deeper into the world of Faithless!"
"Faith's search for magic in life, in art, and in love is far from over, and delving more deeply into her journey with Brian and Maria is entirely too much fun," said Sierra Hahn, Executive Editor, BOOM! Studios. "More surprises await as we invite you to sink deeper into Faith's explorations of the 'taboo' in Faithless II."
Faithless II #1 is set for release in April 2020.
Want to share some news? Click here to hit us with it!