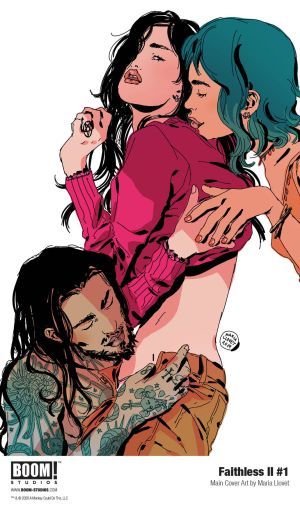 FAITHLESS THREEQUEL COMING IN 2021
Faithless is about to begin its second volume, but BOOM! Studios has announced the erotic horror series is not stopping there. It's continuing with a third and final volume next year from writer Brian Azzarello and artist Maria Llovet. This will conclude Faith's magical, surreal journey of self discovery as her true power is awakened.
"There had to be three... It's a magic number." said Azzarello.
"Working on this series with Brian has been awesome, an absolute pleasure from the start. Can't wait for the readers to find out more about what's coming next in Faithless!" said Llovet.
"I love this cast of characters and watching Faith grow into her own by claiming her power, her sexuality, and her autonomy is—at its core—so relatable," said Sierra Hahn, Executive Editor, BOOM! Studios."It takes time, experience, and travails before truly knowing what you're made of. Brian and Maria give us the raw, unadulterated adventure."
Faithless II #1 was set to debut on April 22nd, 2020, but with Diamond stopping shipments of comics, that may change. Hopefully we'll get to see it soon. Faithless III will begin in 2021.
Want to share some news? Click here to hit us with it!