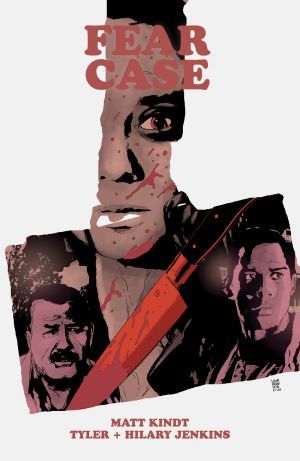 FEAR CASE #1 SELLS OUT AHEAD OF RELEASE
Fear Case, the upcoming series described as "True Detective meets The Ring" has sold out ahead of its debut next month. Publisher Dark Horse Comics has announced a second printing is on the way with a new cover by Andrea Sorrentino. Fear Case is written by Matt Kindt, illustrated by Tyler Jenkins, and colored by Hilary Jenkins.
"What an exciting way to start of the New Year!" says Matt Parkinson, VP of Marketing at Dark Horse Comics. "Fear Case looks to be yet another Matt Kindt classic and we couldn't be happier with the overwhelming response to his new horror series. Congratulations Matt and Tyler!"

"I was so excited to see Matt finally dip his toes into a horror comic. Fear Case is so damn good and spooky as hell!! Tyler and Hilary's art on the story really push the eerie tone of the plot," series editor Daniel Chabon says about Kindt's new project. "When I heard the comic sold out and we needed a new cover Andrea was the first person to come to mind. His work on Gideon Falls was so brilliant and creepy that I knew he could knock this cover out of the park."
You may still be able to find copies of Fear Case #1 at your local comic shop when it's released on February 3rd, 2021. This is why it's so important to pre-order your comics! The debut issue features a standard cover by Tyler Jenkins and variant covers by Francesco Francavilla and Duncan Fegredo. The second printing will come out the following week on February 10th, 2021.
Want to share some news? Click here to hit us with it!