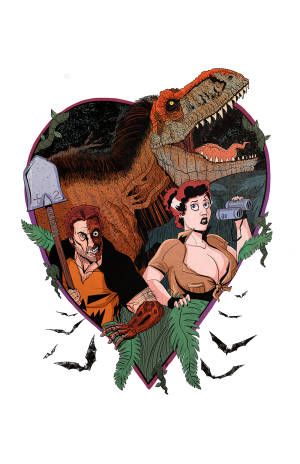 HALLOWEEN MAN GOES JURASSIC IN NEW SERIES
Halloween Man has encountered all sorts of macabre creatures in his almost 20-year history. Now the indie sensation is facing off against...dinosaurs. Creator Drew Edwards has launched an IndieGoGo campaign to fund the release of Halloween Man: Valentine's Day That Time Forgot, a two-part tale inspired by Sir Arthur Conan Doyle's The Lost World and Edgar Rice Burroughs' Caspak trilogy. Edwards is joined by cover artist JTA, artist / inker / colorist Jason Wilson, and art director / colorist / letterer / designer April Guadiana.
When Solomon and Lucy's date night is interrupted by a caveman fleeing ravenous vampires, indie comics' favorite couple are bestowed on a quest involving both Lucy's family tree and planet Earth's prehistory as they enter a legendary plateau filled with giant monsters!
The IndieGoGo campaign runs through March 7th, 2020. Rewards include digital and physical copies of the comic, additional Halloween Man comics, original sketches, and more.
Click images to enlarge
Want to share some news? Click here to hit us with it!