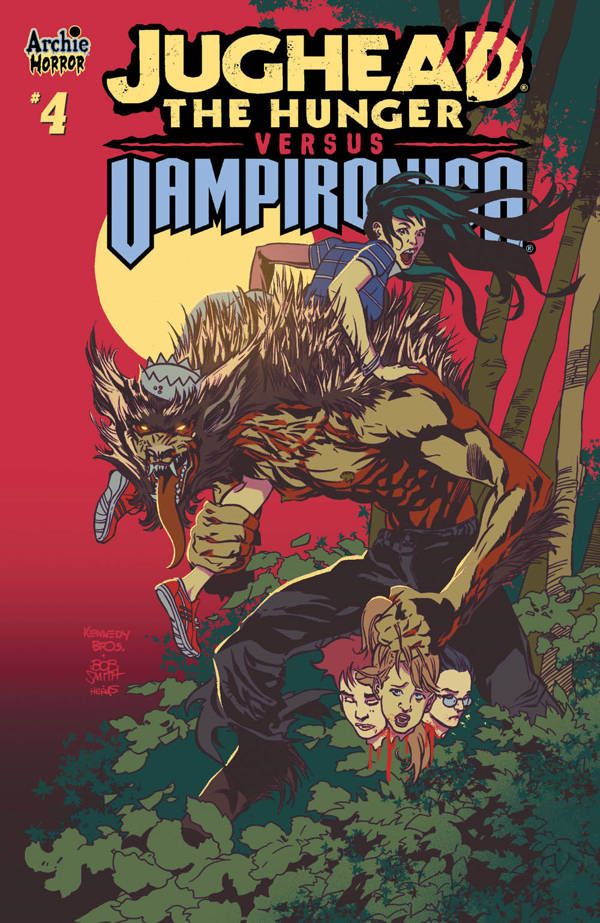 Click image to enlarge.
JUGHEAD THE HUNGER VS. VAMPIRONICA #4 EXCLUSIVE COVER REVEAL
The horror crossover of the ages has only just begun, but Archie Comics is looking ahead. Jughead The Hunger vs. Vampironica #4, the penultimate chapter of the series, is set for release in August and we are pleased to reveal the covers for the issue. The first, which you can see above, is from Pat & Tim Kennedy, Bob Smith, and Matt Herms. The other two, from Dan Panosian and Matthew Taylor, respectively, are below.
Jughead and Vampironica now know how to set their respective realities right thanks to a most unexpected guest star—and the solution involves the very haunted history of Riverdale itself! The question is, have they bitten off more than they can chew (pun intended) as the newly arrived hordes of vampires try to end them both?
Jughead The Hunger vs. Vampironica #4 is written by Frank Tieri, illustrated by Pat & Tim Kennedy and Joe Eisma, inked by Bob Smith, colored by Matt Herms, and lettered by Jack Morelli. It's set for release on August 28th, 2019.
This page includes affiliate links where Horror DNA may receive a small commission at no extra cost to you.
Want to share some news? Click here to hit us with it!