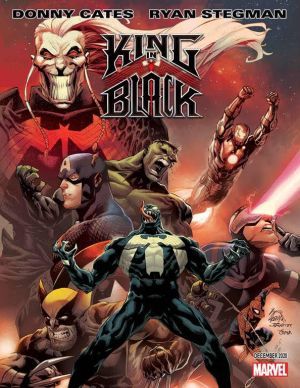 KING IN BLACK TAKES VENOM MYTHOS TO NEW TERRIFYING HEIGHTS
Venom has been an incredible and terrifying comic since it started with writer Donny Cates and artist Ryan Stegman bringing Eddie Brock to new and awesome places. This December, we'll see this saga reaching new heights with King in Black as Knull, the symbiote god, arrives on Earth and everyone will realize just how unprepared they are for his coming.
"As far as event books go, this is the coolest, darkest, most heavy metal, Cthulhu dark horror thing I've ever been able to do," promises Cates. "I still can't believe that Marvel is letting us go as dark and scary as we're going."

"One of the things I'm most proud of in this series… is the creation of the character Knull," Stegman says. "We have some new designs that we'll be unveiling throughout the series that are really cool and really creepy."
This is where all of the issues of Venom to this date has been leading to. I can't wait to see how this unfolds. I'm unclear if this is a one-shot or a mini-series or what. If it's anything like what Marvel usually does and like what it did with Absolute Carnage, it will probably be a mini-series with some tie-ins and one-shots to flesh out the story a bit more. We have some time to find that out as the book doesn't debut until December. That's going to be a long wait.
Want to share some news? Click here to hit us with it!