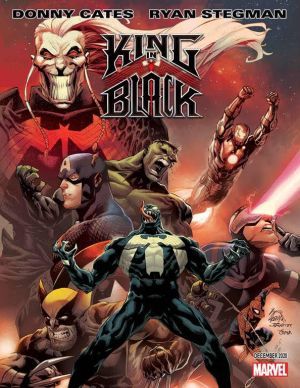 MARVEL DROPS KING IN BLACK #1 TRAILER
King in Black is set to begin in December. We've seen covers, tie-ins, and more for the Venom-based event from writer Donny Cates and artist Ryan Stegman. Now, publisher Marvel Comics has released a trailer for the first issue giving us a peek at some new artwork and I cannot wait to read this book.
"All the Marvel characters think that they are prepared for this. They think that they have a plan. Eddie Brock has told them Knull is coming. The thing is, you guys, they're so not ready for it," Cates teased in a recent video interview. "Captain America, Iron Man, every single X-Men team. It is all hands on deck. What's even more exciting than that is none of you at home, none of you are gonna be ready for it either. It all comes down to the King in Black."

"We started out by just trying to amp his look up a bit. I just took his original look and added some knick knacks to it. But one cool thing that happens throughout this story is his look changes as we go," Stegman told Comicbook.com about his design for Marvel's newest villain. "Things happen to him that make his look slightly alter on multiple occasions. So by the end you'll have a new look for Knull that is different from the very beginning!"
King in Black #1 is set for release on December 2nd, 2020.
Want to share some news? Click here to hit us with it!