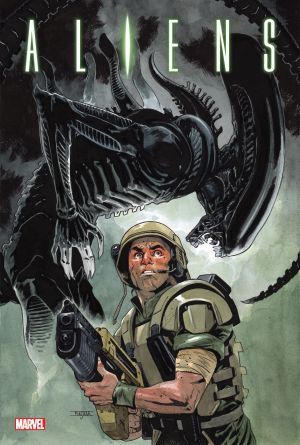 MARVEL'S ALIENS OMNIBUS LINE CONTINUES IN AUGUST
Since pulling in Aliens and Predator as part of Disney's acquisition of 20th Century Fox, Marvel has announced an omnibus collected classic Aliens comics along with a new series. The publisher has now announced a second collection. Aliens: The Original Years Omnibus – Volume 2, due out in August 2021, is a new hardcover collection packed with xenomorph action.
Stories in this omnibus feature a rogue scientist's genetic experiments leading to a horrific new alien king, a ragtag Colonial Marines unit fighting xenomorphs on a space station, an investigator solving a murder on a deep-space alien-research station, and more The comics included are Aliens: Rogue #1-4, Aliens: Colonial Marines #1-10, Aliens: Labyrinth #1-4, Aliens: Salvation, Aliens: Music Of The Spears #1-4 and Aliens: Stronghold #1-4 — plus material from Dark Horse Comics #3-5, #11-13 and #15-19; Previews (1993) #1-12; Previews (1994) #1; and Aliens Magazine (1992) #9-20.
Aliens: The Original Years Omnibus – Volume 2 features a cover by Mahmud Asrar and a direct market exclusive cover by Paul Mendoza. It features writing from Ian Edginton, Chris Warner, Kelley Puckett, Paul Guinan, Dan Jolley, Jim Woodring, Dave Gibbons, Chet Williamson, John Arcudi, Sarah Byam, John Byrne, Peter Milligan, Michael Cook and artwork from Will Simpson, Paul Guinan, Tony Atkins, Allen Nunis, John Nadeau, Kilian Plunkett, Mike Mignola, Tim Hamilton, Doug Mahnke, David Roach, Mark A. Nelson, Paul Mendoza, John Byrne, Paul Johnson & Christian Gorny. It's due out in August 2021.
Want to share some news? Click here to hit us with it!