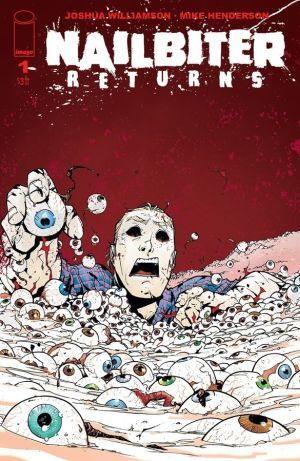 NAILBITER: RETURNS #1 PREVIEW
We're getting more Nailbiter from Image Comics this year and I could not be more excited. It's one shining beacon of hope in an otherwise horrible year. Writer Joshua Williamson and artist Mike Henderson are reuniting for Nailbiter: Returns and venturing back to the town of Buckaroo, Oregon.
Sixteen of the world's worst serial killers were all born in the same small town…but Agent Finch and Sheriff Crane solved and buried that mystery. Didn't they? In Nailbiter: Returns, violent copycat murders imitating the infamous Buckaroo Butchers have begun in Portland, Oregon, and if Finch wants the killings to stop, he'll have to team up with the daughter of the Nailbiter himself.
"Over the last few years I have missed the world of Nailbiter and was dying to get back to it. Being back in the town of Buckaroo, the home of serial killers, feels right and satisfies the return to my horror roots that I craved," Williamson said in an exclusive interview with Comic Book Resources. "The new series builds off the mythology of the original series, has much of the same cast, expands on the mystery, BUT is its own new story."
Nailbiter was my favorite horror comic for two years in a row. I have already gotten a look at the first issue and it is well worth the wait.
Henderson told Comic Book Resources: "I didn't realize how good it was going to feel to be back expanding the mystery and creeping everyone out."
Nailbiter: Returns #1 is set for release on Wednesday, June 3rd, 2020.
Want to share some news? Click here to hit us with it!