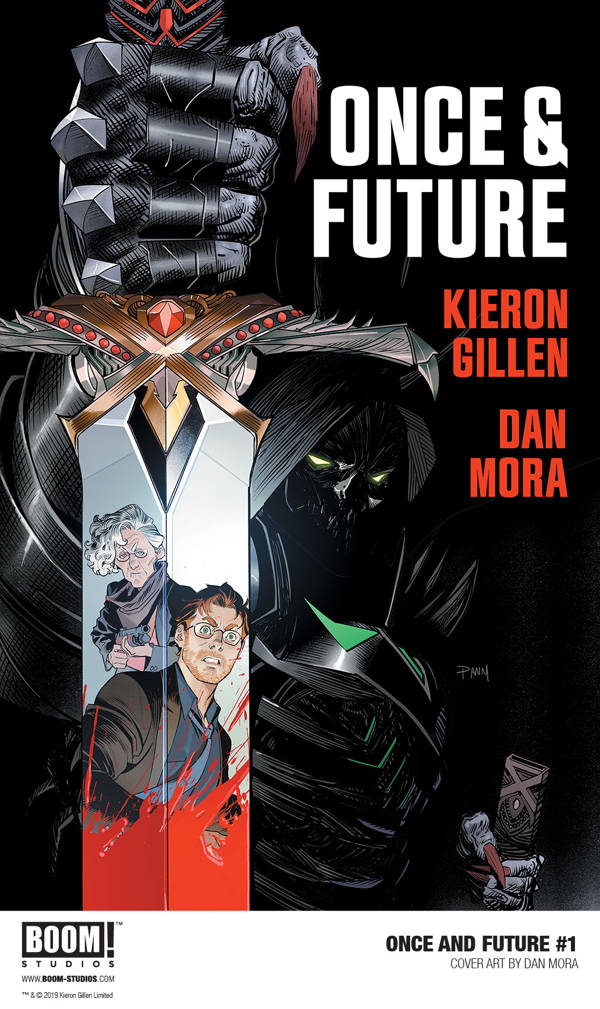 Click image to enlarge.
ONCE AND FUTURE BRINGS ARTHURIAN MONSTERS TO THE MODERN DAY
You've heard the myths of King Arthur, but not like this. BOOM! Studios has announced Once and Future, a new limited-series from writer Kieron Gillen and artist Dan Mora that aims to explore "the mysteries of the past, the complicated truths of our history, and the power of family to save the day...especially if that family has secret bunkers of ancient weapons and decades of experience hunting the greatest monsters in Britain's history."
When a group of Nationalists use an ancient artifact to bring a villain from Arthurian myth back from the dead to gain power, ex-monster hunter Bridgette McGuire pulls her unsuspecting grandson Duncan, a museum curator, into a world of magic and mysticism to defeat a legendary threat. Now the two must navigate the complicated history of the McGuire family and combat the deadly secrets of England's past that threaten its very future.
"I've been chewing over how the classic explorer adventure serial could operate in the twenty-first century for a while. Doctor Aphra transplanting the genre to space was one conclusion. Once and Future is another, taking a genre whose core has barely changed since the 19th century, and updating it for the now," said writer Kieron Gillen. "Adventure, romance, supernatural horror and too much bloody research, as always. When BOOM! Studios told me one of the most talented action artists of his generation was interested in collaborating, I knew that we had all the ingredients we needed to create gold. Gold which, inevitably, our heroes will steal."
Click image to enlarge
"Working with BOOM! Studios has opened the door to new dream projects every year, but Once and Future is unlike anything I've ever worked on before," said artist Dan Mora. "Kieron's created a new world very much like our own, but plagued by supernatural and mythological creatures that are a joy to bring to life. And Bridgette, well, she's one of the most fun - and surprising - characters I've ever worked on and I can't wait for audiences to meet her!"
"Kieron Gillen and Dan Mora are two of my favorite storytellers in comics, hands down. Not only was bringing them together a dream come true--speaking personally--but Once and Future has also blown away all of our expectations," said Matt Gagnon, Editor-in-Chief, BOOM! Studios. "Kieron & Dan are crafting a world of adventure that's both epic and intimate, timeless and immediately relevant. This is truly one of the biggest projects in our company's history."
If Once and Future is even half as good as Gillen's other recent series, Die, it will be a stellar experience. I've long been a fan of Mora's artwork, so I'm all in on this. Once and Future kicks off in August 2019.
Want to share some news? Click here to hit us with it!