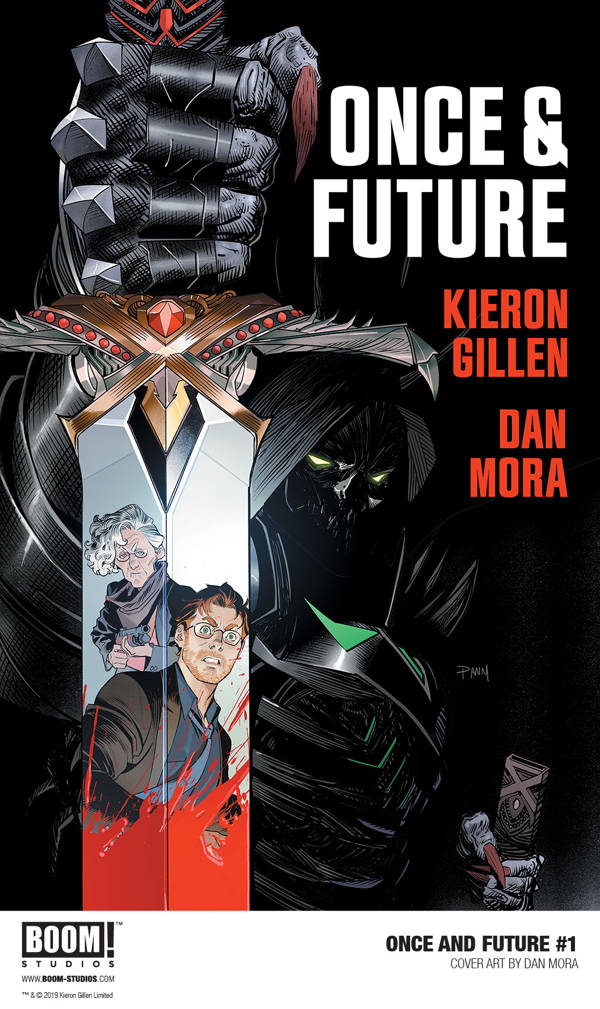 Click image to enlarge.
ONCE & FUTURE #1 ADDITIONAL PREVIEW PAGES & TRAILER REVEALED
We've already seen a small sneak peek at Once & Future #1, the debut issue of the new six-issue limited series from Boom! Studios due out next month. Written by Kieron Gillen, illustrated by Dan Mora, and colored by Tamra Bonvillain, the comic follows retired monster hunter Bridgette McGuire and her unsuspecting grandson Duncan as they prepare for battle against a rising evil hellbent on taking over the country. BOOM! has shared some additional preview pages which you can check out below:
The discovery of an ancient artifact at an archaeological site sets off a chain of events that puts the world in danger as a ruthless group of Nationalists attempt to raise a villain from Arthurian legend with the hope of gaining power, and fulfilling a long-standing prophecy for England. The only ones who can stop them are Bridgette McGuire, ex-monster hunter, and her grandson Duncan, who is soon swept up into a world of magic and myth as he comes face-to-face with the legends from England's past and his own complicated family history.
"Once & Future is an epic story of action & adventure that's full of monsters, romance, an extremely badass grandma, and an examination of Arthurian legends through the creative lens of Kieron Gillen & Dan Mora." said Matt Gagnon, Editor-in-Chief. "Both creators are at the top of their game and it's been a thrill to watch them build a bold, sweeping new world that's brimming with mythology."
To celebrate the upcoming release, BOOM! Studios has also shared the below trailer featuring never-before-seen art from the first issue.
Once & Future #1 is scheduled for release on August 14th, 2019.
Want to share some news? Click here to hit us with it!