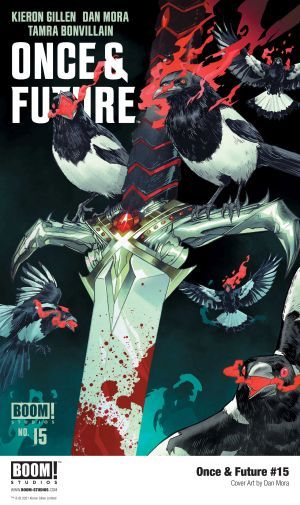 ONCE & FUTURE #15 PREVIEW
Once & Future continues next week with issue #15. Publisher BOOM! Studios has shared an early preview of the action horror series following retired monster hunter Bridgette McGuire, her unsuspecting grandson Duncan, and their ally Rose as they protect their nation from monstrous legends and myths risen from the grave.
Bridgette and Duncan return to a familiar place to pick up Lancelot's trail, while Rose comes face to face with another member of the McGuire family she was not expecting to see…
Once & Future #15 is written by Kieron Gillen, illustrated by Dan Mora, colored by Tamra Bonvillain, and lettered by Ed Dukeshire. It features a standard cover by Mora, a variant cover by Matias Bergara, and a black-and-white version of Mora's cover. It's set for release on January 20th, 2021.
Want to share some news? Click here to hit us with it!